My stocking stuffers for equestrians list is back for a third year.
The holidays will be here before we know it so here are some fun gift ideas for the horse lover in your life!
1.  Kit Sante Fe – This olive 100% silk bandana with a beautiful horse design is a classic wardrobe staple.
2.  The Hunt Collection – The Hand Gallop necklace features a detailed horse shoe charm and is available in 14k gold fill or sterling silver.
3.  Alexa Fairchild – The Wanderer White Beanie is beyond cozy!  Made in Italy from 100% recycled cashmere.  Style and function at its best.
4.  Linda Natural Skincare – Cleanse, nourish, smooth your skin with products made from organic, powerful ingredients.  Created by equestrian Linda Parelli!
5.  Felix Doolittle – I adore these equestrian inspired Address Labels so they're back on my list again this year!  A special gift that anyone would love to receive.
6.  Ralph Lauren RL Vachetta Belt is a bit of a splurge but it's a classic, timeless, equestrian splurge!
7.  Ronner Design – The prettiest, most charming equestrian inspired stationery sets I ever did see!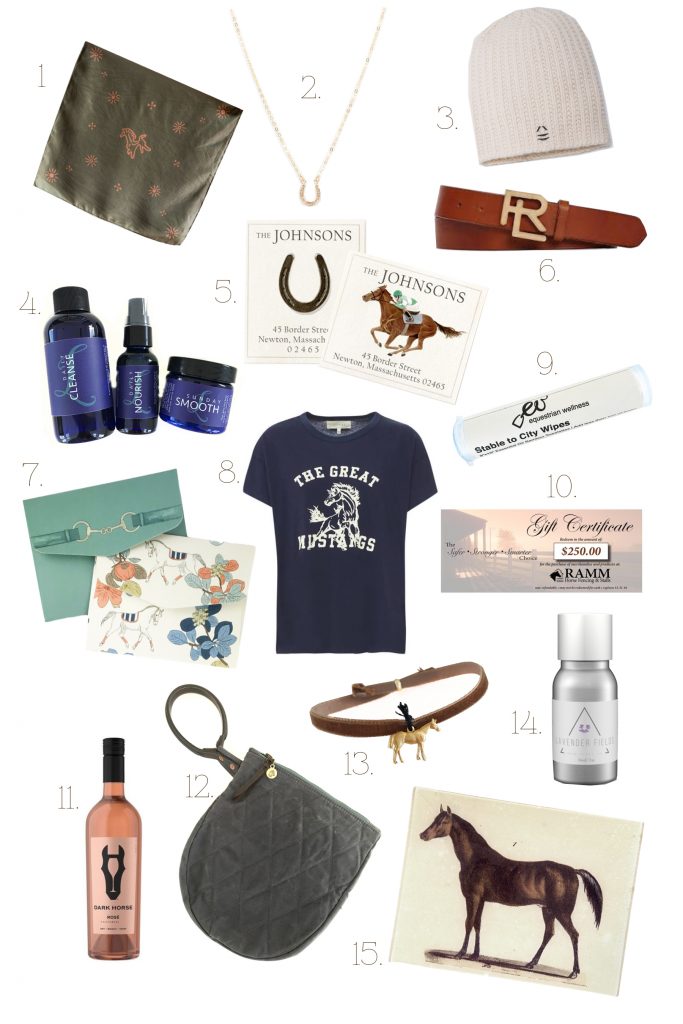 8.  The Great – The Great Mustang tee is vintage inspired with a wild mustang.  Perfect for all horse lovers!
9.  Equestrian Wellness – Naturally sanitizing, and chemical-free, the Stable to City Wipes are perfect for any barn girl.
10.  Ramm Fence – A gift certificate is always a perfect stocking stuffer!  Who wouldn't want one from Ramm Fence?
11.  Dark Horse Rose – For the horse lover who is also a wine lover…a dry, bright, and crisp rose to enjoy!
12.  Huntsmen and Hounds – The U Shape Clutch is the perfect size to hold everything you need on the daily.  It resembles the shape of a horse shoe and is made from cotton canvas, up-cycled fabric, and up-cycled pieces of leather horse tack.
13.  Silver Oaks Farm – The Horse Charm Ribbon Bracelet is handmade from luxurious velvet ribbon and a sweet brass horse charm.  Coming soon to my Etsy shop!
14.  Lavender Fields – You can't go wrong with gifting lavender essential oil.  Lavender Fields grows, harvests, and distills the lavender for this oil on their sustainable equestrian farm.
15.  John Derian – The most beautiful glass decoupage trays made from antique and vintage prints.
If you like this years list of gifts be sure to check out my "Stocking stuffers for Equestrians" posts from 2018 and 2019 for more ideas!
**
Erin Gouveia of Silver Oaks Farm is an accomplished equestrian, award winning photographer, and an artist.   She was born and raised in San Diego, California, graduated from Colorado State University, and now resides in Park City, Utah on a small ranch with her husband.  She has had careers in Medical Research, Zookeeping, and most currently Photographer at Erin Kate Photography.
Follow Erin on Instagram at @silveroaksfarm and find her equestrian inspired fine art photographs and handmade goods in her Etsy shop SilverOaksFarm.