Don't let these colder months stop you from enjoying your horse.
Winter is nearly here! The temperatures will soon be plummeting and a blanket of snow laid on the ground. Some riders are lucky enough to have access to an indoor riding arena, while others need to get a bit more creative. You and your horse don't have to go into hibernation mode, but you do need to plan ahead.
If you want to avoid a very round hay belly, then try some of these helpful tips!
Nice, Long Warm Ups and Cool Downs
Warming up your horse can loosen stiff muscles and joints. It gets the blood flowing! You should aim for at least a 10-minute warm up in the colder months. Ultimately, this will prevent injuries from occurring. 
It's always a good idea to start on a long rein. This gives your horse a chance to stretch their neck and back muscles. After a few minutes, you can incorporate flexing and yielding exercises. Walk-halt-walk transitions can also be helpful while warming up. Eventually, you can progress to a jog or trot and repeat the stretches.
Your horse isn't the only one that needs to stretch and warm up. During this time, you can rotate your shoulders, wrists, ankles and head. Another great exercise is to lift your thighs from the saddle and hold them in the air. The cooler air can make some horses fresh, so be careful when moving around in the saddle.
When it's time to cool down, you should allow 10 to 15 minutes. Focus on getting your horse to slow their breathing, which will lower their heart rate. It's essential that you dry a sweaty horse! You don't want them to catch a chill. It can be helpful to cover them in a fleece blanket and hand walk them after your ride. This is a reason why some people choose to clip their horses.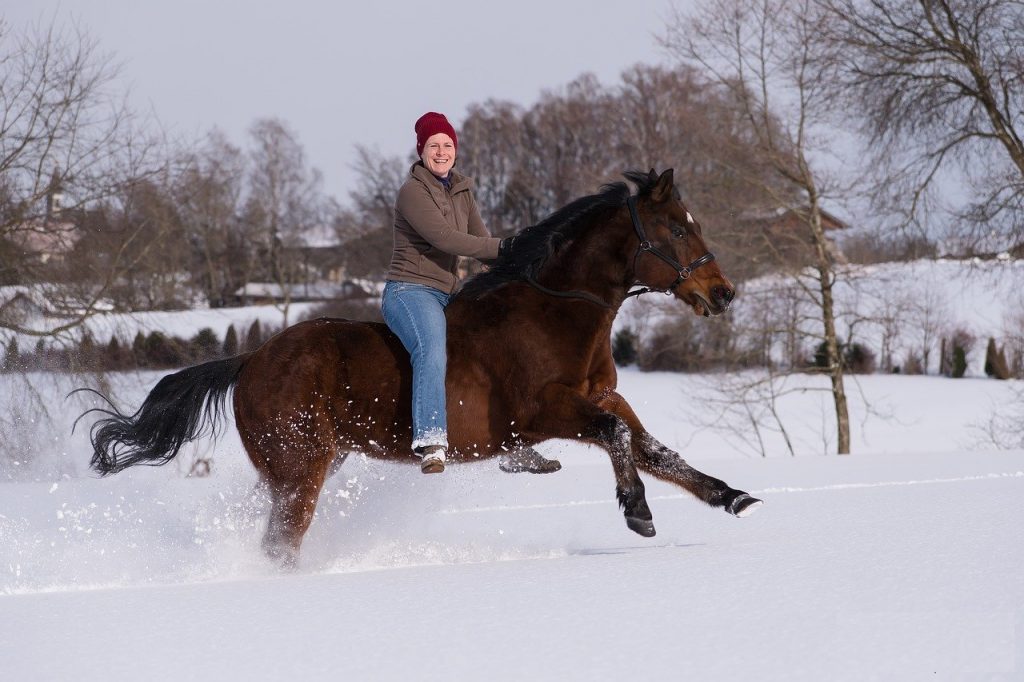 Watch Your Footing
You don't need an indoor arena to keep riding through winter, but you do need to be mindful of the footing. Fields and sanded outdoors can become icy and slick. They can also turn hard as a rock! Before each ride, make sure to walk the ground first. Get in the habit of regularly dragging your arena, which will keep it workable longer. You may also want to look into a local facility that rents their indoor out.
Horses can be ridden in the snow, but you'll want to take it easy with deeper depths. It's a lot more work for your horse to move through it and they can fatigue quicker.
Maintaining Fitness
When developing a winter fitness regime, you should start by evaluating your horse's current fitness level. A casual, weekend trail horse will not require the same workout as a jumping or dressage horse. You should aim to ride at least five times a week during winter. Feel free to mix it up with flat work, gymnastics and outdoor hacks. Additionally, hill work can be incredibly helpful for building muscles in your horse's hindquarters.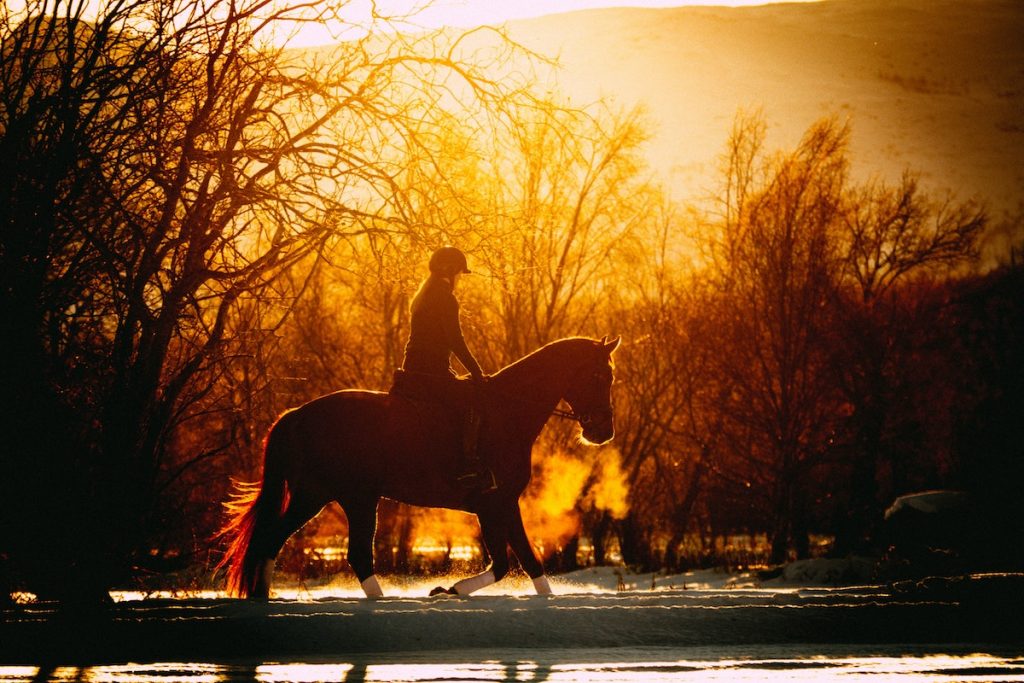 Slow It Down
When the season gets really cold and nasty, you may have to go back to the basics. This can be a great time to focus on circles, serpentines and transitions. If the arena's footing becomes too hard, you can take your horse on a stroll around the property. A brisk walk will get their muscles engaged. A change of scenery can be very refreshing for your horse.
You don't have to dread winter. There are many perks like no flies or a blazing sun. You should use this time to train and condition your horse.
**
Emily Fought discovered her passion for horses early on in life. When she isn't writing about them, you can find her in the barn riding. Although Emily's background is in dressage, she enjoys cross-training and is an avid trail rider. She resides in Northwestern Pennsylvania with her husband and small dog. Together, they own and operate Humblewood Farm.