My 'stocking stuffers for equestrians' list is back for a second year.  The holidays will be here before we know it so here are some fun gift ideas.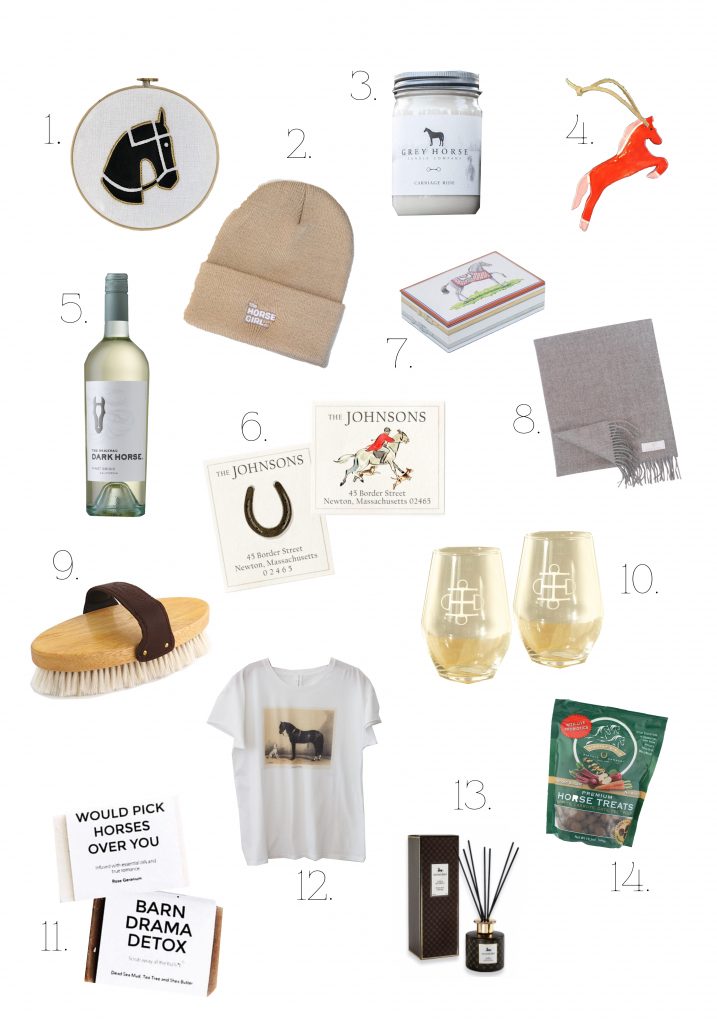 1.  A Stitch in Stride – Equestrian mixed media art by Karina Harris.  Beautiful creations using paint and embroidery stitch.  Custom orders are available!  Start at $18.95
2.  The Horse Girl Co beanie.  This hat comes in tan and green.  It has the perfect amount of slouch, stretch, and it covers your ears for extra warmth!  $22
3.  Grey Horse Candle Co offers candles for equestrians.  With names like Fresh Cut Hay, Sweet Feed, and High End Saddle, any horse lover will love to get one of these candles.  They also offer tin candles that are perfect for travel and all natural soy wax tarts.  $17.50
4.  The Mare Modern Goods ceramic pony ornament.  These are handmade and come in bright colors with a leather hanging loop.  They can decorate your Christmas tree but are also perfect to keep out year-round.  $25
5.  For wine lovers…a bottle of Dark Horse Pinot Grigio.  This California wine is crisp, elegant, and has a hint of citrus.  $40
6.  Back for a second year are the Felix Doolittle address labels.  They have the most charming illustrations and even have a line for equestrians.   I love this fox hunting and horse shoe label.  $30
7.  Cheval de Course 12-piece chocolate truffle tin.  The most delicious chocolate in the sweetest horse adorned tin!  $40
8.  The Stick and Ball Alpaca Scarf in Taupe.  This scarf is so incredibly soft and warm the lucky new owner won't ever want to take it off!  It comes in a variety of colors too.  $85
9.  Goat Hair English Finishing Brush by Desert Equestrian.  I love this brush and have a couple of them!  It's made of premium soft white goat hair with a hardwood back, mahogany leather strap, and brass-plated fasteners.  $22
10.  Two Bits Equestrian stemless wine glasses.  Adorned with the two bits logo these are the perfect vessel for any beverage!  $10.00
11.  Soap for Dirty Equestrians have the most creative names!  Would Pick Horses Over You,  You Deserve This Mint, and Barn Drama Detox are just a few.  They are all natural, vegan, cruelty free, and handmade.  $11
12.  Vintage art horse series collection of tees in my Etsy shop SilverOaksFarm.  Boyfriend style tee is 100% cotton, distressed detailing at neckline and hem, raw sleeve hemline, drop shoulder detail, super soft.  $44
13.  This diffuser from Adamsbro comes in a lovely matte brown glass bottle with a gold lid.  The fragrance is citrus Patchouli.  It will bring a touch of elegance to any home.  $50
14.  For the horse lovers horse!  Giddyap Girls horse treats are made with all natural ingredients and contain live probiotics.  They also snap into three pieces to use for training or to feed in smaller portions.  My horses love these!  $9
Equestrian stocking stuffer ideas?  Let us know what you'd like to get in your stocking in the comments below.
**
Erin Gouveia of Silver Oaks Farm is an accomplished equestrian, award winning photographer, and an artist.   She was born and raised in San Diego, California, graduated from Colorado State University, and now resides in Park City, Utah on a small ranch with her husband.  She has had careers in Medical Research, Zookeeping, and most currently Photographer at Erin Kate Photography.
Follow Erin on Instagram at @silveroaksfarm and find her equestrian inspired fine art photographs and handmade goods in her Etsy shop SilverOaksFarm.