"It's better to be prepared than sorry."
Prepping your horse farm for the unexpected is critical to ensure horse(s) remain safely contained. There are many ways you can prepare if an emergency arises. Below are ten tips for supplies you can prep your horse farm with.
Tools

Hardware Supplies

Fence Chargers

Fence Splices

Insulators

Gate Latches

Horse Stall Post Edging & Wall Capping

Insect Repellant Concentrate Refills

Agricultural Indoor/Outdoor Fans

Mud Management Panels

1.  Tools
If an unexpected emergency happens on your farm, do you have the necessary tools to repair your fence? Containing your animals is of the utmost importance for their safety. Having fence repair tools ready to go for any situation is the first step to having that peace of mind knowing you are prepared for whatever happens. Moreover, there are many tool products out there, so depending on what fence you have will determine what tools are needed. However, there are many helpful universal fence tools such as high-tensile wire cutters, 10″ fence pliers, electric fence testers, and more.
Electric fence testers are very important tools to determine if your electric fence is working properly. An underrated fence tester is the fault finder; it rapidly locates any faults and displays the direction on the LCD display screen. It's cordless and doesn't require a ground probe… it's a must-have troubleshooting tool for anyone who owns electric fencing.
2. Hardware Supplies
You have the tools… great! But do you have the hardware needed to actually amend the fence repairs? Whether it's barbed staples, nails, screws, etc… having extra supplies in the barn will save you a trip to your local hardware store.  On-hand hardware can be the difference between having your horses in stalls while waiting for parts or being able to repair your fence quickly and putting your horses back out to pasture.
3. Fence Splices
When Mother Nature throws extreme weather in your direction, a downed tree(s) may be on your fencing. Having fence splicing supplies handy will allow you to make the necessary adjustments to your fence without having to order and wait on replacement parts.
If you have a high-tensile wire fence system, like RAMM's Flex Fence® series, 12.5-gauge wire links work great for splicing different 12.5- gauge rail types. The wire links have a non-release mechanism, similar to a Chinese finger trap, that attaches two rails together securely and safely. Having extra for a time of need would be very thoughtful.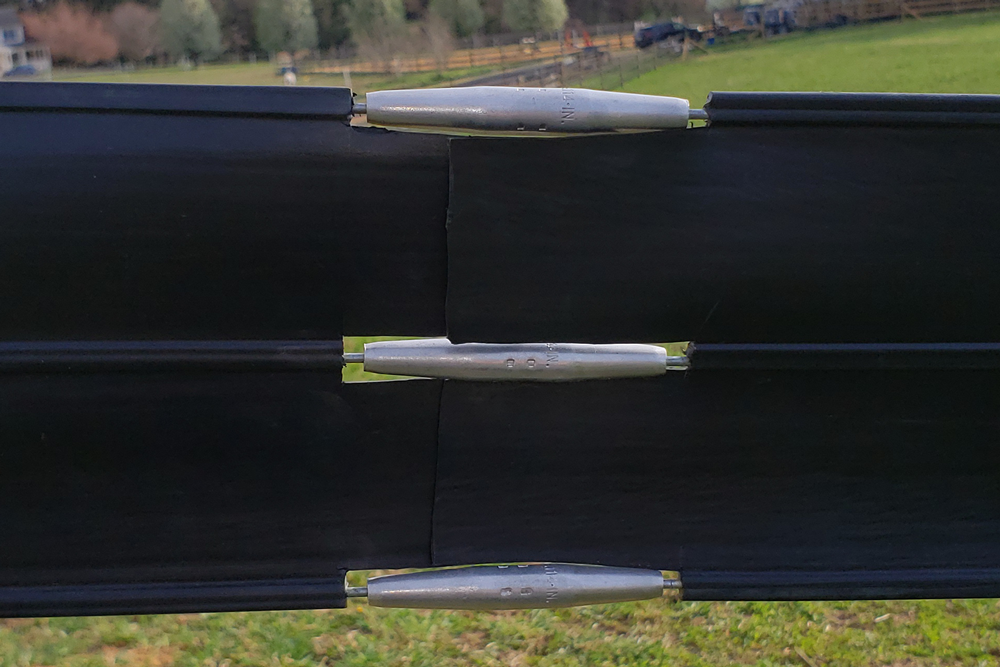 4. Fence Chargers
Having a backup electric fence charger is crucial. Chargers are made of electrical components and can go bad over time. What would happen if your fence charger goes out or is struck by lightning? How long could your animals be contained [safely] without electric fencing? If lightning is common in your region, installing a lightning arrester for your electric fence system will work as the first line of defense.
Solar chargers have pros and cons, however, if the energy grid were to go down the fencing would still be electrified. It should be noted that purchasing two would be wise because if the battery dies on one, the other can be rotated in.
5. Insulators
Fence insulators are made of plastic and are one of those products that need to be replaced here and there. Whether a horse runs into them, they break from ice over winter, etc. just having an extra bag or two laying around for quick replacements will save you the headache of ordering more or going to your local tack shop. Older screws used to attach the insulators can break; be sure to have extra.
6. Gate Latches
Having extra gate latch supplies on hand will ensure the gate continues working properly and can always be closed. If a chain or latch breaks, consequently, your animals are free to roam at will, unless you have a backup ready to go. Additionally (and also very important), be sure the space between the latch post and the actual gate latch is kept at a minimum so a horse cannot get its head through.
7. Horse Stall Post Edging & Wall Capping
This is more of a preventative measure, but adding post edging and/or wall capping to your horse stall will stop horses from cribbing/deteriorating the wood. Post edging covers two sides of 4×4 support posts and wall capping has three sides, which cap goes over the top of the wood. Here's a video on the difference between the two and how they can help the longevity of your horse stalls.
8. Insect Repellant Concentrate Refills
Are insects a nuisance in your area? If you own an automatic spray system, having extra insect repellant concentrates ready will keep the bugs at bay. These systems are not only great for equestrian properties but for residential, warehouses, zoos/animal housing, and more. In addition to being a nuisance to horses, insects can also carry deadly diseases and can cause your horse to stomp, kick, and/or rub erratically to get rid of them. Your horse(s) will be much more comfortable in inclement weather – as well as yourself.
9. Agricultural Indoor/Outdoor Fans
If a fan goes out in the hot summer months, it's undoubtedly better to be prepared than to have your horse(s) too hot. There are many different fan options to fit your budget and property. Choose from ceiling fans, shutter fans, basket fans, and more. Fans not only help with air circulation and comfort, but also help to keep the flies from landing quite so much on already hot horses too.
Are you buying box fans every year or two? Dusty and cobwebbed box fans are prone to starting barn fires. It may be time to switch over to an agriculturally-rated basket fan. Not only do they last longer, but their motors are thermally protected [preventing barn fires] and they are UL507 certified for indoor/outdoor use so they can be sprayed down for cleaning!
10. Mud Management Panels
Do you have mud on your property? If mud is becoming a problem or there's a new area that's forming mud, having extra mud management panels (as seen on the Martha Stewart Blog) on hand is a necessity. The U.S. Army Corps of Engineers invented the original celled panels for roadways. They are great for anywhere with mud, including making your own back road. Check out how @StephanieMorrato installed the panels on her property:
Love this blog post? We think you will like other planning blog posts.