Ho ho ho! Santa Klaus is making his rounds. It doesn't matter how old you get, opening presents is fun for all ages. Maybe you have a horse-crazy child or perhaps you're the horse lover in the family… It can be so much fun buying equestrian gifts. These stocking stuffers for equestrians are sure to delight! There's something for everyone.
When shopping for gifts for my barn buddies, I love to find homemade treasures that are special. Etsy has an abundance of options from Christmas ornaments and lip balm to stickers and crocheted stuffed animals. I can find something for the youngest rider in the barn and all the way up to the oldest. Enjoy these unique finds!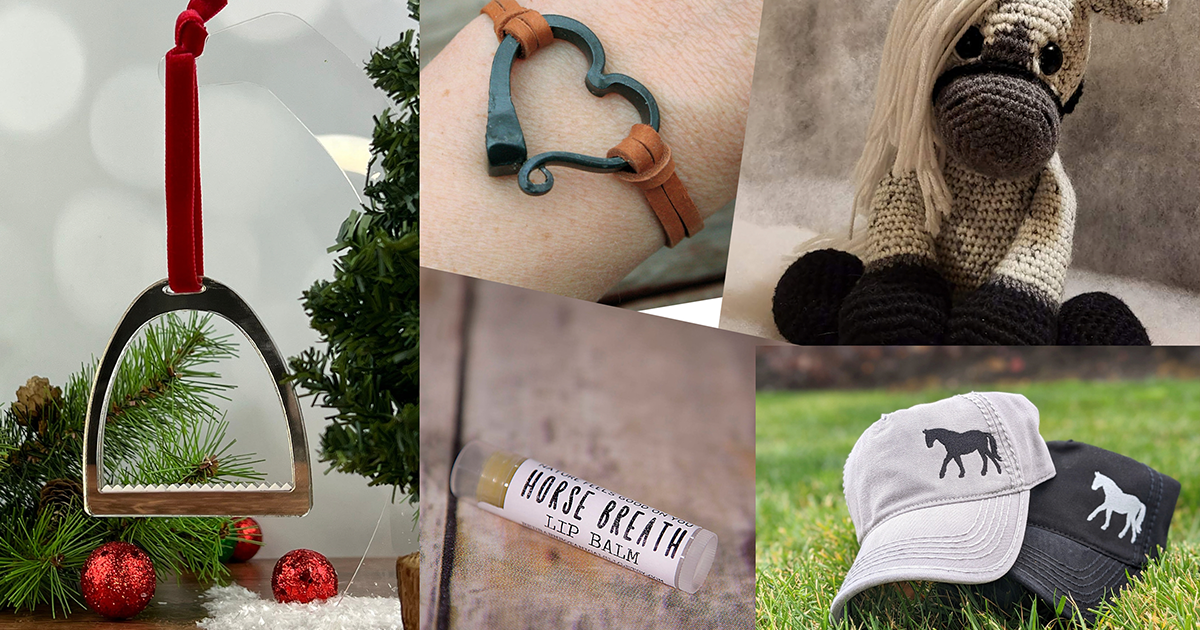 10 Stocking Stuffers for Equestrians
Equestrian Pencil Set – $15.00, JenniferRaichman
These pencils have the cutest horse-inspired words- head up, heels down, walk, trot, and canter. There's also a snaffle bit on two of the six. Each pencil is a No. 2 hexagon with an ivory barrel and gold foil imprinted. Additionally, they're made in the United States.
Horse Stickers – $5.50+, MarianGardnerGifts
Hand-painted and handmade, these stickers sure are special! The artwork is gorgeous. Choose between a glossy or matte finish for your 10 different stickers. They work well on laptops, gaming systems, journals, scrapbooks, and more!
Riding Note Journal – $25.00, BlueSkyFarmCo
There are three different designs to pick from with this notebook. Personally, I love the 'Tack Attack' design, which has a saddle, bridle, helmet, and whip on the cover. Each of the 52 pages contains a spot for you to jot down a summary of your ride, including the date, weather, goals, highlights, notes, etc. The journal is bound with a metal spiral bind and has a clear plastic front.
Horse Lover's Bookmarks – $12.95, carolynnikolai
Talk about a cute gift! These illustrated horse bookmarks have a suede leather tassel and are crafted from glossy paper stock. There are four in the set and each one measures 2 x 6 inches. The beautiful horses are wearing English bridles with three of the four sporting braided manes.
Horse Memo Pads – $5.13, ShewAndPie
Fun and colorful, these memo pads are just what all horse lovers need. They work well in the barn or around the house. Jot down reminders, your to-dos, or even your grocery list. There are 12 unique designs from palomino to paint horses.
Stirrup Irons Ornament – $25.00, ChevyChaseHuntClub
A gorgeous 3" by 3" Christmas ornament, this piece will look stunning on your tree year after year. It's a replicate of a Fillis Stirrup Iron, including the white rubber. You can choose between red, white, blue, or green velvet ribbon.
Horse Breath Lip Balm – $7.00, RedBarnBotanicalsLLC
Crafted from all-natural ingredients like organic beeswax and cocoa butter, this lip balm has a fresh, cooling sensation. Imagine what your horse's breath should be like… sweet feed, drizzled molasses, rosemary, and peppermint. How incredible!
Horseshoe Nail Bracelet – $34.99, AlchemyArtworks
A horseshoe nail was forged into the shape of a heart for this lovely bracelet. Equestrians will also enjoy the soft deerskin leather and glass bead. This one-of-a-kind piece offers two different leather colors and a wide selection of beads.
Stuffed Horse Toy – $40.00, UDesignByMechelle
Roughly 15 inches tall, this stuffed horse is adorable in every way! It comes in a flea-bitten gray color, though custom options are available. It also has moveable arms and legs. Your horse-crazy child will love playing with it or you can display it on a shelf for enjoyment.
Messy Bun Hat – $29.00+, DistinctHeadwear
With so many hats and thread colors, this gift can be personalized to your liking! A beautiful horse silhouette is embroidered into the front. This baseball cap is perfect for the barn or when you're out and about.
There are so many fun options for filling your horse lover's stocking this year! Enjoy this season of giving. And don't be afraid to spoil yourself too!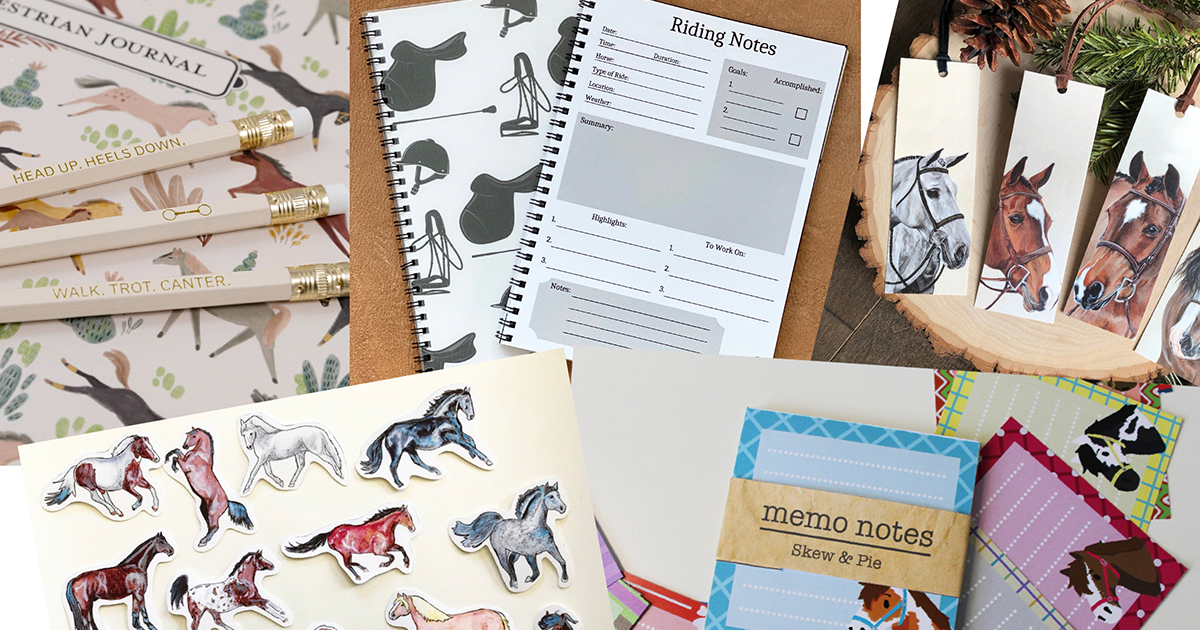 Love this blog post? We think you will like 10 Things Your Horse Wants for Christmas by Emily Fought.