After the holidays are over, I'm ready to dive right in to the New Year, but there are usually still months of cold weather left before I can really get started. There is a lot we can do even now in the dead of winter to satisfy that urge to get prepared for the warm season ahead.
Setting Goals
First things first, you need to decide what your goals are for this year so you can plan accordingly. What are your riding and training goals? What clinics do you want to attend as a participant or auditor? What shows do you want to go to and what do you need to qualify to compete there? Are you trying to log a certain number of hours trail riding? Once your goals are clear, you can get the dates on your calendar and make a plan to set you up for success.
Routine Veterinary Care
When you are planning which shows and events you want to attend, you should also check what veterinary requirements you need like Coggins tests, vaccination records, and health certificates, so you can schedule these with your vet in advance. Now is the time to schedule your routine vet checks before the spring rush so you can make sure your horses are up to date, have current paperwork, and get fecal testing done so you can plan your deworming program for the year.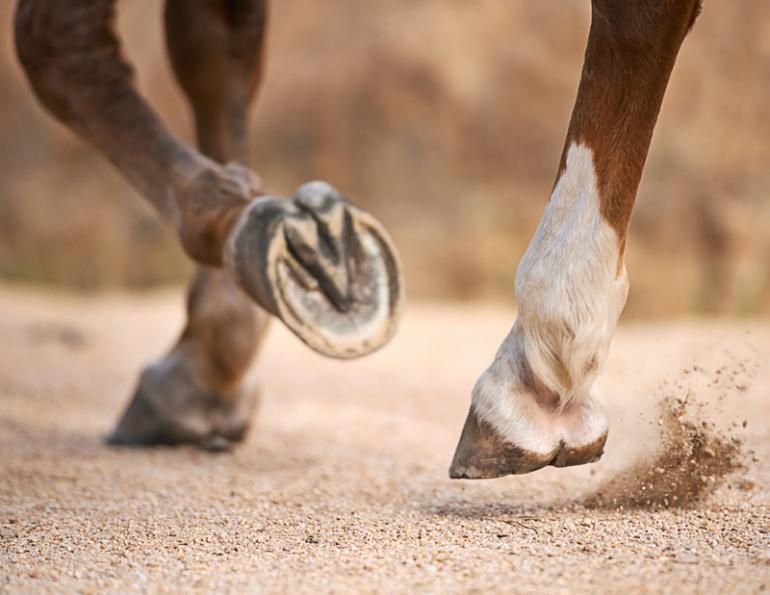 Dental and Hoof Care
As the old adage goes, "no hoof no horse", the same can be said for their teeth. So many training and behavioral problems and limitations can be traced back to improperly balanced teeth and hooves. Schedule a dental exam and float as needed with your vet or equine dentist to make sure your horse's teeth are properly balanced with no sharp points that may cause pain or interference with bits. This is a great time to also evaluate your horse's hooves to make a plan with your farrier. Reflect back on the previous year and make note of what you observed and what you would like to change. Did the hooves chip more than usual or lose shoes? Did your horse have any abscesses or thrush? If you pulled shoes for the winter, when are you planning to put them back on or are you going to try to go barefoot this year? Taking into consideration the goals you set at the beginning, you can plan ahead for your hoof care program and farrier appointments to keep your horse's hooves in top shape all year.
Evaluate Nutrition
Just like we set New Year's Resolutions for our own diets and exercise, you can set these goals for your horse as well. If your horse has stayed in work throughout the winter, you can make slight adjustments to their nutrition to keep on track with your progress into spring. If your horse has had the winter off, think about how you can prepare them for the transition back to the higher calorie demands of increased exercise. Did your horse maintain their weight through the last year or did they need to gain or lose weight? Is it time to switch your aging horse to senior feed or start a joint supplement? If your horse had poor hooves last year, add a hoof supplement to balance the nutrients to start growing stronger hooves by summer.
Legging Up
If your horse has had some time off, you will need to get them legged up before getting back to your regular training program. Slow and steady wins the race here, so you will want to spend a lot of time just walking to begin the legging up process which you can do even when there is still snow on the ground. Monitor your horse's condition and slowly increase the intensity and duration over the course of a few weeks until you get them back to the fitness level they were at before their winter break. This slow exercise will not only get their fitness back but will bring their mind back to a calm training state instead of having a wild first few rides come spring.
Cleaning Tack
Even if you clean and inspect your tack with every ride (which is a great habit to get into!) you can still spend some time doing a deep cleaning and thorough safety check of all your equipment. Repair or replace any broken parts, oil leather, and polish metal. This is a great time to do an overall inventory to get rid of anything you don't use anymore and buy the things you would like to add. If you have a separate set of show tack in addition to your regular daily tack, make sure to follow this same process with that as well. Do a try on session of your show clothes to make sure everything still fits well, and if it doesn't, have it tailored if possible or replace them with new flattering pieces.
What are some of the things you are doing now to prepare for spring? What are some of your goals for this year?
**Jen and her husband, Clayton, bought their farm in August of 2018 and love living the simple country life. They share their home and farm with their dogs, cats, horses, and chickens. Jen loves learning and is always researching new things for the farm, house, animals, and natural wellness. Her favorite mantra is "thoughts are things" and hopes to inspire and empower people to envision abundance for themselves.
Follow Jen on Instagram @steelspoonfarm and read her blog at www.steelspoonfarm.com