Once upon a time, I rode horses nearly every day and I honestly never thought there would come a time in my life when I wouldn't.
I was heavy into barrel racing and swore that even the birth of my first child wouldn't change my ways. But fate had other ideas. 
It wasn't a sudden shift, like one day I decided I no longer had time to ride. Rather, this life adjustment came about slowly and rather painfully. When my heart horse, whom I'd been competing on for years, sustained a career-ending injury and then a new horse didn't work out the way I expected, my desire to compete and eventually, even ride at all, slowly dwindled away.
As my two children have grown, life has grown busier. Sports and other activities, helping with homework, and attending parent meetings often fill every week day evening. There isn't much time to cook dinner, let alone keep my barn clean or go for a leisurely ride. Not that I'm complaining; I wouldn't want it any other way. Sure, there are moms (and dads) who still ride and compete—people can make it work, I know. It's just that my priorities shifted somewhere along the way.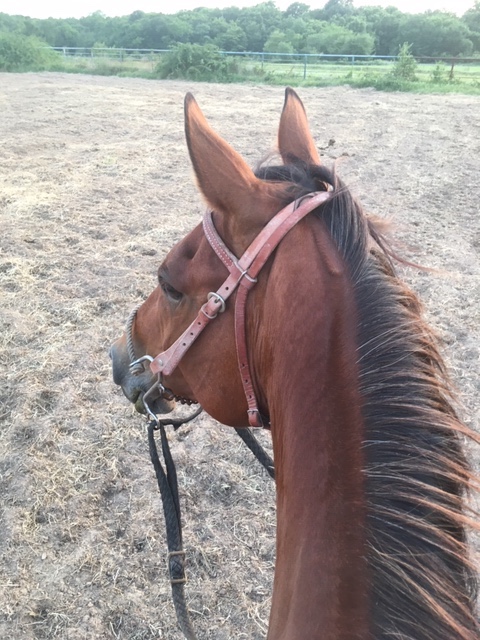 A few years ago, I bought another horse to just putt around the pasture on, but riding a couple times a week eventually turned into a couple times a month and then, the unthinkable happened: more than a year went by before I saddled her up again. 
I'm fine with not riding. Really. I love my three horses regardless, but this past weekend, a good friend was in town with her horse, so we worked up my arena and went for a ride. Perhaps not surprisingly, my mare wasn't thrilled with the idea of being ridden after such a long vacation and she was far from being the angel she once was. But a couple days later, I climbed back in the saddle again and there was a big improvement. 
I know better to make any long-term plans right now, but it's been nice to be back in the saddle after such a long time off. I think I'll do it again very soon. 
**
Casie Bazay is a freelance and young adult writer, as well as an owner/barefoot trimmer and certified equine acupressure practitioner. She hosts the blog, The Naturally Healthy Horse, where she regularly shares information on barefoot, equine nutrition, and holistic horse health. Once an avid barrel racer, Casie now enjoys just giving back to the horses who have given her so much. Follow Casie at www.casiebazay.com.