The fall leaves are almost past their prime and there's a definite chill in the air.
It's mid-October which means it's time for me to start prepping my farm for winter.  I live in Park City, Utah at 7000' elevation and the snow begins to fly around Halloween.
Here are the things I do to prep my farm for winter…
I have a Sunstar Tube Heater in my barn mainly to keep the pipes from freezing.  The humans love it and I'm sure the horses don't mind it either.  It is set at its lowest temperature on the thermostat which is 45 degrees.  I have the heater serviced sometime in September or October to get it ready for the coming winter, and make sure all the dust is removed before it is turned on for the season.
My horses come into their stalls beginning sometime in November and come in each night through May or so.  Each fall I stock up on my bedding for the entire stall season.  I like to have all supplies for that time so I don't have to deal with stocking up during winter weather.  I buy roughly 80 bags of pine shavings from a local dealer.  I also get a pallet of pelletized horse bedding.  I use the pelletized bedding in the urine spots under the shavings.  It helps absorb so much more moisture than just shavings.  I add it daily.  I also treat stalls regularly with Sweet PDZ so I make sure to have it on hand.
I have a few blankets for each horse.  I clean my blankets in spring when I put them away in storage.  In the Fall I will waterproof any blankets that need it.  I use Nikwax Rug Waterproofing.  I do not use filled blankets but like to layer turnout sheets so I can just pull off the top sheet if it gets wet at all.  I also do not clip my horses so there is no need for heavier blankets.
My indoor arena footing cannot be watered in winter because it will freeze.  In mid-November, I add about ten 50lb bags of Safe Step Magnesium Chloride to the sand and fiber.  The Mag-chloride will absorb moisture from the air and pull it into the footing.  My footing is actually a more consistent consistency in winter than when I have to water it myself in summer…all because of the Mag-chloride!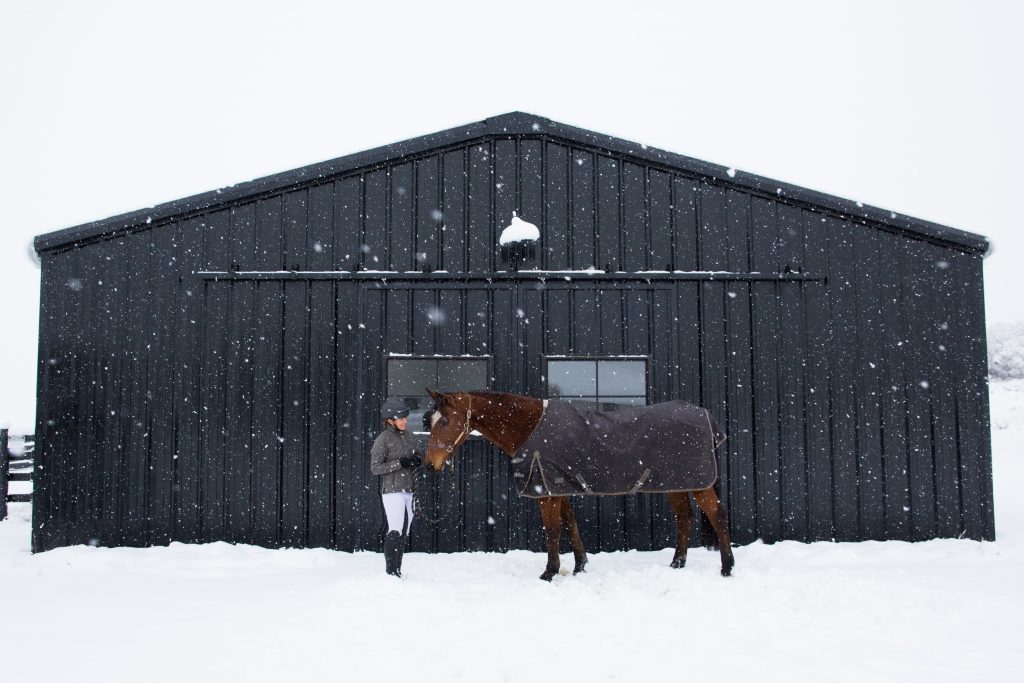 When horse water supplies start to freeze overnight, I add the API 3-in-1 Stock Tank de-icer to the outdoor water troughs.  I've been using them for years and they work great.
I make sure to have a couple of muck buckets with dry stone dust.  The buckets are stored in my indoor arena so easily accessible.  I will sprinkle the dust in areas that freeze which adds great traction for the horses.
It's time to say goodbye to the tractor front loader and hello to the snowblower.  I have a Kubota tractor that performs like a champ.  In fall I make sure all frontloader jobs are complete before switching over to the snowblower.
What do I do specifically for the horses?  Snow pads are added to any horses that wear shoes!
Lastly, I have the RAMM 525 Flex Fence® and I do nothing to it for winter prep!  That's why I love it so much!
I'd love to hear how you prep your farm for winter in the comments below.
**
Erin Gouveia of Silver Oaks Farm is an accomplished equestrian, award-winning photographer, and artist.   She was born and raised in San Diego, California, graduated from Colorado State University, and now resides in Park City, Utah on a small ranch with her husband.  She has had careers in Medical Research, Zookeeping, and most currently Photographer at Erin Kate Photography.
Follow Erin on Instagram at @silveroaksfarm and find her equestrian-inspired fine art photographs and handmade goods in her Etsy shop SilverOaksFarm.