I have a love-hate relationship with winter.  There is something so peaceful about riding my horse in the snow.  It's also so nice to sit by a cozy fire while snow is falling outside.  It can be so beautiful but the extra work that comes with keeping horses in a snowy climate is not my favorite.  It can also be dangerous for horses if proper precautions aren't taken.  I grew up in southern California and had no experience with horses in the snow and ice.  Winter hoof care was something I needed to figure out immediately.
In winter many horses work less because of colder temperatures or because the ground is covered in snow and ice and there is no access to an indoor arena.  Many horses are kept in full-time work in the winter months.  The amount of time you ride your horses in winter may determine what you do for their hooves.  Do you remove shoes or keep them on?  If shoes are kept on what do you need to know to keep horses safe?  Since hooves grow a bit slower in winter do you have the farrier out less often?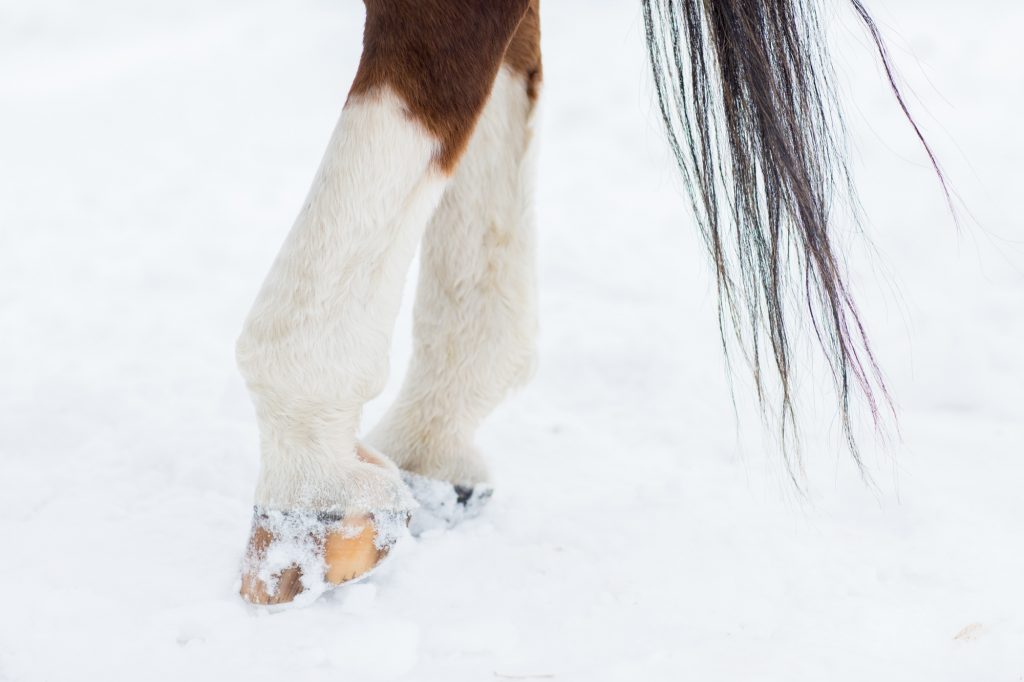 Here are a few things to keep in mind if keeping horses in a winter climate…
Barefoot hooves provide better traction on snow packed, frozen ground, but they are more susceptible to stone bruises from uneven, hard ground.   Snow usually does not build up in a barefoot hoof.
If your horse is usually shod but will have a break during winter chances you may want to remove their shoes.  If they need the support then you'll want to keep them shod.  If shoes remain on for winter you may want to take a couple of steps to ensure your horses are safe in the snow.
Snow can buildup and freeze to the shoe creating ice balls that are very dangerous.  To avoid the accumulation of snow a bubble pad can be added.  Bubble pads cover the horse's entire hoof.  As the horse walks the pad's center pops and removes the snow from the foot.  The down side to bubble pads is they may trap debris in the hoof and the closed environment may lead to thrush.
A snow rim pad is another option for shod horses.  The snow rim pad sits under the horse's shoe with a tube of rubber running along the inner edge of the shoe.  These pads keep the snow from building up and allow airflow to the hoof.
Snow pads are usually used in combination with traction.  A great option for traction is the addition of Borium to the shoe itself.  Other options are frost-rib nails, drive-in calks, or screw-in calks.
It is always important to think ahead and work with your farrier to decide what is best for your horses.  Despite hooves growing a bit less in winter months regular farrier appointments should be kept to maintain healthy feet for the season.
How do you treat our horse's hooves in winter?  Let us know in the comments!