These bold tack options will spice up your collection!
Most equestrians enjoy visiting tack stores or shopping online for horse supplies. It's like a kid in a toy store! The horse industry is filled with useful and unique items for riding. There are so many options. Riders can choose from bright or neutral solid colors or go bold with patterns like animal print.
Animal print is a fun way to add style to your tack collection. From turquoise zebra to snow leopard and gator, they bring out your wild side. These prints are perfect for both English and western riders, so don't let the cowgirls have all of the fun!
Animal Print Horse Tack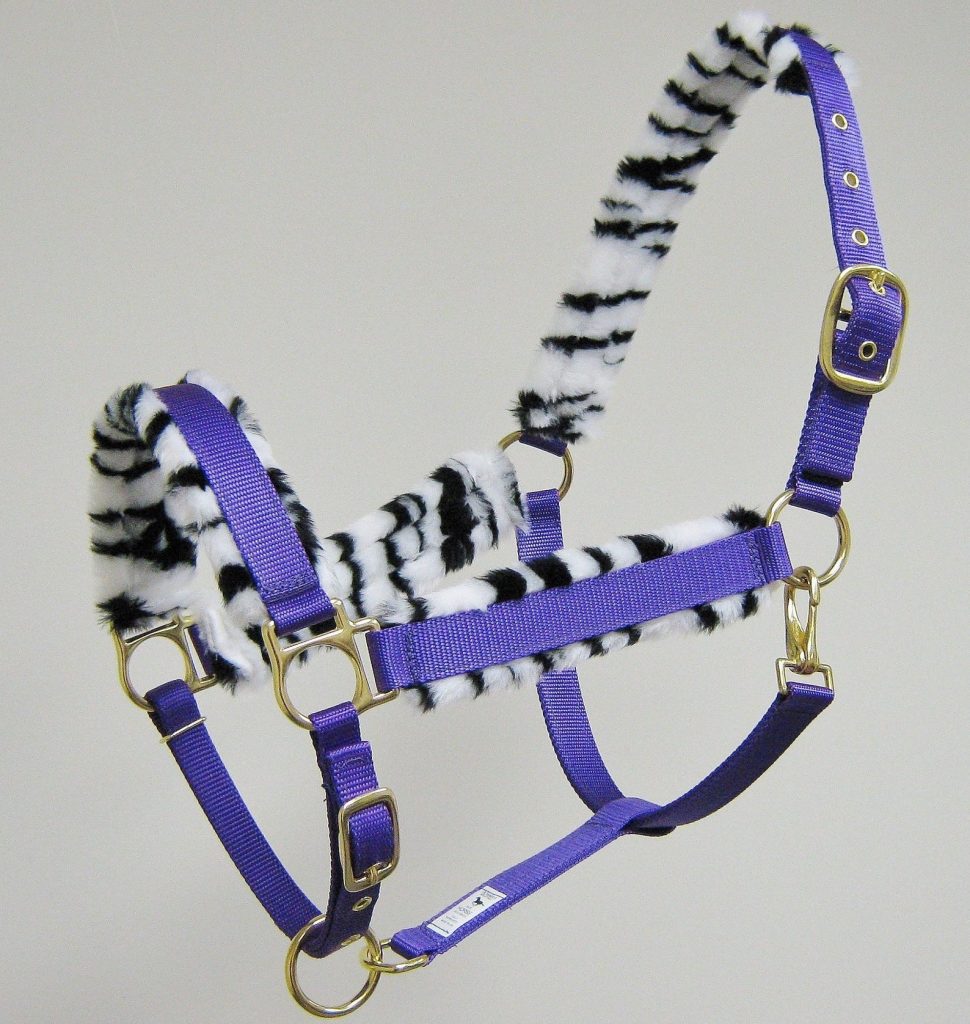 Fur-lined Horse Halter  $44.99+, Pups and Ponies
How cute is this zebra-accented piece?! Soft black and white fleece lines the nose, crown, and cheeks of this nylon halter. The actual halter comes in purple, pink, and neon green. Your mare or gelding will look great, and you don't have to worry about nasty rubs on their face.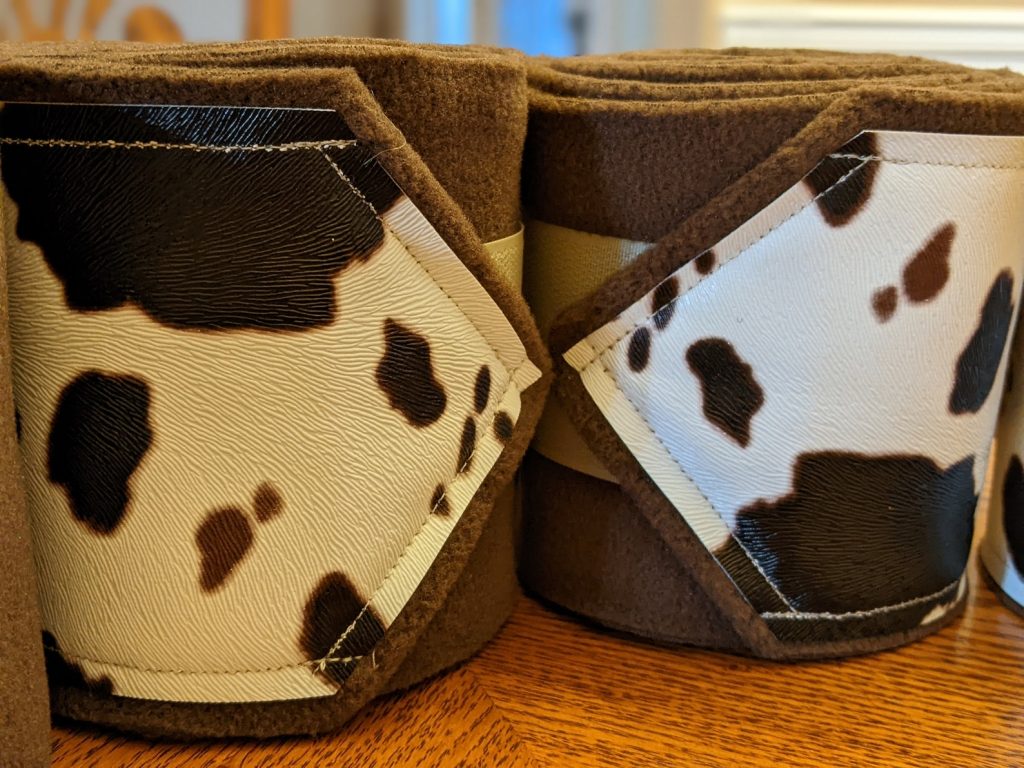 Cow Print Polo Wraps $22.00, Jens Inspired to Ride
This set of 2 polo wraps is just what every cowgirl needs! The plush brown fleece looks striking on palominos, buckskins, and pintos, but any horse can rock them. The print has a vinyl texture and deep color. Who's ready to work some cattle?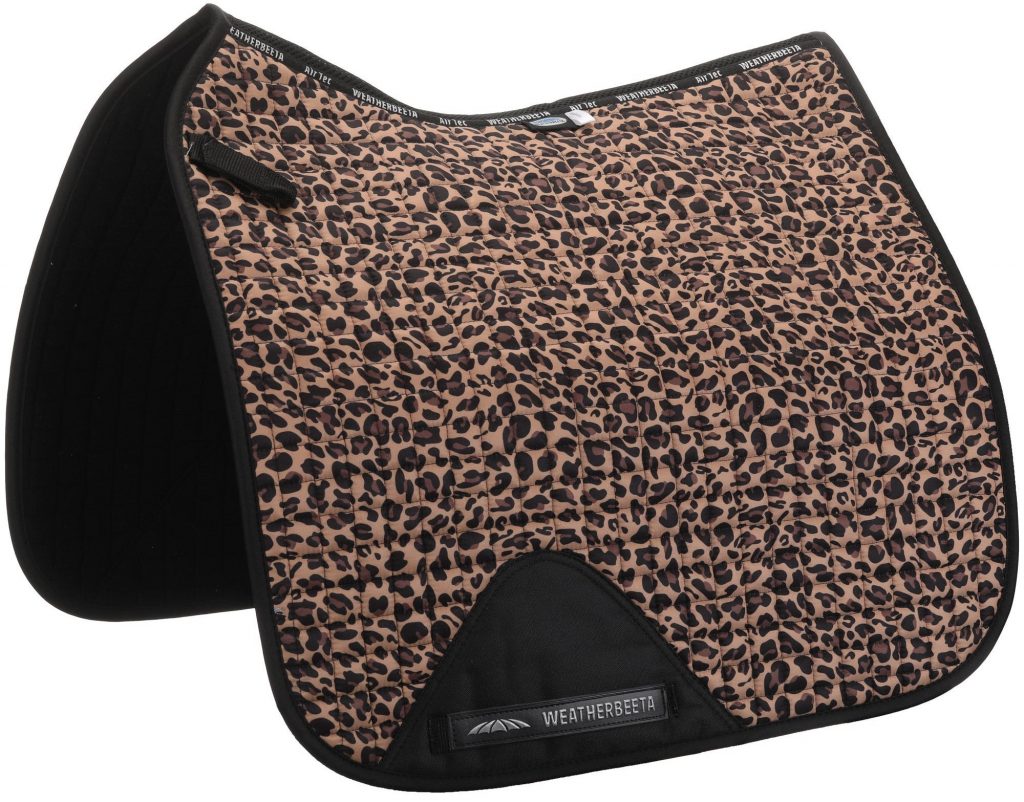 Weatherbeeta Prime Leopard Print Dressage Saddle Pad $58.95, Riding Warehouse
Calling all dressage enthusiasts! I told you English riders can have fun with animal print too. This turquoise snow leopard pattern is sure to make you stand out. It's perfect for schooling at home or fun shows. Not to mention, it has a durable cotton top and wick easy lining. Your horse can exercise in comfort with its cooling properties.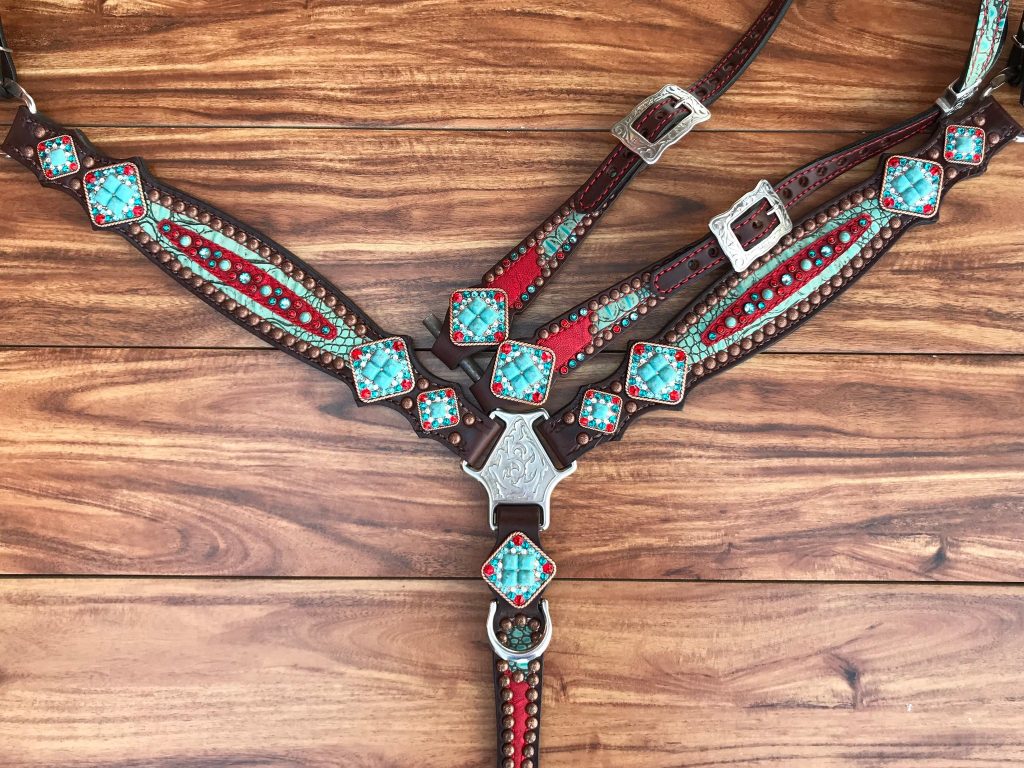 Red & Turquoise Gator Set $350.00+, Rockn' Wilsons
Every cowgirl needs to check out Rockn' Wilsons! Their tack is to die for. This particular set offers a breast collar, headstall, and halter in a gorgeous pattern. The conchos, gator, and Swarovski crystals are constructed on a supple Herman Oak leather base. They're crafted in the USA and built to last!
English Stirrup Covers $8.95, Josies Habit
Etsy has so many unique homemade gifts. These giraffe stirrup covers are designed with fleece, elastic, and cotton! You can slip these onto your English stirrups to protect your saddle from scuffs. The elastic openings make them easy to take on and off.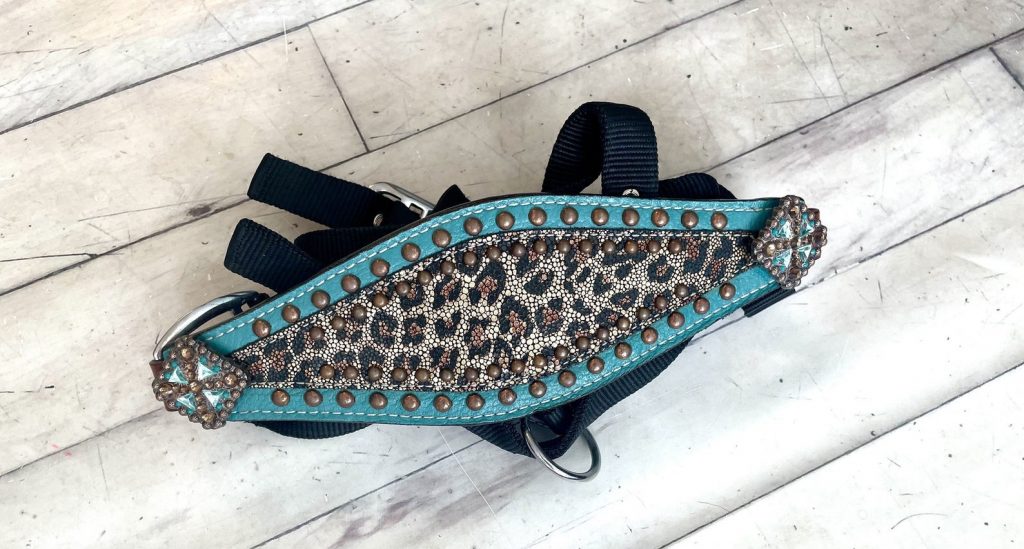 Bronc Halter $38.00, Cowgirl Barn and Tack
What's an animal print tack collection without some cheetah?! This bronc halter is bold and beautiful. It has teal and cheetah, which are super trendy right now. The black nylon halter is adjustable and fits your average horse.
Pink Zebra Headstall $49.99, Red Haute Horse
This western headstall has a flashy pink zebra design on a black nylon base. Your sassy mare will look great with the vibrant pattern. Crafted in the USA, this headstall has nickel-plated hardware for durability and all weather conditions.
Isn't tack buying fun and exciting? Hopefully, these animal print pieces got you inspired to ride. There's nothing better than looking and feeling your best!
Love this blog post? We think you will like Thinking About Selling Your Spare Tack? by Brittany Madonia.