Holiday season. For the last two weeks of the year, I don't know about you but, it's super hard to keep track of time.
Holiday season. For the last two weeks of the year, I don't know about you but, it's super hard to keep track of time. Luckily my family is small, so Christmas isn't a super-hectic time for us and I'm not ready to run away by the end of it. This last week between Christmas and New Year was definitely a blur though because I could barely tell what day was what.
I took zero time off in 2018. By the time show season kicked off and I decided to get my own girls out on top of taking clients there just was no weekend let alone a week to take some time for myself. So I didn't. I did however, cut the cord from the Saturday before Christmas until the day after Christmas where the horses went on the back burner. A vacation? Definitely not, but it at least took me away from the job enough to reboot the systems. I needed it too. Friday night I was SO ready to be away from the barn it was hard to get through the day, but I did it. Luckily, my last lesson on Friday night is a really good friend and client and we just did some therapy talking during her lesson. She was happy to just sit on a horse and talk about life. The girls get many more breaks throughout the year than I do. I'm a one-man show, so when I'm gone the girls get time off, which in my opinion is perfect because they are young and they don't need a rigorous fitness schedule. We have gotten some good time here this fall and start of winter without any weekend breaks and it's felt great and I feel like I've made headway in the training, but here we are at the end of the year and Momma needs the break, so they get another one too. This isn't bad. Let's be honest here, most horses could care less if they are working or not. Mine genuinely love their pasture time, I'm pretty sure they work for me so I will turn them out with their herd to run around like normal horses. They always come back from time off feeling better than when I left them. When we as humans take time off it runs one of two ways. We either actually take time off and come back to our normal routines feeling fresh and ready OR we've taken time off to cram more things into our day and at the end of our time off we are actually MORE exhausted. I genuinely hope this holiday season hasn't left you feeling like our second option. I know as riders we all worry about the time off for our horses, but think about these two options I've just mentioned and make sure that you don't end up in the second boat. Take the time off from riding if it means you aren't overloading yourself. You can't come into January beat up with no motivation. Everything you want to accomplish will be right there sitting, waiting for you after the holidays.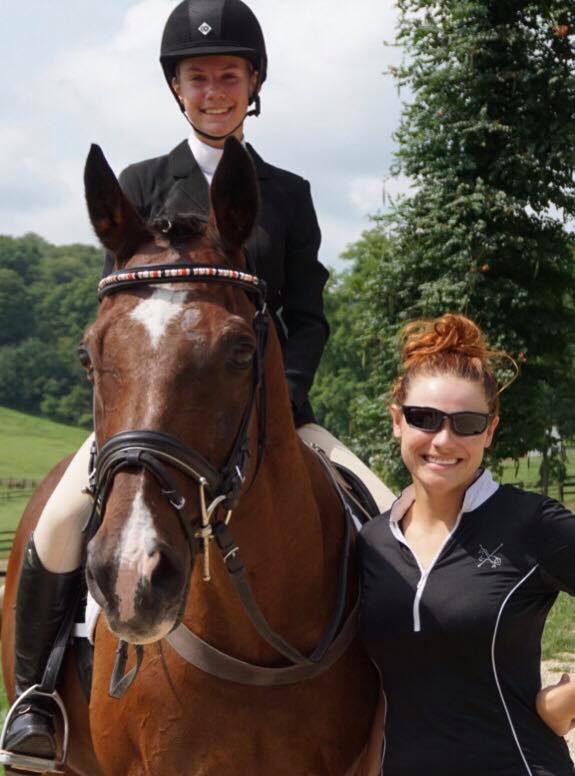 So, since it is officially 2019, time to start to think about the year ahead. What's a general plan look like for you? I always consider January the backside of winter. In January, my young horses turn another year older, which means I add another day onto their schedules. Tessa and Kimber are already at five days, so if they get six great, but if not I'm not uber concerned. Jia get's bumped to five and Sophie up to four eventually. I always LOVE working the horses out in a big snow, but we've received ONE snow this year, so my snow treading is at a big zero. I'm hoping January changes that a bit. I'd like to get Kimber out and about at a small schooling show series we have here over the winter. April will be here before we know it and that means her first cross- country school isn't far off.
Happy New Year Everyone!
**Danielle Vitosh is a USDF Bronze Silver and Gold medalist. With 21 years of riding experience, she specializes in dressage and eventing.  Dressage Elegance by Vitosh is based out of Leland and Plainfield, IL.