Over the last few months, I know that I have sounded like a broken record, continuously complaining about the nasty weather. The rain in North Carolina has been non-stop for so long! And of course, the snowfall in many areas of the country has been unrelenting. Most equestrians do not have access to an indoor arena, which means we are going long stretches without riding. I think it safe to say, however, that we still have horses on the brain! Here are a few horsey related things you can do while stuck indoors!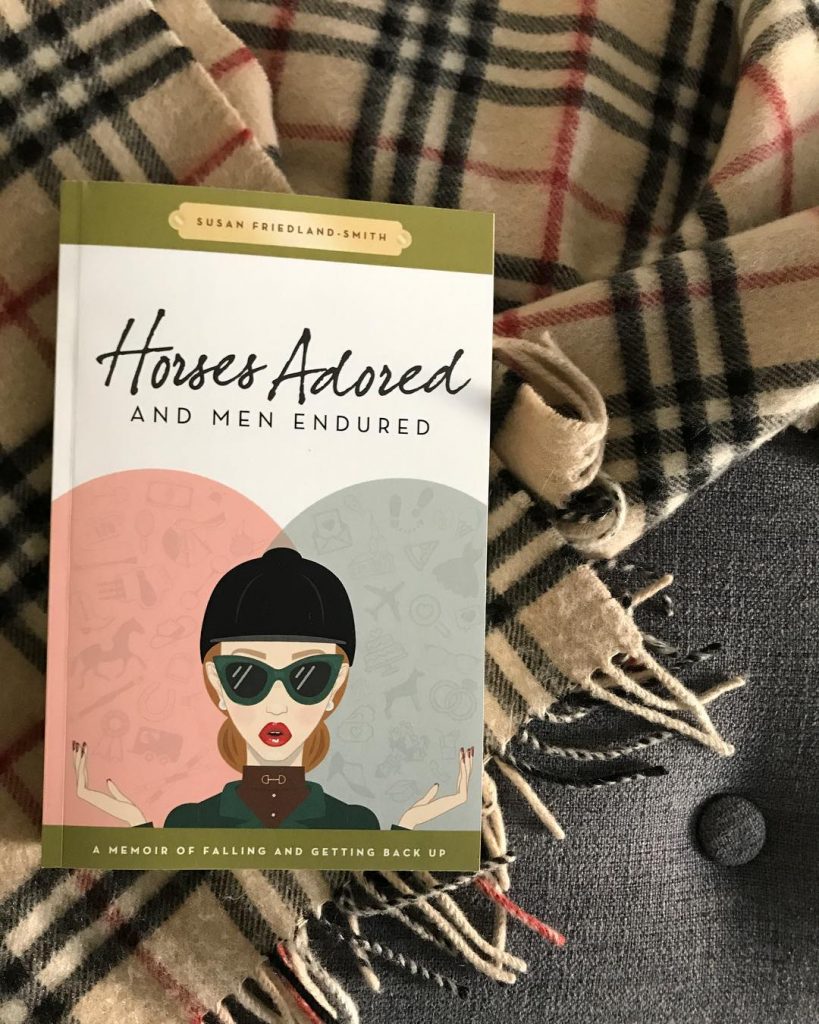 Cozy up with an equestrian book. I recently purchased, "Horses Adored, Men Endured", the debut book and memoir of fellow blogger, Susan Friedland-Smith. The cover artwork was done by Amy Ellison, another friend of mine, and the owner of Hunt Seat Paper Co. The book chronicles Susan's trials and tribulations with horses and love. It's a good, vulnerable and relatable read.
DIY Horse Grooming Wipes. I usually have a package of baby wipes with me, but these DIY wipes from the Savvy Horsewoman are a more natural alternative and really easy to make. Mix together the following ingredients: 3/4 cup distilled water, 1/4 witch hazel, 1 tsp fractionated coconut oil (regular coconut oil should be fine); and any essential oil of your choice. I would probably choose lavender myself. Then fill a large ziplock bag or container with lid full of old washcloths or thick paper towels. Slowly pour the water mixture until all the cloths are moist. Keep each cloth in the ziplock or container until you are ready to use them on dirt, stains, slobber, etc. I like using them on Chloe's muzzle, ears, and eyes.
Deep clean your tack and grooming brushes. This isn't the most fun task, but it is something that has to be done to keep your equipment in good shape and what better time than when you can't be riding. After removing any dirt or horse hair with a damp rag, I like to use both leather cleaner and leather conditioner when I clean my tack. When I clean my brushes, I simply fill a small bucket with a gentle yet effective Ivory dish soap. I soak my brushes for 20 minutes and then rinse with warm water. There is an actual brush cleaner you can purchase, but I have found this method to work for me.
Make your own horse treats. This fun and easy recipe is from Saddle Box. I typically give my horse healthier treats, but everyone can indulge from time to time right?! Here is the recipe for the "Horse Snaps" from Saddle Box:
You will need the following ingredients:

1 cup dark molasses
3 3/4 cups flour
1 cup shortening
1 cup white sugar
2 tsp baking soda
1sp cinnamon
1 tsp ground ginger

Preheat your oven to 425 degrees; grease cookie sheet.
Mix together the shortening and the sugar until the mixture is smooth, then gently stir in the molasses.
Combine the cinnamon, ginger, baking soda and flour. Next, gently blend into the molasses/sugar mixture.
Using a rolling pin, roll the combined mixture to a thickness of .25 inch. Use a cookie cutter to cut your cookies.
Bake 5-7 minutes.
What are some ways you get your horse fix in while not at the barn? Let us know!
**Andrea Wise graduated from Wake Forest University School of Law in 2007, where afterwards she spent 7 years as a commercial real-estate attorney.  In 2012, she launched the equestrian company, Pony Glam, which makes and sells the only colored hoof dressing for horses. She is also the voice behind the new equestrian lifestyle blog, Horse Glam. Andrea lives in Charlotte, North Carolina, with her husband, Zach, two young children, cat and horse, Chloe.