Do you want to travel the world and ride horses?  I can't think of anything better!
I'm excited to introduce Jennifer Sims, the Styled Equestrian, aka EqGlobeTrotter.  Jennifer is an equestrian and has started a riding holiday business.  You can join her on one of her many equestrian adventures across the globe.   Read on to find out more.
Tell us a little about yourself?
I'm a horse girl through and through!  I'm an equestrian lifestyle blogger and also host riding holidays all over the globe.  My husband, daughter and I live in Seattle WA.
How long have you been riding horses? What disciplines of riding have you done?
I started riding when I was in my early 20's.  I rode a little bit as a kid but didn't get to do it too much.  My main background is in Hunters and Jumpers, but last year when I launched my travel brand EqGlobeTrotter I started playing polo and became obsessed!!
What inspired you to join Instagram as the @styledequestrian?
It was a suggestion from a friend.  I loved styling fun, original riding outfits and worked as a professional model since my late teens.  I was actively competing in the Jumpers with my Dutch Warmblood Rocket and a leased mare Summer.  So I just started posting my riding outfits every day.  Back when I started there weren't really many accounts doing that.
How did your account @eqglobetrotter come about?
In December 2017 I went on a riding holiday in Mexico at Rancho Las Cascadas with one of my best ggirlfriends  I fell in love with the free feeling of galloping through the countryside!!  I had always gone around and around in a jumping arena so it was absolutely exhilarating!  I knew right then and there that I was going to start going on more riding holidays.  So I decided to start a riding holiday business to make that all possible!

What trips are you organizing for 2019?
I just returned from hosting a group of 10 riders in Portugal.  In April I've got a polo holiday in the South of France and then cross country jumping in Ireland.  In June I've got two weeks of an African Safari ride in Botswana.  The end of August I've got the Gobi Desert Cup in Mongolia.  In October I'll be back in Ireland for two weeks for more cross country jumping!  I've got some other little trips here and there sprinkled throughout, but these are the ones that are for sure!
What is the best way to find out trip details such as dates and cost?
I'm in the process of building my website which should launch this month.  For now I promote on my Instagram account @EqGlobeTrotter .  I email the details for each trip to whoever is interested.
What level of riding experience is required on your trips?
It varies, but for the most part my trips cater to riders of all levels.  The polo holidays are great because they are for riders who want to try to play polo as well as experiences polo players.  Same with my dressage holiday.  The cross country jumping in Ireland can be for riders who are jumping smaller fences like 2' as well as more advanced jumper riders.  We split the group according to their jumping experience.
Are all ages welcome?
For the most part my riders have all been between the ages of 20 and 50.  The average age seems to be late 20's and 30's.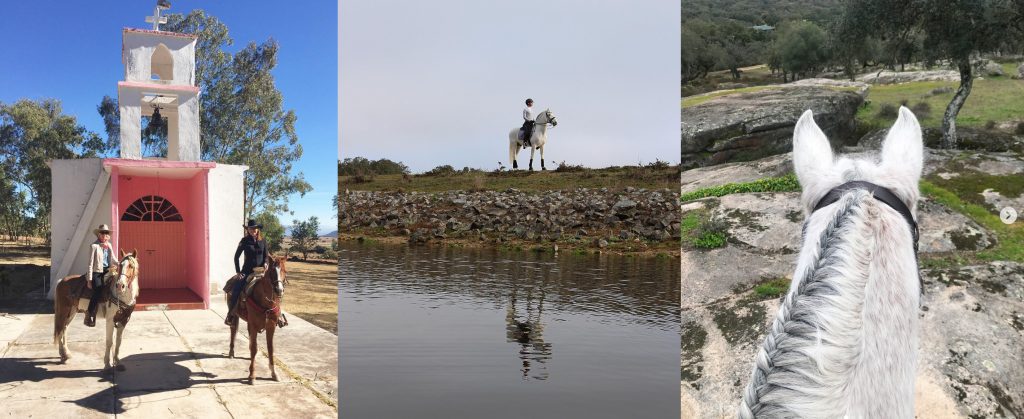 What has been your favorite equestrian adventure thus far?
Oh man, I get asked this all of the time and I really can't decide on one.  They are all so amazing in their own ways.  My Ireland trips are definitely awesome because it's like a week long slumber party with your best girlfriends and you get to ride and jump around the gorgeous green countryside and hit the local pubs too!  And the African safaris are just epic. I mean, your galloping alongside giraffe and zebra!!
What trip are you looking forward to the most this year?
All of them.  Lol!!  I'm especially looking forward to playing polo in France because it's the off season for polo here in Seattle and I'm going through major withdrawals!!
Where do you want to go that you haven't been yet?
Equador, Chile, Spain for sure!!

Join Jennifer on these upcoming trips…
Polo in France – April 20-26
African Safari in Botswana – Tuli Safari June 16-22 & Okavango Delta June 21-27
Cross Country in Ireland – October 13-20
Dressage in Portugal – December 9-15
I don't know about you but these adventures sound wonderful.  I'd love to join Jennifer on an equestrian adventure.  I think cross country jumping in Ireland would be my pick!
Leave us a comment below and tell us where you like to travel on horseback.
If you are on Instagram and love horses be sure to follow @thestyledequestrian and @eqglobetrotter!
All images courtesy of Jennifer Sims.
**
Erin Gouveia of Silver Oaks Farm is an accomplished equestrian, award-winning photographer, and an artist.   She was born and raised in San Diego, California, graduated from Colorado State University, and now resides in Park City, Utah on a small ranch with her husband.  She has had careers in Medical Research, Zookeeping, and most currently Photographer at Erin Kate Photography.
Follow Erin on Instagram at @silveroaksfarm and find her equestrian inspired fine art photographs and handmade goods in her Etsy shop SilverOaksFarm.