It is crazy to think that it is almost April! The temperatures are rising, the flowers are blooming, and the Cavali Club box is shipping! Spring is officially here!
Cavali Club is filling their boxes with spring must-haves for equestrians. When the box arrived on my back porch, the box immediately brought a smile to my face. It is wrapped in spring colors with a cowgirl and horse on the outside. The little cacti and tumbleweeds have me keeping the box till I can reuse it again. 
This unique, equestrian-lifestyle subscription box celebrates serious horse lovers everywhere. Cavali Club by Corro is committed to supporting equestrian entrepreneurs and making 2022 the year of giving back. Each carefully curated, value-conscious box features unique items and one-of-a-kind exclusives, all while doing good.
The Spring 2022 box kicks off Cavali Club's first philanthropic partnership. Shoppers will have the opportunity to "round up" their order total with a donation to Red Bucket Equine Rescue, and Cavali Club will match each donation. Red Bucket Equine Rescue is based in Chino Hills, CA, and is committed to rehabbing and rehoming abandoned horses.
Opening the box was just as fun as finding it on my back porch after a long day at work. 
With a focus on female-owned brands, the spring box is valued at over $200! Inside the box I found:
KONG Mega Wubba 
Back on Track Nikki Physio Socks 
DappleBay Equestrian Belt Bag 
Honey & Hank Horse-Themed Tea Towel
Blue Ribbon Beauty Satin Lipstick 
Goat Milk Soap Bar
Unicorn Grooming Spray
KONG Mega Wubba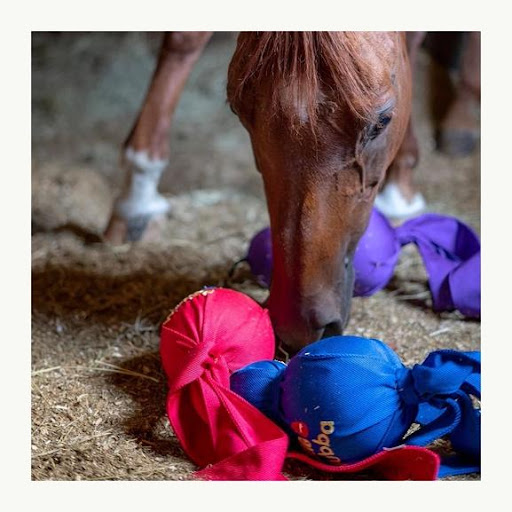 My first thought after opening the box was how I was going to get the KONG Mega Wubba back to my hometown in Pennsylvania for my horse and dogs to enjoy. The Mega Wubba is huge!!!! I compared it to my head size and the Kong is just as big as my head. With the size being so big, I am excited to try it with my horse. He is very active in his stall, and I usually keep a Jolly Ball hanging from the wall however, with the size and material of the Mega Wubba I think it will be a great addition to keep him occupied. Also, a plus, it is bright red so it will never get lost in bedding when my horse decides to get super bored. 
Back on Track Nikki Physio Socks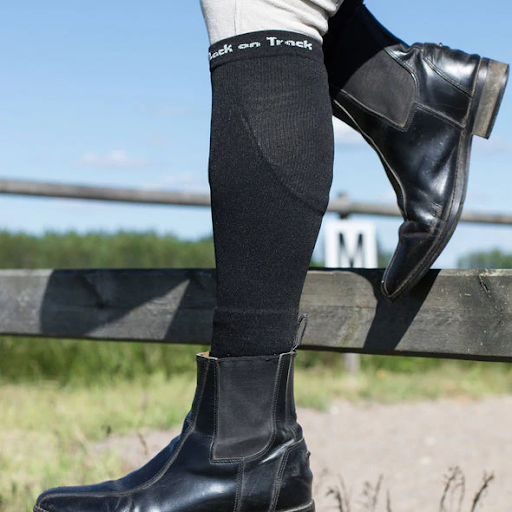 The Back on Track Nikki Physio socks is a new personal favorite of mine. They are the perfect height for tall boots and fall right at the back of your knee. They are made for compression which is a big plus for me to get my calves into my tall boots. The socks help to keep your riding pants lying flat while also getting the compression to your muscles. It is a great use of Back on Track technology, and I will be buying more pairs in the future!
DappleBay Equestrian Belt Bag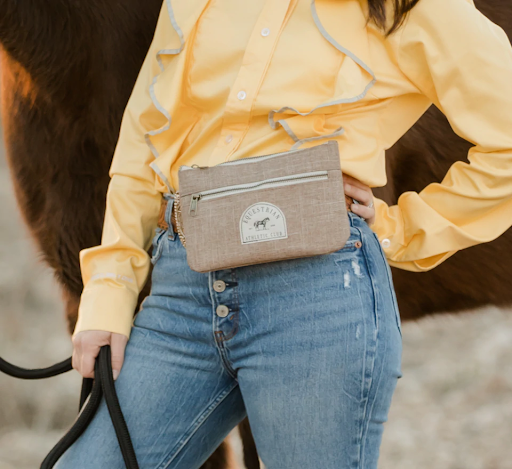 I am so excited to finally have a belt bag for my spring and summer riding. I am always struggling to keep my phone in a secure spot while I am riding and with the DappleBay belt bag it is the perfect size to hold my phone, AirPods, and any other essentials while staying secure to my belt. It is made with magnets to fold through your belt, keeping things lying flat and not getting too bulky. I forgot I was even wearing the belt bag while I was riding which was a huge plus!
Honey & Hank Horse-Themed Tea Towel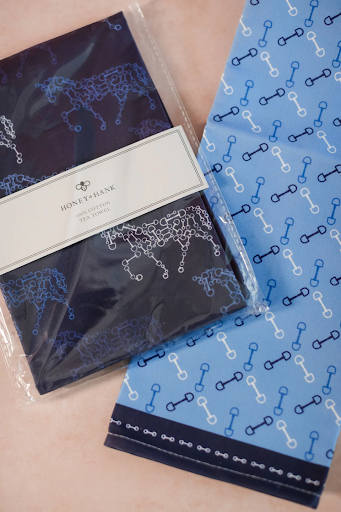 Recently, I moved to Lexington, Kentucky for a job and I have been slowly decorating my apartment. I was really excited to receive the Honey and Hank tea towels. They are made of a very sturdy nylon-like material to hold up with all my messes in the kitchen. They have the cutest horse and bit pattern on them in a navy and light blue color. 
Blue Ribbon Beauty Satin Lipstick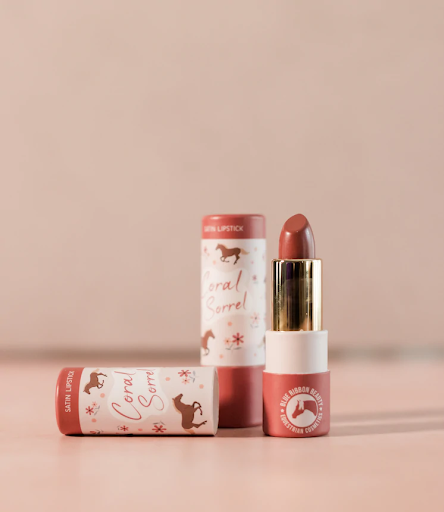 I was unsure about the Blue Ribbon Beauty Satin Lipstick because I am not a huge makeup user especially when it comes to going to the barn. However, the lipstick is the perfect shade. It does not stand out too much but leaves my lips with a great natural color. Another thing I really liked about the lipstick is that it is very light, and I did not even notice it on my lips as I continued with my day. Also, the color is called coral sorrel which is the cutest thing ever. 
Goat Milk Soap Bar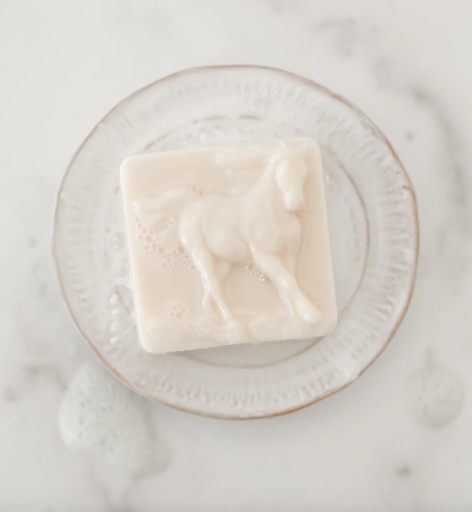 An unexpected addition was a bar of soap with a horse engraved into it by Fairchild Farm & Mercantile. Honestly, any bath type products I get super excited about. Since it is made from goat's milk, it leaves your skin feeling soft and hydrated. I am not a huge user of bar soap, but it created a great lather and left my skin feeling fresh. 
Unicorn Grooming Spray
Lastly, the Unicorn grooming spray is extremely useful because it can be used on both horses and dogs. Living on a farm with three dogs and two horses it has been extremely useful. I love it for spraying over the dogs before they come in from a day on the farm. It leaves the dogs smelling fresh and lavender-like without having to give them a bath. The bottle comes with concentrate, and you just have to add water. 
Everything in the spring box has been very handy and useful as an equestrian and dog lover. For the price, everything included is great quality, comes quickly and keeps me looking forward to the next box. 
Available at CavaliClub.com, the Spring box includes seven carefully selected products for horse and rider, valued at over $200. Each box is priced at just $49 with code WELCOME at checkout. 
Make sure to secure your box today and let us know in the comments if it was everything you expected!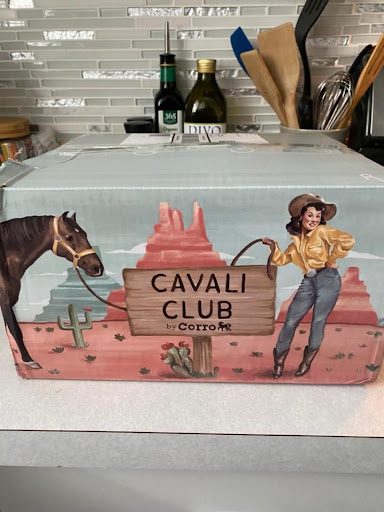 Love this blog post? We think you will like Back to School Style: Equestrian Edition