It's that time of year again, where the school bugs sing a little louder, the fog dances over the fields, and we are greeted by a crisp, cool August morning
For us here in Ohio, that signals one thing: School is Coming. Thousands of students await their first day of the school year, some anxious, some nervous, and some excited, but all are waiting in anticipation of what this year will bring.
While I can't tell you how this year is going to go, I can give you some pointers on how to incorporate equestrian items into your style. I'm going to skip all of the big corporate brands that most of us already know about and introduce you to some smaller brands that are on the rise! 
For The "Crazy Horse Girl"
Everyone at school knows that you have a love and passion for horses. Every minute of your spare time is spent with your horse or working to pay for your horse. I have a brand that you are going to LOVE. Have you heard of Dapplebay? They offer cute graphic tees and accessories for horse lovers. If you're off to college and want to attract like minded crazy horse girls, go snag one of these tees! 
While you're at it, check out their stickers! You can put them on your notebooks, water bottle, or laptop.
If you love bold equestrian patterns take a look at Forza Cavallo! Not only do they offer clothing for both women and young girls, they also have home goods and accessories. Look at this notebook from them! 
More Subtle About Your Love For Horses? 
That's ok, I have some things for you too! Accessories are a great way to showcase your passion without being extremely noticeable. I LOVE my Brandywine Backpack from Tucker Tweed Equestrian. It's spacious enough for a laptop and some other utensils without being too big and bulky. It is definitely an investment piece, but it is well worth it! They also have wristlets, totes, and purses if that's more your style. 
Did you know that Bethany Lee from My Equestrian Style launched her own collection? The MES scrunchies are perfect for going to the gym, throwing your hair up, or wearing around your wrist! 
Working Towards A Capsule Collection?
Add this Customizable Hand Embroidered Chambray shirt from Silver Oaks Farms to your wardrobe! If you're anything like my sister, you love to support small businesses and add unique items to your closet. This Chambray shirt is a great basic with a cute twist to add some personality to your style. Make sure to take a look at their graphic tees too! 
The Above Brands Are Great… But I'm A Cowgirl 
Don't worry, I didn't forget about you! Westeria Wear is a clothing boutique that was just launched in April. It is owned by sisters, Stephanie and Nikki Moratto. Westeria Wear gives you the best of both worlds by offering both casual day to day looks and some of the cutest going out pieces that will have every cowboy turning his eye at you! 
What equestrian brands will you be wearing back to school this year? Let me know in the comments!
Love this blog post? We think you will like A COZY FALL OUTFIT FOR EQUESTRIANS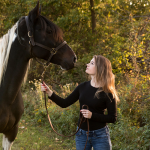 Ida Foels developed a love for the classic and timeless style of equestrian fashion from a young age. Growing up in an equestrian-based family business exposed her to a multifaceted industry with many different looks and designs. Knowing she wanted to pursue a career in fashion, she went to Kent State University's Fashion School and graduated with a bachelor's degree in Fashion Merchandising. Today she works for her family's business as a project manager and fashion editor.