If you have your horses at home you know just how busy they keep you.
There are no days off when you have animals in your life.  Despite the time spent I wouldn't trade my lifestyle for anything.
My mornings begin at 7:00am when I head straight out to feed the horses breakfast.  My horses eat a local grass hay which is a mix of Timothy, orchard, brome, and clover.  After feeding I prepare the next 24 hours of meals so come feeding time I can just grab and go.  Each horse also eats different amounts so if someone else needs to throw them a meal it's all ready for them.
When I return to the barn to clean the cats are waiting patiently for their kibble.  There is Kitty Cat who adopted me five years ago, Whiskey Kitty who I had fixed about four years ago and who permanently moved in last year, and most recently Smokey Kitty who I had fixed this winter.  They all tolerate each other which makes me happy.  Cats are loved and fed so I'm off to clean manure.
From about November through May my horses come into their stalls at night so I clean every morning.  I use local pine shavings that are bagged.  I wish I had a spot for bulk delivery to be housed.  With our winter snow it's just not an option to have them delivered outside.  Once stalls are clean I add a scoop of pelletized bedding to the urine spots and cover with shavings.  Shavings are added as needed.  I clean the auto-water bowls and clean the feed/supplement buckets daily.  Lastly, I vacuum the barn aisle.
From about May through October the horses live outside 24/7.  I clean the manure in the turnouts daily.  I fill water buckets daily and scrub out about weekly.  Manure is disposed of year-round in a dumpster that is emptied weekly.
Horses are fed, barn chose are done, now it's time for my breakfast and my cherished morning latte!  If you follow me on Instagram you know how loved it is!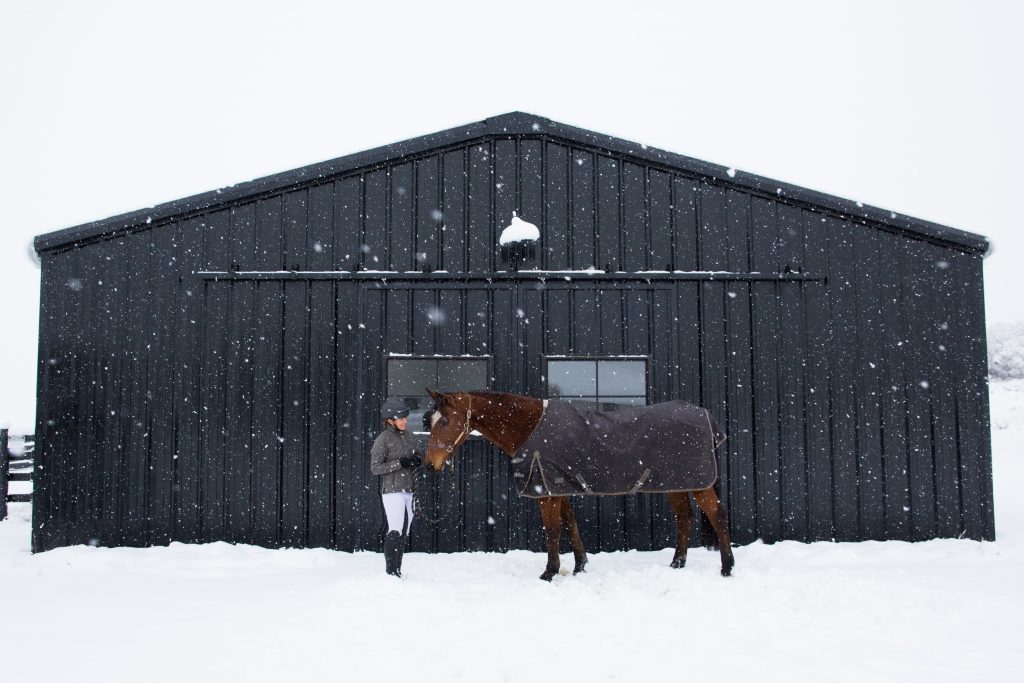 In winter my riding and training takes place in late afternoon.  If the horses get sweaty and hot they can just stay in the barn afterward so that timing is best.   It's also the warmest part of the day.   In summer I like to ride in the morning, after chores, before it gets too hot.  It's also a lovely way to start the day!
The horses are fed lunch around 1:00pm year-round.  In winter they are brought inside with the sunset and fed their supplement buckets and a hay snack.  They are fed dinner around 10:00pm.  In summer they are fed supplement buckets and dinner just before dark.
I water and groom my arena footing bi-weekly depending on traffic.
The summer months are for farm projects so much of my time is filled with those.  This summer I'm working on adding a layer of stone dust then sand to my turnouts to cover the native dirt which is incredibly slippery when wet.  The turnouts are about half-way complete.  I will finish them this year and they will be rid of mud!  I will also be painting my fence posts so I need to finish wire brushing the old paint first.  In July I haul and stack a years worth of hay.  Probably my least favorite job but it keeps me in shape!   Weeding and weed whacking around the farm is never ending.  And then there are the things that you're never expecting but are just part of it all…broken hot wire, leaky faucet, the vet calls…
I love having my horses at home.  I can imagine it any different despite all the hard work that's involved.
For those of you that keep your horses at home, what is your favorite part and your least favorite part of it all?
Love this post? We think you will like Save Time on Barn Chores