We are winding on down to the end of the year.
 Christmas is in full swing, my horses look like wooly bears in their pastures as our big wreath on the barn shines down on them.  Our day officially ends here in Ohio at 5:10 p.m. and it is dark by 5:30 p.m. The Winter Solstice hits our northern hemisphere Friday, December 21, our shortest day of the year.  
Hibernation days like this and a warm cup of cocoa take me back to Christmas's from my childhood.  Times were so different then. My dear Great Aunts that came to visit us had small gifts wrapped in tissue paper.  They would place shiny tiny star stickers in red, green and blue, onto the tissue paper to adorn it. With a neatly tied bow, the package was perfect and beyond exciting to us little ones. Weather we received a book or a necklace with a mustard seed in a glass pendant, the gift was exquisite.   My Great Aunt's always came dressed to the 9's. Coats, dresses, heeled shoes, gloves, purses that matched the shoes and pillbox hats. Red rouge made their cheeks even more rosey with their white crown of hair. I loved them.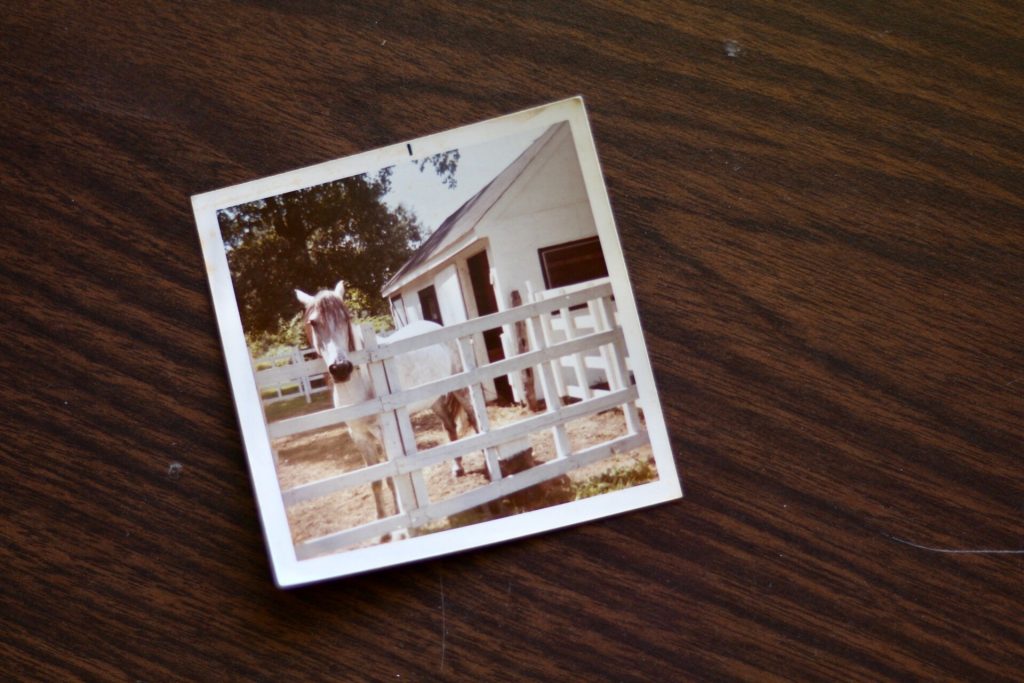 My parents purchased my first horse when I was 5.  I know that for the longest time I did not have a saddle.  Somewhere along the way my Uncle helped us purchase a western saddle with a red seat, a bridle and martingale. On the winter days, I rode my horse around our neighborhood jingling a string of bells (that I still have today) and wished everyone a Merry Christmas.  I gave out chocolate chip cookies that we baked, in little wax paper bags. Neighbors were kind and happy to receive them. Never once did anyone say we could not ride up to their front doors.
As I grew up, married and had children, we had horses and one little pony that we rescued. Queeny was completely black and I had no idea if she drove, but I saved all of my extra grocery money to purchase a pony cart and harness for large sum of $100.  So after finding out she was a pro with driving, my three children and I would drive through our woods singing songs all the way. " Over the River and Through the Woods", "Jingle Bells", "Santa is Coming to Town".
Three of us would squeeze onto the cart seat and then the youngest would sit at our feet or on my lap.  Queenie did her job and we would come back to the barn, red cheeked, tired and happy. She was a good little pony.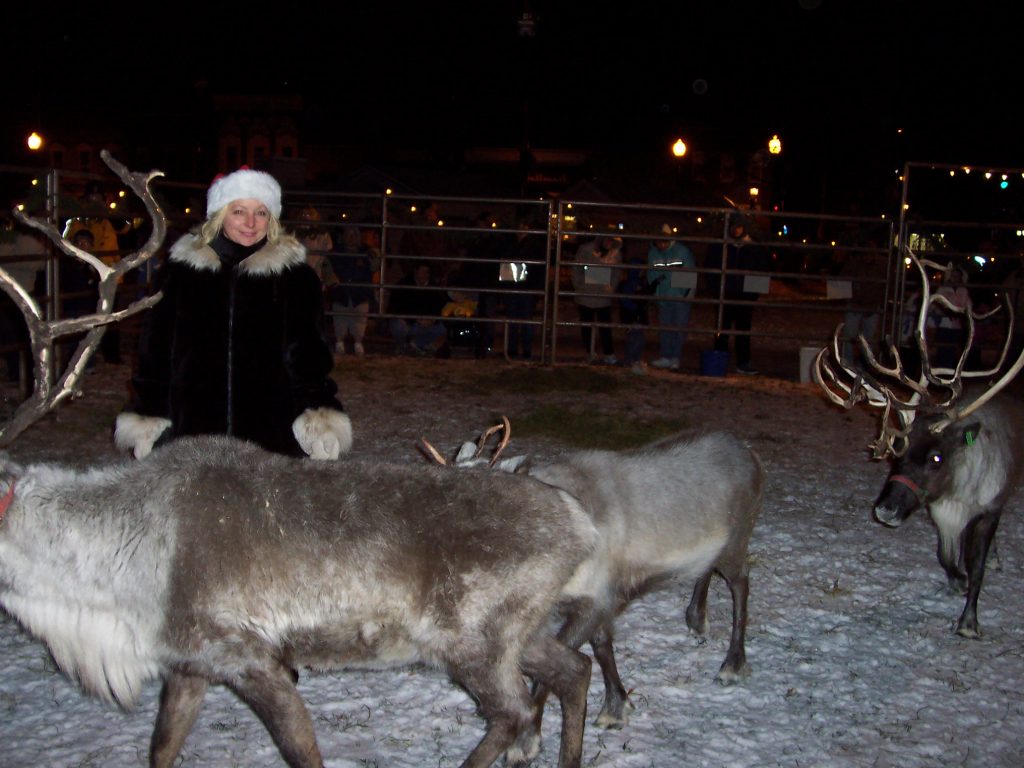 Years passed, the children grew and married and grandchildren arrived.  And so did the reindeer…yes reindeer. One year I received a letter from Santa himself saying that some of his deer were at the Cincinnati zoo for people to see during the Christmas season. But after the end of December, we would be receiving 2 reindeer! And that is exactly what happened. We received Gingerbread and Cocoa by the man with the big white beard who delivered them to our farm. And yes, his name was S.C.  Excited and happy to see the most beautiful reindeer, it brought memories back of being little.
    My parents would take my sister and myself
to Oak Openings metropark to see the deer.  
Long ago the
park had some deer in a pen that could be fed.
I remember
how beautiful the deer were standing
in the lovely tall pine trees.  Between the smell of the
pines and the cold air, the memory has never left me.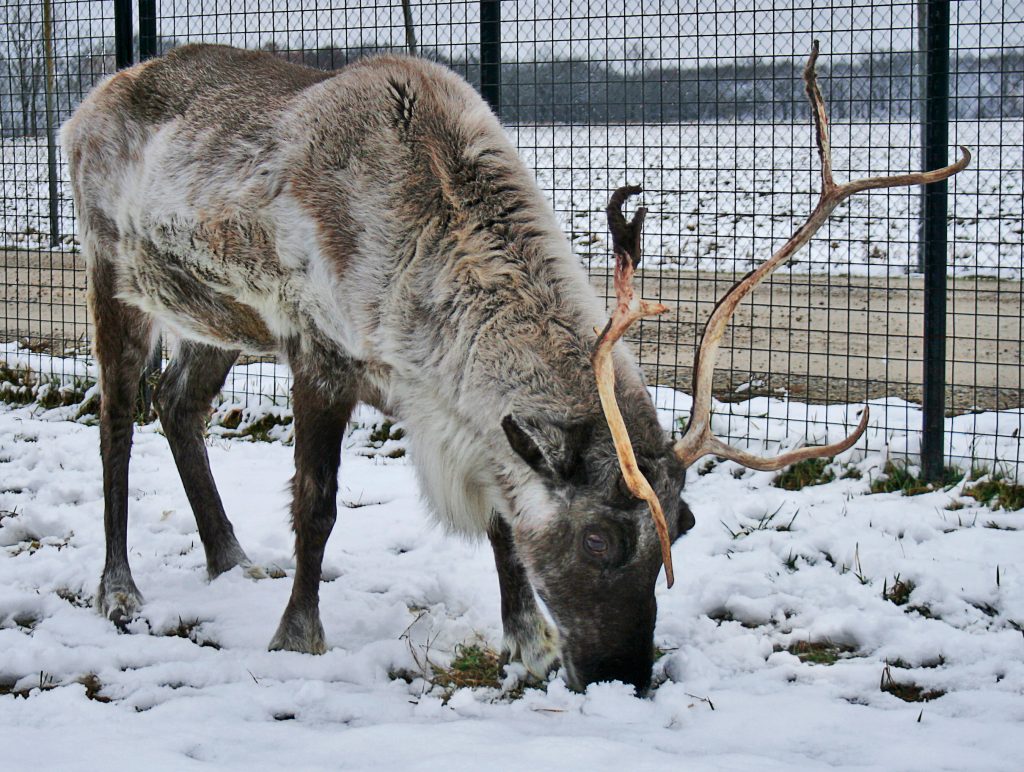 Word traveled fast about our reindeer. We had families that stopped by for pictures as well as the newspapers that came to write about them.  It made Christmas that much more special to see the smiles on everyone's faces.
So many other memories flood my mind like the year we had to nail the christmas tree tethers to the floor – as our tree stand could not hold the huge tree.  Or the tree that we could put the angel on top of from the second floor balcony. And all the years in between, when we would go out to the barn Christmas morning, to bring carrots and peppermints to each horse.  
I hope that you and your family can take some time to make memories this year. Enjoy a cup of cocoa and share your stories with your loved ones.  Our family and I want to wish you, your families and your horses a
Merry Christmas!