I have extreme performance anxiety (think turn green and no one can talk to me) and I have found that one way to help calm my show nerves is to feel very prepared.
The more I ride successfully in the arena at home, the better chance my body's muscle memory will take over in the show ring when I black out from nerves!! Additionally, if my show supplies and tack are organized and clean, the less rushed I feel while at the show, which directly correlates to my show state of mind.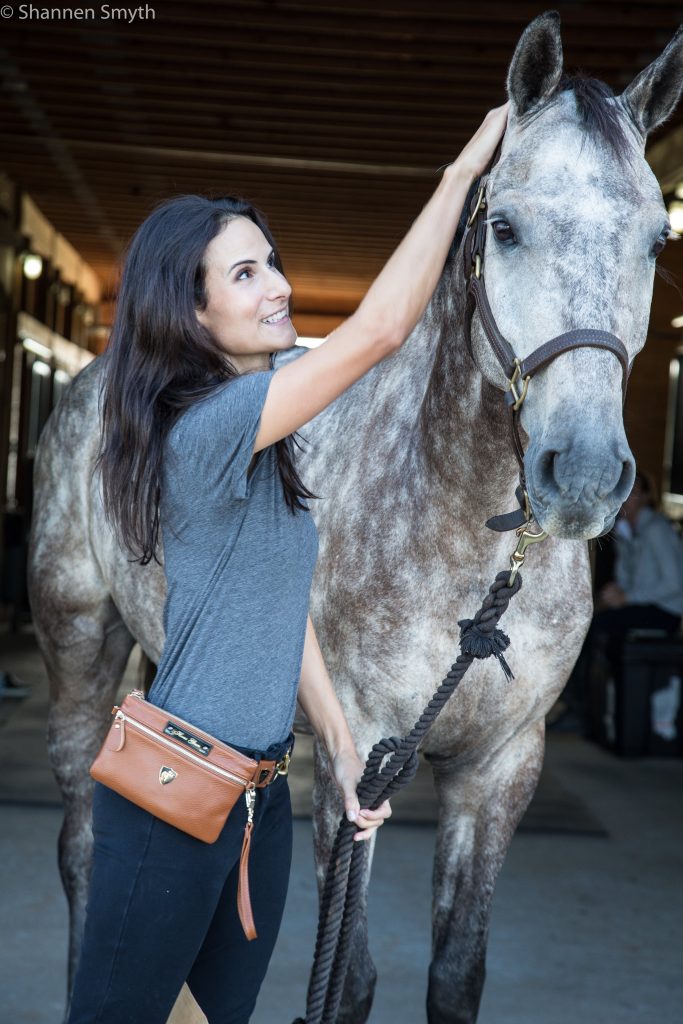 Many of you have followed my Hamster journey from the beginning. Somehow, around August, I got talked into showing him in a division at Tryon International this month. Horse showing always sounds good to me when the show date is set in the far, far future! I have spent the last month trying to ride him as much as possible and we even took an off property lesson just to be able to jump around somewhere new. I am so glad I did that – even though I was so nervous about simply practicing elsewhere. The change of scenery really helped boost my confidence and I think Hamster's too.
Getting extra rides in this last month has been quite challenging time-wise. I have noticed that my responsibilities to my blog and family have taken a slight back burner. We have definitely ordered take out for dinner much more than usual, my blog postings have slowed down and my house isn't as organized. But you know what? I am so happy and I think that positive energy filters down into other life areas. I am someone that loves having goals and working towards them, and the past month I have really improved my riding and taken steps to get back to the level I was pre-kids. I still have a long way to go, but I leave the barn each time with a sense of accomplishment and a smile on my face.
Today, as I write this blog post, I am sitting at the airport ready to board a plane after a family Disney cruise. The kids had a blast and we made precious family memories. Unfortunately, I missed out on over a week of riding and we leave for the show in 2 days. As I mentioned above, feeling organized, prepared and not rushed, helps calm my anxiety, so the timing of this show is not ideal for me. Despite this, I know I have done everything I can to prepare myself and I am going to focus on all of the little accomplishments I have made in the last few months. And I am truly going to remember to have fun!
**
Andrea Wise graduated from Wake Forest University School of Law in 2007, where afterwards she spent 7 years as a commercial real-estate attorney.  In 2012, she launched the equestrian company, Pony Glam, which makes and sells the only colored hoof dressing for horses. She is also the voice behind the new equestrian lifestyle blog, Horse Glam. Andrea lives in Charlotte, North Carolina, with her husband, Zach, two young children, cat and horse, Chloe.