Add more horse to your life with these incredible films!
Since riding isn't always possible, why not settle for second best… watching horse movies! All equestrians have their favorite ones. It could be from your childhood or maybe a more recent film. Either way, bring out the tissues, get ready to laugh, and have an endless supply of popcorn. Horse movies have love, drama, fear, anger, and a whole lot of excitement.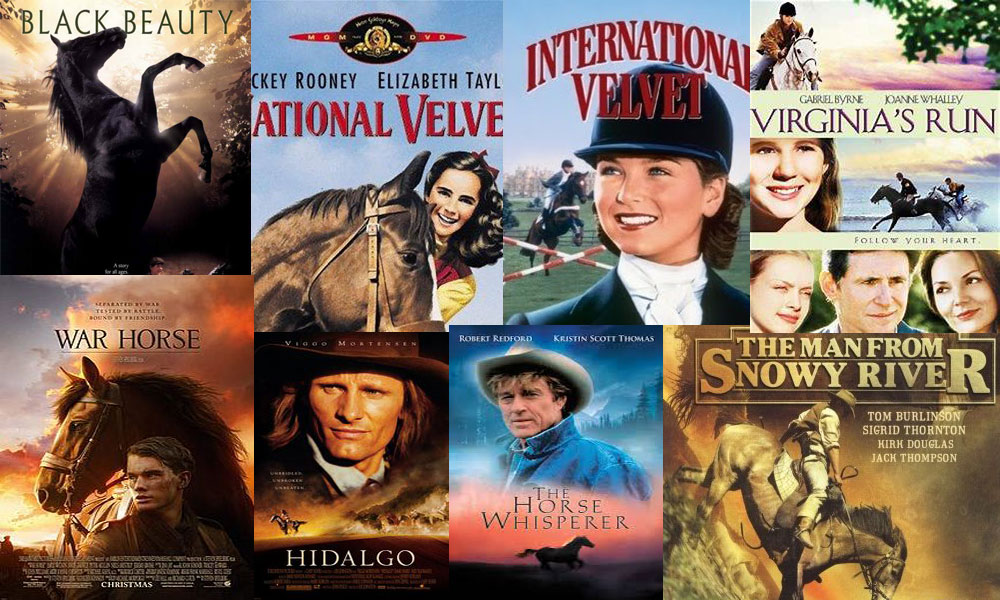 Seabiscuit

(2003)
Join the journey of this famous racehorse as he lifts up the spirits of an entire nation. Based on a true story from the Depression era, this film stars Tobey Maguire, Jeff Bridges, Elizabeth Banks, and Chris Cooper.
     2. Black Beauty (1994)
Narrated from the horse's perspective, Black Beauty is based on Anna Sewell's novel. It's the tale of a colt and his journey. Alan Cumming is the voice of Black Beauty.
    3. National Velvet (1944)
Liz Taylor stars in this equestrian movie. The talented Velvet Brown lives out her dreams by transforming her horse into a champion.
    4. International Velvet (1978)
Sarah, the orphaned niece of Velvet, dreams of riding in the Olympics with her horse, Arizona Pie. Follow her amazing journey. This sequel to National Velvet stars Tatum O'Neal, Christopher Plummer, and Anthony Hopkins.
     5. The Man From Snowy River (1982)
Jim Craig learns all about becoming an adult when his father dies and he accepts a position on a cattle ranch. The film is set in the 1880s. Kirk Douglas is featured in this Australian drama.
     6. Virginia's Run (2002)
Gabriel Byrne plays in this film of adventure and hope. A young teenager deals with the tragic death of her mother by nurturing a foal from her mother's horse.
     7. Hidalgo (2004)
Wild West rider Frank Hopkins, played by Viggo Mortensen, competes in a 3,000 mile race in the Arabian Desert.
     8. The Horse Whisper (1998)
Scarlett Johansson stars in this horse film. After a tragic accident, a teenage girl and her horse work with an exceptionally gifted horse trainer. Their road to recovery isn't easy.
      9. War Horse (2011)
This WW1 inspired movie shows the struggle of Albert, a young man who enlists in the army after his horse is sold to the cavalry. Follow his search for his beloved horse. Stephen Spielberg directs the film.
      10. The Black Stallion (1979)
Legendary, Mickey Rooney stars in this film. The main character befriends a wild black Arabian while traveling on a steamship. Eventually, they train for a race.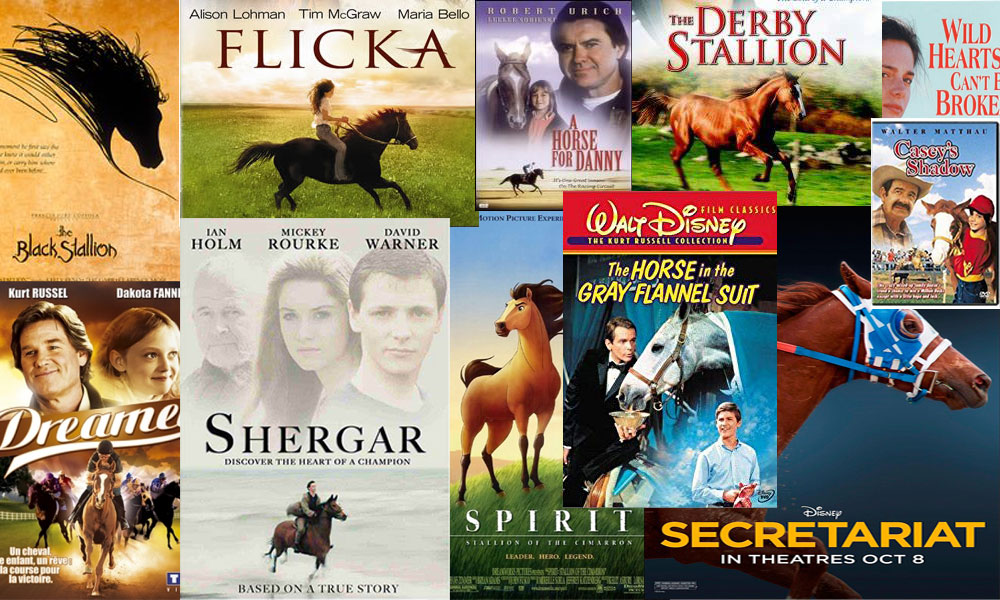 11. Dreamer: Inspired by a True Story (2005)
Join Sonador, a race horse, as she recovers from a broken leg. Kurt Russell and Dakota Fanning play in this light heartfelt movie.
     12. Flicka (2006)
Young Katy must prove she is capable of running the ranch. She attempts to prove herself worthy by taming a wild horse.
     13. Secretariat (2010)
Inspired by true events, Penny Chenery Tweedy enters her long-shot stallion into races in order to win the Triple Crown. This movie stars Diane Lame, John Malkovich, and Margo Martindale.
     14. Spirit: Stallion of the Cimarron (2002)
In this animated film, a wild stallion is captured by humans. Join his story as he struggles for freedom. Voices of Matt Damon, James Cromwell, and Daniel Studi are featured.
     15. Shergar (1999)
A mix of crime, drama, and romance, this film is based on the true story of champion racehorse, Shergar. From his abduction to his rescue, you won't want to miss this compelling tale.
     16. A Horse for Danny (1995)
Danny, a young girl who lives at the track with her uncle, knows he needs a great horse to make his name. Leelee Sobieski, Robert Urich, Ron Brice, and Gary Basaraba are brilliant in this film.
     17. Wild Hearts Can't Be Broken (1991)
Daredevil, Sonora rides horses off of high dives until her life is forever changed. This drama film is filled with determination, guts, and death-defying dives. It features Gabrielle Anwar and Michael Schoeffling.
     18. The Derby Stallion (2005)
Starring Zac Efron, this film features a fifteen-year old with a unique gift of horsemanship. With a former horse trainer, the team makes dreams a reality.
     19. The Horse in the Gray Flannel Suit (1968)
Walt Disney Productions features a light comedy family film about a businessman and his daughter's horse.
     20. Casey's Shadow (1978)
With his father's help, a boy trains a foal all the way to the American Quarter Horse Futurity. The film stars Walter Matthau and Alexis Smith.
What's your favorite horse movie? You'll definitely want to add these top 20 to your must watch list!
**Emily Fought discovered her passion for horses early on in life. When she isn't writing about them, you can find her in the barn riding. Although Emily's background is in dressage, she enjoys cross-training and is an avid trail rider. She resides in Northwestern Pennsylvania with her husband and small dog. Together, they own and operate Humblewood Farm.