Ask anyone who knows me, and they'll tell you how much I love cats.
They've always been a part of my life, and at the moment, I have two house cats as well as four living my barn. One of those barn cats is a very recent addition. In fact, he showed up a few weeks ago completely out of the blue. The little guy is skittish, but with some persistence, I've gotten him to warm up to me. I named him Scotch.
I might be biased, but I think everyone needs a barn cat (or four). Aside from adding to my barn-time enjoyment, my cats provide a very useful purpose. And I can also feel good about the fact that they're all rescues (aside from Scotch).
Cats, by nature, are skilled predators who can survive without us. This isn't to say the ever-present feral cat issue is a good thing—it's not—but it is a testimony of the cat's independent nature and hardiness.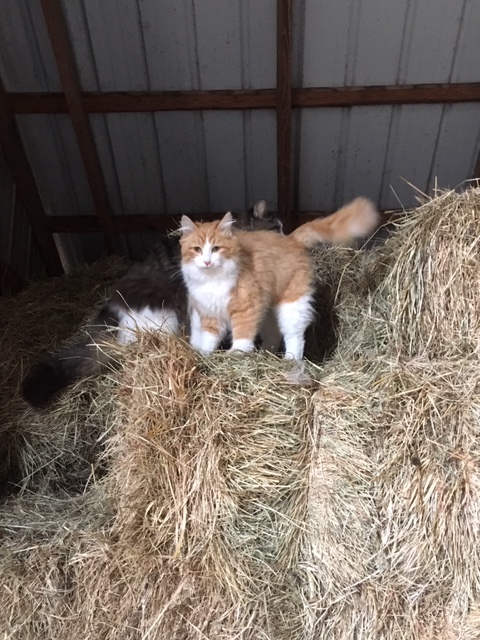 Every barn will attract unwanted vermin—and the safest and most environmentally-friendly solution is a barn cat. 
While it may sound a tad morbid, I often find leftover tidbits of some rodent my cats have killed. It doesn't usually stay around long though. They aren't picky when it comes to eating the whole thing (either that, or the dogs finish it off for them). 
If you're considering getting a barn cat for the first time, here are a few tips which will ensure they stick around and serve their purpose:
Get them young (although I've brought adult cats home and they've been fine as well).

Feed them. I feed mine twice daily actually, and it hasn't at all discouraged them from hunting.

Provide routine health care. Get them neutered/spayed. Vaccinate. Take them to the vet if they're sick. They'll be happier and live much longer if you do.

Make sure they have a place to stay warm in winter, whether it be a hay loft, tack room, etc. 
Barn cats are easy to care for, entertaining, and best of all useful. If you already have one, feel free to share a story in the comments. And if not, consider adopting one to keep your barn vermin-free!
**
Casie Bazay is a freelance and young adult writer, as well as an owner/barefoot trimmer and certified equine acupressure practitioner. She hosts the blog, The Naturally Healthy Horse, where she regularly shares information on barefoot, equine nutrition, and holistic horse health. Once an avid barrel racer, Casie now enjoys just giving back to the horses who have given her so much. Follow Casie at www.casiebazay.com.