Social media and the internet make it so easy to have access to the world of horse products.  There are more options than ever on the market these days but it can be quite overwhelming to know what to choose and what products really work.
Today I wanted to share a few of my favorite things that I currently use for myself, my horses, and that I stand behind 100%!
Four years ago my husband and I purchased horse property.  We had room for four horses.  We owned two and decided to board out the other two spaces.  I have owned and cared for horses all my life but boarding was new to me.  I turned to Sheri Grunska of Pro Barn Management.   I quickly purchased her books A Step by Step by Step Guide to Starting and Running a Successful Horse Business and The Total Horse Barn Management Makeover.  Sheri has years of boarding experience and breaks down every little detail of the business.  I highly recommend her books and blog if you are interested in a horse boarding business.  Sheri also offers barn management workshops and consultation through on-site farm visits, phone or Skype conferencing, and email guidance, support, and advice.
I first learned of Coat Defense a few years ago when I was visiting my trainer in Virginia.  She had discovered it at her local tack store Tri-County Feeds.  Virginia is known for it's lush green fields.  This grass and Virginia's humidity often result in horses getting scratches and rain rot.  Even though I live in a very dry climate I brought some Coat Defense with me back to Utah.  That spring, a.k.a. mud season, my horse developed scratches.  I used their Trouble Spot Drying Paste and his skin healed up within a few days.  Today, I use it on everything including skin issues, sores, insect bites, and I've even packed it in a hoof with thrush.  I also love their Preventative Powder and sprinkle it on my horses to help dry up sweaty spots after a ride. I have one word to describe Coat Defense, MAGIC!  Coat Defense is FEI and USEF compliant.  Read the amazing reviews HERE
I don't remember how I came across Horse Quencher but I picked up some to keep in my barn a couple of years ago.  Their motto, "you lead 'em to water.  We'll make 'em drink!" couldn't be more true.  One of my horses had a virus and wasn't feeling well.  I was worried about water intake so I offered him a bucket of water with Horse Quencher and to my surprise he slurped it up like it was the yummiest thing he'd ever tasted!  I felt so much better knowing he was getting fluids.  Horse Quencher comes in a few different flavors.  It is a definite must to have on hand and is great for horse shows, new barns, weather changes, illness, and traveling.  It's also great for peace of mind.  Read more testimonials HERE
This handy dandy little gadget is so great for cleaning brushes.  You just fill a bucket with soapy water, soak the brushes, scrub them on the Epona scrubber, and rinse.  Brushes come out just like new!
When we built our developed our property for horses there really wasn't any other fence I considered.  I had a friend that had RAMM Flex® Fence and knew I wanted to use it for our horses.  It had the reputation of being safe and long lasting.  We installed almost 8000 feet of flex fencing.  Horses are hard on everything and in the last four years the flex fence has shown little wear.  I had a horse roll himself right into the fence which resulted in just a few minor scrapes.  If I was installing horse fence again I'd use RAMM Flex® Fence.  For more testimonials click HERE
What are some of your favorite horse products?  Let us know in the comments below.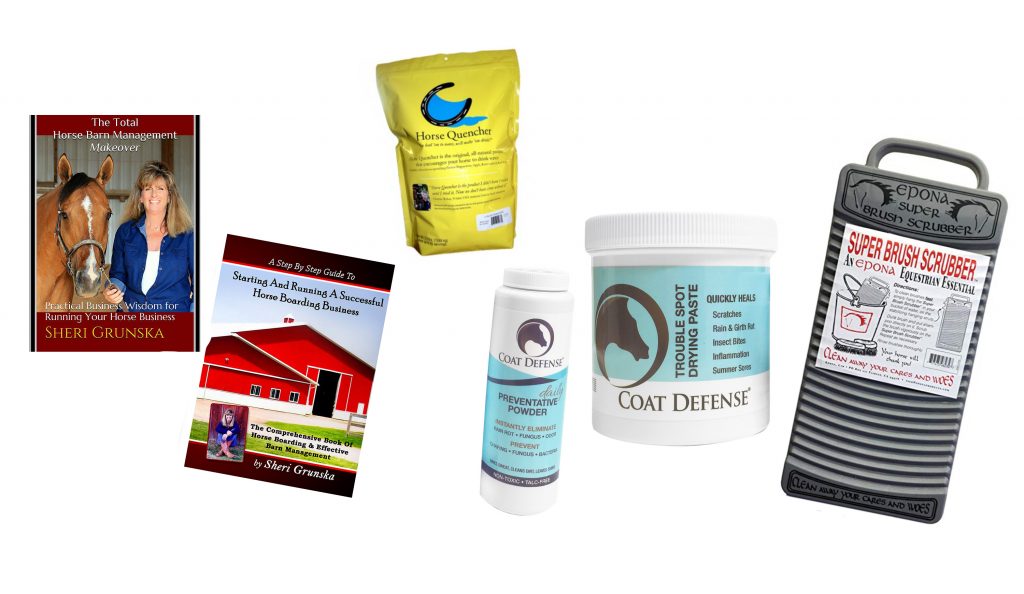 **
Erin Gouveia of Silver Oaks Farm is an accomplished equestrian, award winning photographer, and an artist.   She was born and raised in San Diego, California, graduated from Colorado State University, and now resides in Park City, Utah on a small ranch with her husband.  She has had careers in Medical Research, Zookeeping, and most currently Photographer at Erin Kate Photography.
Follow Erin on Instagram at @silveroaksfarm and find her equestrian inspired fine art photographs and handmade goods in her Etsy shop SilverOaksFarm.