If you have been following my guest blogs for Your Horse Farm,
you will know that I recently started riding my trainer's horse, Hamster, whenever I have the chance. (If you would like to catch up and read my Hamster blog post click here.) For as long as I have owned Chloe, I have pretty much exclusively ridden her. In fact, I have probably sat on less than 10 other horses in the last decade. When I first purchased her, she required a lot of training and time. Once our partnership developed and everything started clicking for us both, I didn't feel the desire to ride anyone else. I finally had my perfect ride – who else did I need? Plus, my drive to the barn took nearly 45 minutes. If I rode another horse, I felt like it was a waste of a car drive or a missed opportunity to be spending time with Chloe.
Truthfully, even though my drive to the barn is much shorter now, I still sort of feel that way when I ride Hamster. As I have mentioned many times, being a mom means you have so much less time for you and this directly affects barn time. I struggle with feeling guilty for missing a much coveted chance (time-wise) to spend with Chloe when I go and ride someone else.  However, like my previous blog mentioned, I now better understand how important it is to ride other horses. It makes you a well-rounded rider, something I know Chloe will appreciate. It also has shown me how you use such different muscles for different horses. Even though Hamster is considered "green", he is pretty laid back. On some days, I would even dare to call him lazy. He requires all my power to keep moving. This is totally unlike Chloe. I can simply think the word "trot" and she is going to go. I definitely don't have to remind her with any cues to keep moving. Hamster, on the other hand, at least with me, looks for any excuse to break his stride. When I first started riding him, my legs would be exhausted within minutes! It was, and is still, so embarrassing! It also made me appreciate Chloe a bit! I used to always think I wanted a "push" ride but I don't think my current legs could get through a course!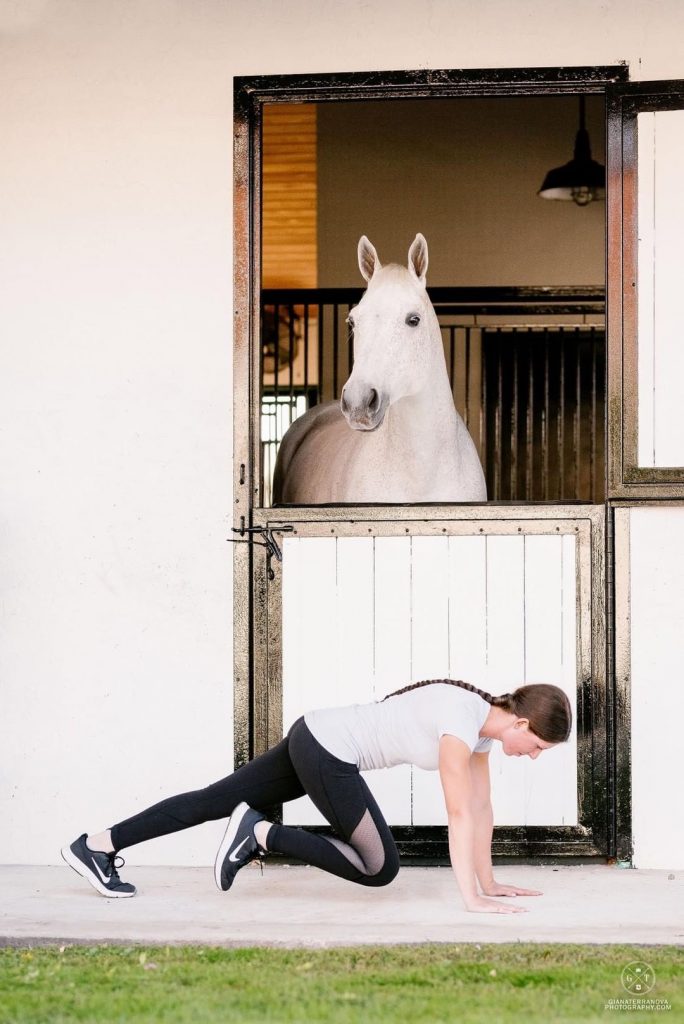 This feeling of being totally out of shape (coupled with my impending trip to Mexico) made me want to get more fit. I was already a follower of both The Fit Equestrian and MiniFitness on social media, but I started to pay more attention to what they had to say. The Fit Equestrian has a grocery guide for online purchase that provides you with the informational tools to develop a healthy, equitation-friendly and nutritional diet, through meal planning, grocery lists, meal prepping tips, building pantry staples and also a few recipe ideas. You can also follow The Fit Equestrian on social media to get tips for how to continue to eat and snack healthily while you are at the horse show or barn. I love following MiniFitness on Instagram because she is always posting video clips of her daily workout routines, which are not only fabulous ways to stay motivated, but they provide demonstrations for exercises that you may want to incorporate into your own exercise regimen.
Becoming more aware of the types of food you are eating and customizing your work-outs to benefit or complement your riding muscles makes complete sense. Whether we are professional riders or adult amateurs, we are still athletes. To be better at our sport, we should do more than just ride. We have to cross-train and be mindful of our nutrition in order to meet our full potential in the saddle. Or in my case, to being able to ride other horses without feeling like my legs are going to turn to jello.
(Photos by the Fit Equestrian)
**Andrea Wise graduated from Wake Forest University School of Law in 2007, where afterwards she spent 7 years as a commercial real-estate attorney.  In 2012, she launched the equestrian company, Pony Glam, which makes and sells the only colored hoof dressing for horses. She is also the voice behind the new equestrian lifestyle blog, Horse Glam. Andrea lives in Charlotte, North Carolina, with her husband, Zach, two young children, cat and horse, Chloe.