I made a recent decision to start lessoning on other horses.
I have been riding Chloe, my heart horse, for almost a decade and with my time constraints, keeping her in lesson-worthy shape (mentally and physically) is proving to be difficult. I am still riding her on all my other days, of course, and I am even looking for a half-leaser to keep her extra fit and give her extra attention. For my lessons, however, I really want the luxury of only having to worry about myself. And trust me, I am so rusty, that I really need to focus all my superpowers on what my own body is doing. Re-riding, or starting to ride seriously after an exstensive time off, isn't as easy as "getting back on the bike". You know what you are supposed to do, but trying to get your muscles to do it is quite another matter. Further, there are large mental blocks that accompany re-riding. I have so much more doubt, fear and anxiety now. All of which are feelings that are not helpful when riding a sensitive horse, like Chloe.  I am hoping that lessoning on a different horse will give my confidence a much needed boost.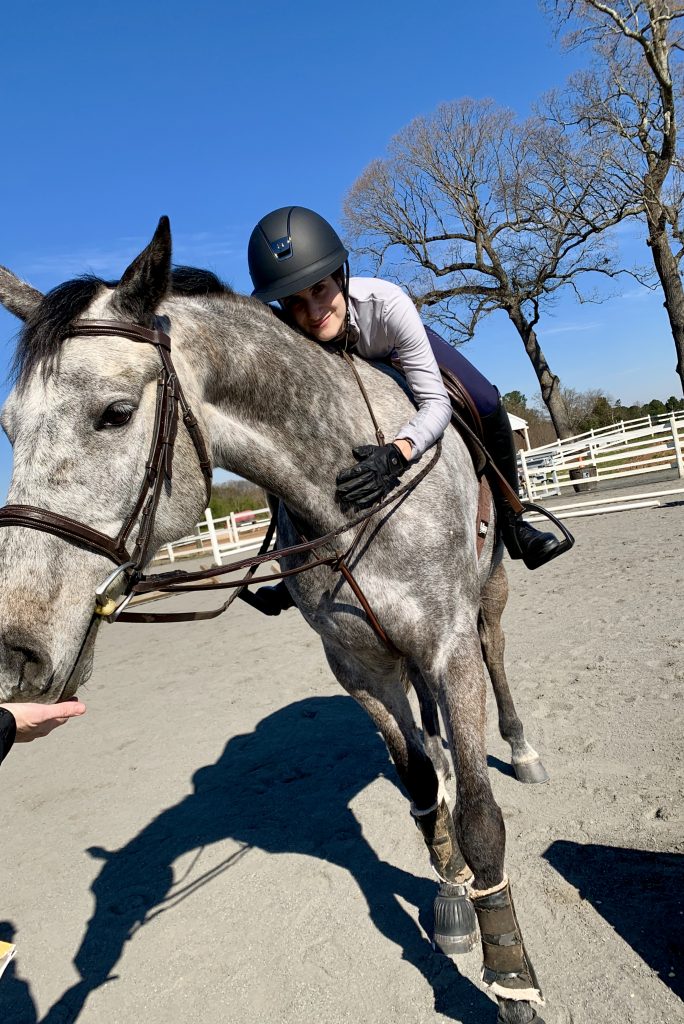 My trainer recently acquired a young gray prospect named Hamster. Hamster is totally in your pocket…just like a Hamster! I was riding Chloe in the arena while my trainer was riding Hamster and we switched horses casually for fun, so I got to ride him. I rode him only briefly, but he was a blast. Such a different ride than I am used to. He is a push, whereas Chloe is a pull. He is a steady, uphill rhythm, whereas Chloe takes a lot of work to keep the same pace and is built more downhill. My trainer encouraged me to jump him over a small cross rail and he just cantered the jump like another stride, never changed his pace before or after the jump. I loved him! Chloe, on the other hand, did not love him. While we were both walking the horses around the arena, Chloe lunge at him with her ears back. I guess horses can get jealous too!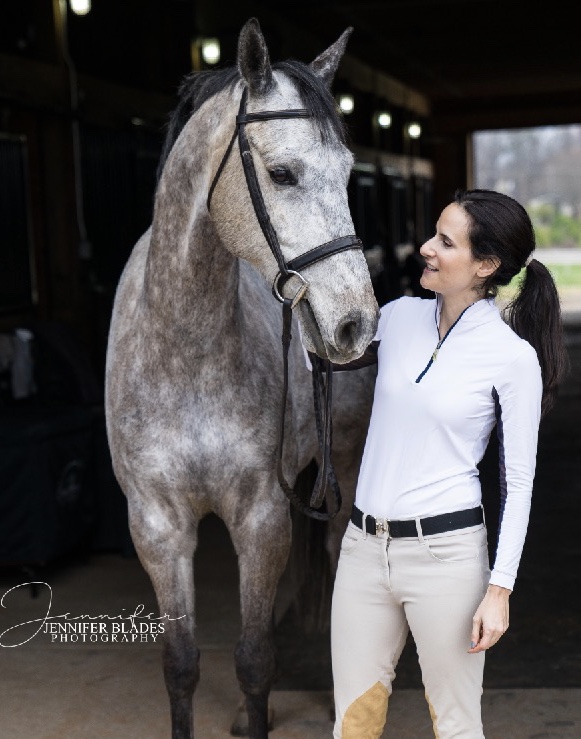 My brief ride on Hamster sparked something in me. It made me really excited to ride. Not just ride-ride, but to improve my riding. I haven't felt like that in a while so I wanted to really acknowledge the feeling. I know I have blogged a few times about trying to get back into it like I was pre-kids, but sometimes you have to acknowledge when your methods need a revision. My goal is still the same, but my path to get there has changed…and that is okay.  In fact, having the opportunity to ride Hamster, and anything else my trainer has for me will make me a better rider. A better rider will make Chloe happy. Sounds like a happy start of something to me.
**Andrea Wise graduated from Wake Forest University School of Law in 2007, where afterward she spent 7 years as a commercial real-estate attorney.  In 2012, she launched the equestrian company, Pony Glam, which makes and sells the only colored hoof dressing for horses. She is also the voice behind the new equestrian lifestyle blog, Horse Glam. Andrea lives in Charlotte, North Carolina, with her husband, Zach, two young children, cat and horse, Chloe.