Let's end the stigma surrounding mental health!
I'd like to take a moment to bring to light the fact the mental health has as much of an impact on our lives as our physical health if not more. I believe talking about this needs to be as normalized as possible. 
Extensive research has been done showing the positive effects horses have on a human's physical health but it is just as of recent that we are learning about how they can help us mentally. Equine-assisted psychotherapy is a newly developing practice. It shows the impact horses have on a human's behavior and mental state. 
Since horses are prey animals they remain in tune with their environmental surroundings making it easier for them to pick up human emotional states. Horses act as mirrors to their human counterparts; what you put into a horse (physically and mentally) is what that horse will give/ show you. Which is what makes them the perfect candidates for assisting in a type of psychotherapy treatment, treating humans of all different needs and traumas. 
Horses will often mirror emotions many people have not yet opened up to a medical professional about. They become a non-judgmental soul that's capable of reading/ recognizing human emotions and relaying that back to a trained professional resulting in the client finding peace within themselves once again.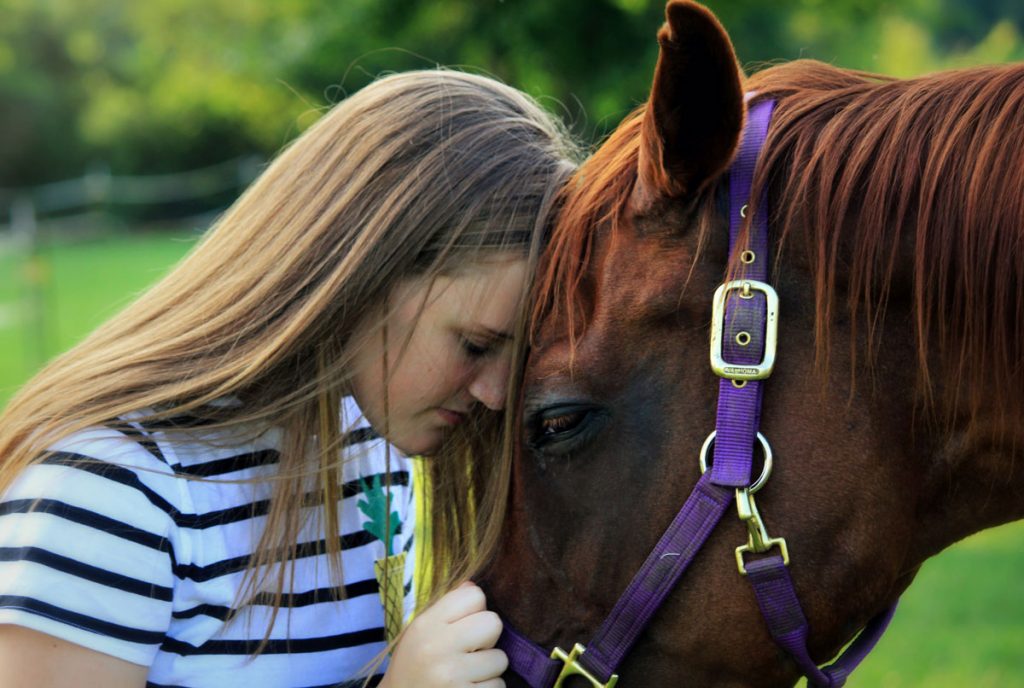 People often use equine-assisted psychotherapy for several reasons such as anxiety, depression, ADHD, behavioral issues, aggressive compulsions, PTSD, substance/ sexual abuse, and eating disorders to name a few. 
Reported benefits from this type of therapy on everydayhealth.com can include: higher self-esteem, empowerment, communication, relaxation, self-awareness, overall happiness, and less aggression. 
I have witnessed and experienced for myself what equine-assisted psychotherapy can do for a person and I find it simply remarkable. My horses have always been able to connect with myself in ways I cannot explain others, but now that connection is becoming more popular and benefiting thousands of people who no longer have to suffer in silence. 
Equine-assisted psychotherapy is still developing and not yet widely used, PATH (Professional Association of Therapeutic Horsemanship) International is a well-desired equine-assisted learning association. I highly recommend looking into it if you are in the market for an accredited professional in the field. 
If you are someone you know is suffering from a mental illness you are not alone. A quick Google search can yield many hotline phone numbers for your specific need to call if you are in a crisis and need immediate communication. 
According to Google, roughly 42.5 million Americans are diagnosed with mental disorders every year. Equine-assisted psychotherapy can help tremendously in your healing process. Please drop a comment below or message me on my personal Instagram @unbridledmama whether you're looking for more information or simply needing someone to talk to. 
Interested in this topic? Check out RAMM's Podcast Late Night Riders! We talk to Amanda Held Ep. 2 and Ep. 44, Deb DeHoff Ep. 15 and Narrissa Jenkins Ep. 39 about Equine Therapy!
**
Emily Griffin is a mama to two stunning daughters, a wife to her hunky husband, an experienced equestrian, and an Arizona native. She resides in a very small town in Southeastern, Arizona. Her days consist of raising children, everything equine, reading/ writing, and balancing the fine line between motherhood and insanity. She appreciates nature, the smell of a satisfying rain, and the lovely sunsets the Arizona deserts have to offer. Her life is unbridled in every sense of the word and she wouldn't have it any other way! Follow her on Instagram at @unbridledmama.