Hurricane Florence recently ripped through the coasts of the Carolinas, leaving many areas with intense flooding and without power for days.
Luckily there was a good amount of advance warning and many people were able to evacuate and/or make preparations to weather the storm. Over the last few years, it seems like there has been an abundance of hurricanes, tropical storms, tornados, and wildfires, doing extreme damage one after the other. Or, perhaps I just pay more attention to those things as I have gotten older. One thing is for sure, you need a natural disaster plan not only for your family but for your horses. Leaving them behind should never be the only option.

Be Prepared.
Create a handy checklist that you can refer to when making last minute preparations. The checklist will help you to remember the big items when you are in possible duress and running on adrenaline. Your checklist should include, at minimum, the following things:
Contact Info. A list of important contact numbers (like the vet).
Escape option and directions. Make sure your truck and trailer are ready to go in case you need to flee the area (or that you have reached out to a friend that may be able to help). Know multiple ways to get where you want to go because roads may be closed or blocked with trees or water.
Water. If you are staying, know that a horse can get by with just water for days. It is the most critical thing they will need. I read that 20 gallons a day per horse is ideal, so it is a good idea to have plastic barrels stored somewhere to be filled in the event of an emergency. Fill up all troughs and bins and find ways to secure them.
Food. Store as much hay and grain (grain is not as important) as you can in a secure, dry spot. Use tarps if you need to keep it outside.
Generator. If possible, consider investing in a generator and keeping it in the barn for easy access. You really don't realize how crucial power is to a barn until you don't have it!
Tools, Tarps, and Bungees. To keep stalls, hay, equipment, and other items dry have a supply of tarps available for your use.
First Aid Kit. Make an easily accessible box of medical supplies and bandages, as well as fly spray and leg wraps.
Extras. Keep extra halters and lead ropes in an area that you can get to in the event you need to act fast. Consider placing sheets and coolers here too.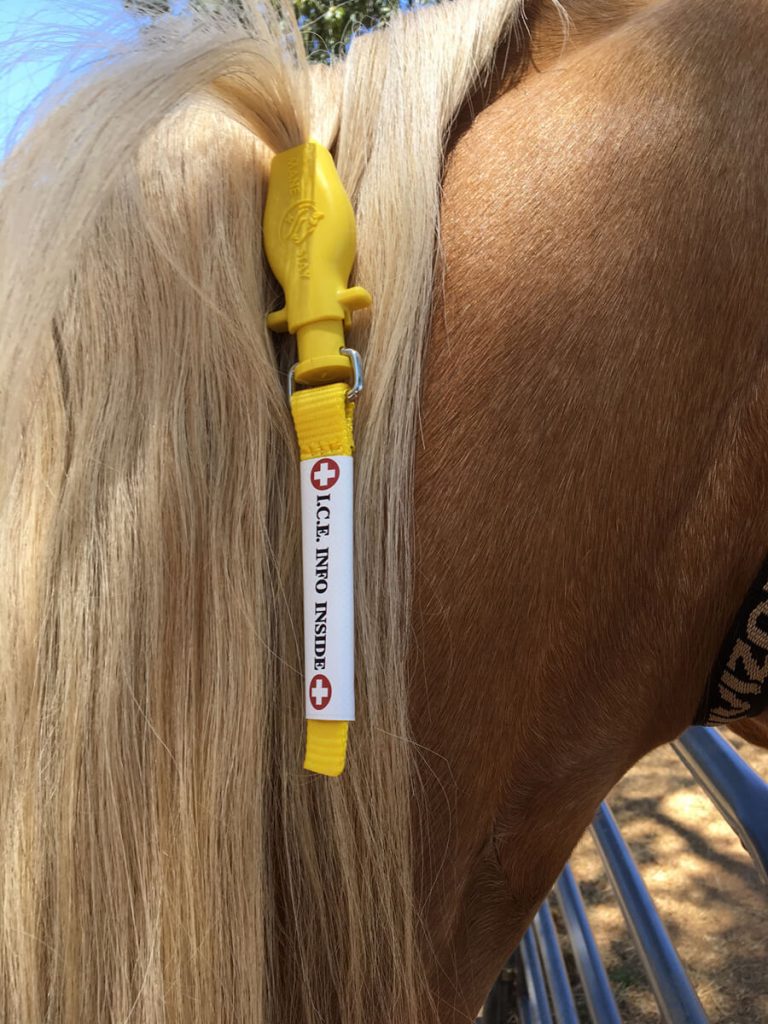 Identification. Have identification tags, neck bands or marking paint available to tag your horses. Cattle paint used commonly at auctions is a great option.
Get Secured.
If you have the advance warning and the time, repair and secure all barn doors, gates, fencing and roofing that may need the extra attention. Sometimes no matter how prepared you are, it is not possible to move your horses to another location or facility. In the event of heavy rainfall, attempt to move them to higher ground, especially the more endangered horses. Studies suggest that horses do better left outside if there is a threat of extreme destruction, flooding or wildfires. Have a strategy prepared for each type of disaster.
Most importantly, realize that even the best-laid plans may not hold up in the face of the actual disaster. It is always best to trust your instinct and do what you think is best in the moment. This doesn't mean that you still shouldn't be prepared. By simply talking about and thinking through your strategy in the event of a natural disaster, your horses and barn will have a better chance of coming through intact. As they say, chance favors the prepared mind!
**Andrea Wise graduated from Wake Forest University School of Law in 2007, where afterwards she spent 7 years as a commercial real-estate attorney.  In 2012, she launched the equestrian company, Pony Glam, which makes and sells the only colored hoof dressing for horses. She is also the voice behind the new equestrian lifestyle blog, Horse Glam. Andrea lives in Charlotte, North Carolina, with her husband, Zach, two young children, cat and horse, Chloe.