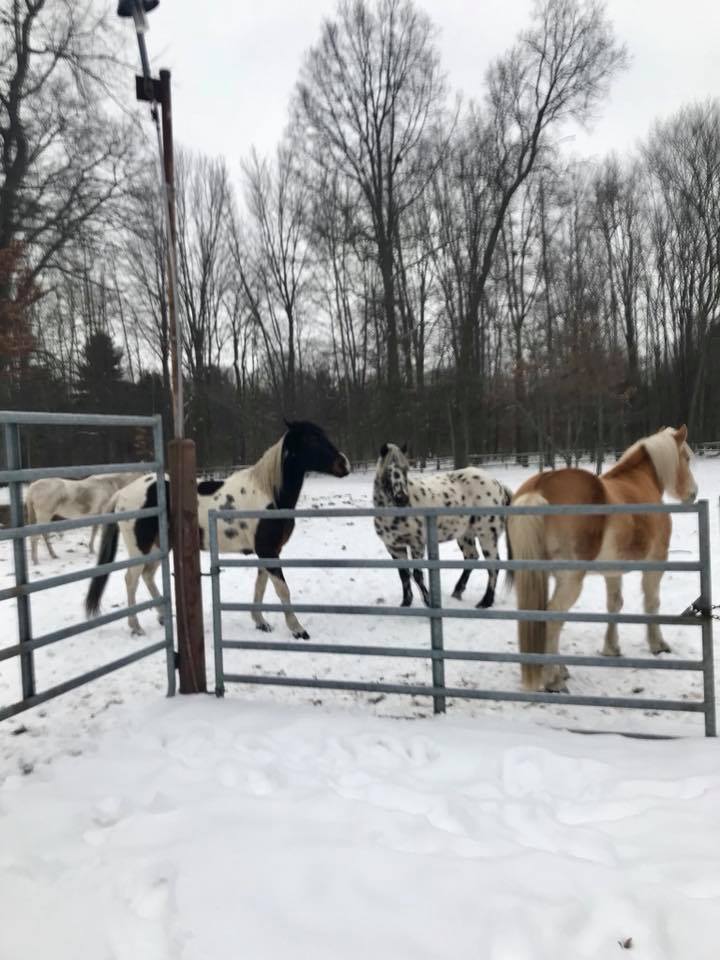 When installed properly, they offer a safe point for you and your horses to enter and exit. For maximum convenience, place your gates as close as possible to the entry/exit point of your barn. This will save time and also make turn out easier for anyone who may help you. If you are looking to save a bit of money, place your gate at a corner. Since the corner will need bracing and probably concrete, your gate will also act as the brace and gatepost with concrete at the same time. You may also use fewer posts.
Depending on what you need to fit through your gate, different sizes may be needed. For a horse turnout area, a 6′-8′ gate is usually sufficient. Small farm equipment, such as a garden tractor or ATV, can also fit through this size area. Equipment such as smaller mower decks, Bush Hogs, and small manure spreaders could require an 8′ gate. Half-ton trucks usually need a 10′ gate, while feed trucks need a 12′ entry. If your farm has hay equipment, consider a 16′ gate, or 2-8′ gates. Combines and other heavy-duty farm equipment will need a 20′ gate or larger. Think of your future when you plan gate areas. It is always easier to install a gate when you are putting up fencing, rather than later. Handling a large gate with a horse in hand can be difficult. It may be easier for you to have a small horse turnout gate in one area, and a large, equipment gate in another area. If you are not sure you need a utility size gate (16′ and larger), consider putting a larger gate at the end of your pasture. You never know if you will need to haul in extra dirt, add tile, or need large horse trailer access. You can use a locking gate latch to secure the gate, making sure it stays closed until you need it.
Another idea it to make a "people pass" if you are nearby your barn and need to get in and out of the pasture a lot. You can place three posts in a triangle shape, with only enough room for a person to pass through. This is a nice idea for trainers or riders that often have to be in a pasture or riding area. Posts should be secured in concrete so they do not move if pushed on by the horses. Once you decide on the size of your gate, consider what type of gate you will purchase. In most cases, it is better to get a gate that is a 2" diameter steel tube gate with welded rails. These gates may cost more, but in the long run, you will have a gate that will do the job it should. Welds should be without holes or sharp edges. In most cases, if you check the gauge of the steel (the thickness of the tube) a smaller number indicates a stronger gauge or "bending strength" of the gate. For example, a 17-gauge gate is stronger than a 19-gauge gate. This is important for the life of the gate. And because gate areas are often a place where horses congregate, you need to have a secure, strong gate.
As a horse owner, the most important point to remember is to use products made for horse containment. Find a heavier gauge gate, and only use products that are intended for gate use. If you have questions about a gate, find an expert to help you make choices that are right for you and your horses. No matter how many gates or what size of gates you have, you'll need to keep them closed, especially with horses behind them. Heavy-duty one-way and two-way gate latches can be operated with one hand, even on horseback. Both locking and non-locking models help to keep your horses in their pastures and off busy roads. A second option is the quick-latch, which will never rust and never freeze. It can also be operated on horseback, with one hand. Again, this is another important part of making sure your horse stays in its pasture. Be sure your horses do not get into roadways, or neighbors' yards. One vet bill can cost more than the gate or latch you should have used. Always keep safety in mind.
If you often operate your gates alone, then a gate anchor could be the extra set of hands you need. A gate anchor can hold your gate open in any position, allowing you to pass through with your horse or equipment. Gate wheels are great for those with uneven ground. They fit on the end of a gate and prevent it from gouging the ground. If your gate sags or scrapes the ground, a gate wheel will help it open and close with ease.
Before purchasing any gate, measure what needs to go through it and add at least one foot to each side for clearance. If you're not sure about your layout, contact an expert that will spend time helping you. Gates and latches are an extremely important part of your horse's pasture home. They keep our beloved horses in their pastures instead of running loose, in harms way. If you have any further questions, please email me. My staff and I are here to help you make your pastures a safer place for your horses.