Your horse might go for years without getting so much as a scratch,
but then all of a sudden, bam (literally!)—your gelding cuts his head in the trailer. Or maybe your mare comes up with a puffy fetlock. Or gets a gunky eye. Or develops a hoof abscess. I'm sure you get the picture. . .
Accidents and illnesses often strike without warning, and though more serious issues warrant a call to your vet, you may be able to treat minor injuries at home. Either way, having a well-stocked equine first aid kit can definitely come in handy.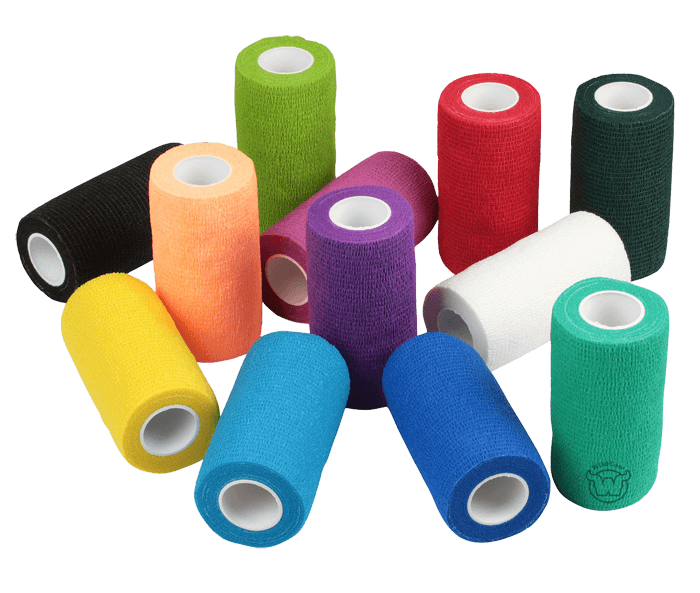 Whether you're a first-time horse owner or a barn veteran, here are some necessities everyone should include in their kit:
latex surgical gloves

wire cutters (for cutting fence in an emergency)

pocket knife (for cutting lead ropes/cross-ties in an emergency)

vet wrap or another type of self-adhesive bandaging

stable or polo wraps

thermometer

saline solution (for rinsing eyes or small wounds)

antiseptic scrub (such as Betadine)

antiseptic wound ointment, cream, or spray

gauze (of varying sizes)

scissors

Bute paste or powder 

Banamine paste

diaper rash cream (for protecting heels with "dew poisoning")

pocket sized equine first aid booklet 
Some additional items that are also nice to have on hand include:
liquid bandaging product

Easyboot or another type of boot for hoof injuries (diapers can also work in a pinch)

soaking boot for hoof abscesses

epsom salt (for poultices)

clean fly mask (for eye injuries)

twitch (for horses who might resist doctoring)
Make sure to keep your equine first aid kit in a place where it's easily accessible, and inform family members or others who might be caring for your horses about its location. When hauling to shows, trail rides, or other events, take your kit with you (or make a separate one for your trailer). Additionally, since some medications in the kit may expire, check dates and replace as needed. 
As always, feel free to share any other items important for an equine first aid kit!
**
Casie Bazay is a freelance and young adult writer, as well as an owner/barefoot trimmer and certified equine acupressure practitioner. She hosts the blog, The Naturally Healthy Horse, where she regularly shares information on barefoot, equine nutrition, and holistic horse health. Once an avid barrel racer, Casie now enjoys just giving back to the horses who have given her so much. Follow Casie at www.casiebazay.com.