Part I: First Impressions
Tyron International Equestrian Center, also known as TIEC for short, is any horse show competitor's dream. Actually, I revise that to be "any horse show competitor's, trainer's, parent's, cheering squad's, or groom's dream". When my younger brother visited me there, he was walking around with his mouth wide open. He is quite familiar with the horse show scene, having tagged along with me and my mother to bi-weekly shows for years when I was a child pony rider. He was not prepared, however, for the splendor of TIEC. Then again, neither was I.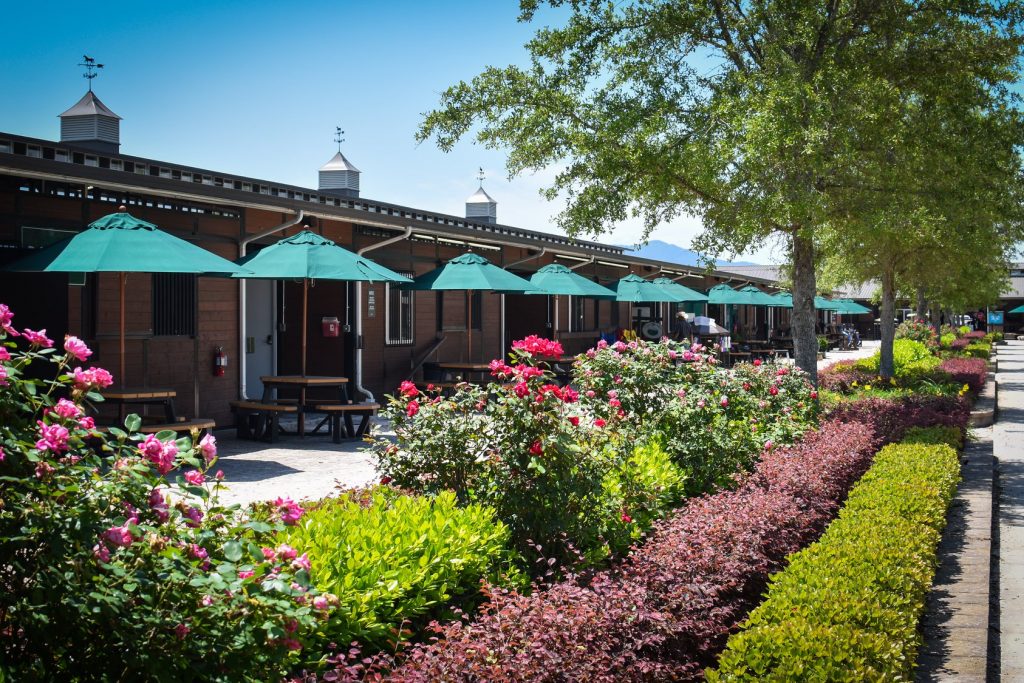 Nestled in the foothills of the rolling Blue Ridge Mountains of North Carolina, sits an equestrian complex that seemingly pops up like an equestrian mirage in the middle of miles of highway. Freshly painted black wood fencing engulfs the center and outlines the many show rings, the grand stadium, the derby field, schooling rings and the separate footpaths for horses and riders. The permanent stables have large matted stalls, complete with optional windows for the horses to hang their heads out (or make feeding easier), built in halter and bucket hangers, and already mounted fans. Who else hates hanging fans at horse shows? The concrete aisles are wide enough for tack trunks, multiple wheel barrels, and grooming cross ties. The tack rooms have secure keypads, which means I was never taking expensive tack to my car each night. The front of each stable aisle has picnic tables with umbrellas, perfect for some down time spent with your barn squad. And let's talk about the bathrooms located within 100 feet from each barn aisle. Each bathroom area has 3 clean toilet stalls, two sinks with soap, a mirror and air conditioning. I also like to mention that there are faux hardwood floors. I know I sound obsessed with the bathroom, but most of our shows in the area have porta potties. You try pulling up sweaty riding breeches in July in 90 degree heat. Actually, try just breathing in a porta potty in July.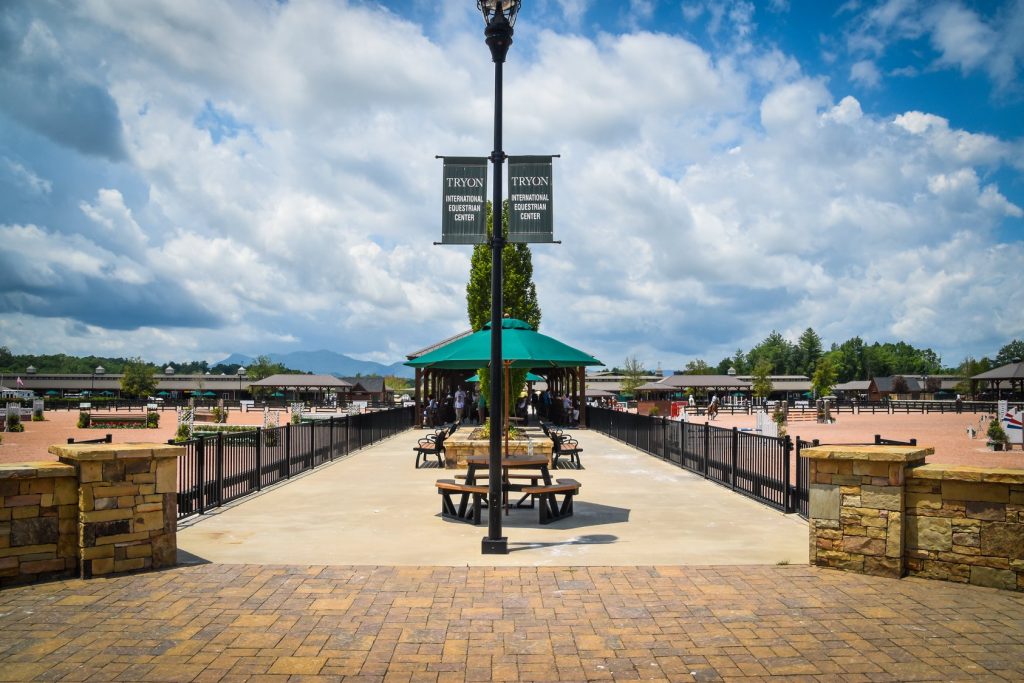 Between each ring are stairs that lead to ample shade and wooden chairs for spectator seating. The wide walkways connect the stables to the other side of the center, providing you with front row views of jumping rounds on each side while you make the walk. The rings are extra large, with beautifully decorated jumps and inviting footing. Once on the other side, you will find a line of retail shops that house everything from flavored lattes to ice cream, riding breeches to straw hats, and equine paintings to jewelry. If you have time, there are plenty of stand-alone restaurants to choose from. For lunch, I usually chose between Roger's Diner, or a taco salad from Siesta Cantina. For dinner, you have your pick of the following restaurants: Sushi, Italian, Mexican and a traditional steakhouse/grille. If I am in a hurry, I will run to the General Store and grab a made-to-order salad or sandwich. The General Store is basically a mini grocery store with a deli and mini-bakery. At the General Store, you can buy groceries and alcohol, which is perfect if you are staying at TIEC in a trailer with living quarters or in one of the many on-site cabins (chose between 1 bedroom, 3 bedroom or 5 bedrooms). The General Store also has a variety of TIEC gifts, and a collection of Breyer horses that I had to try really hard to resist for my daughter, Logan.
Try as I may to avoid it, I always end up popping into Dover Saddlery while I am on the retail side of TIEC.  A full size Dover is right on the premises, which is so convenient when you want to change bits, buy new support boots or new show clothes.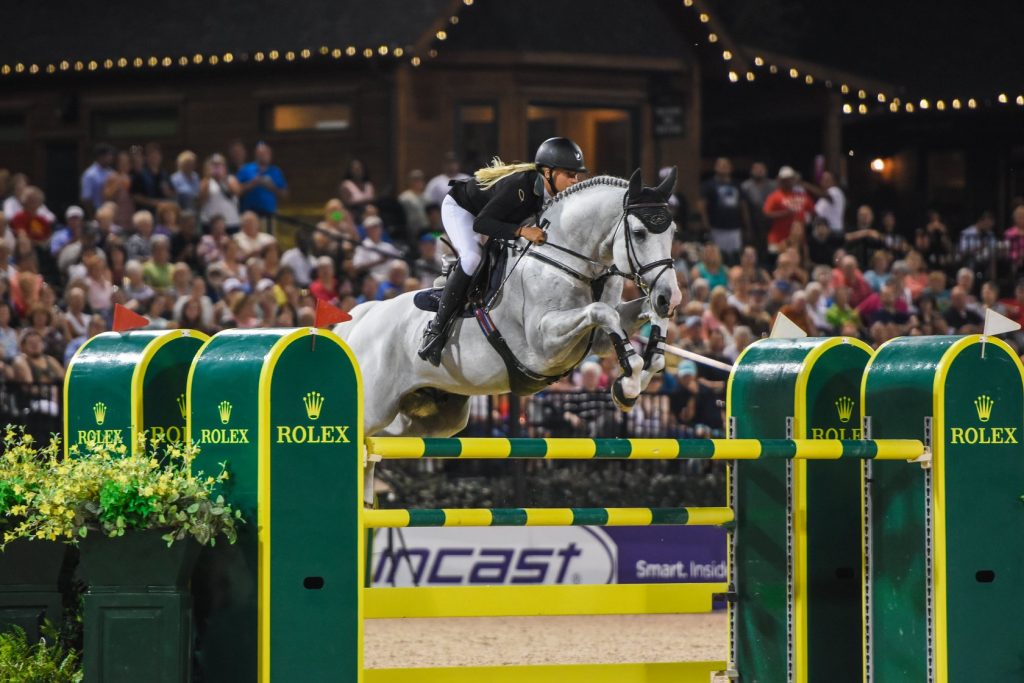 There is also much to amuse and entertain the whole family, making it even more unique from most other horse show venues. For the moms, there is boutique shopping and a spa, complete with nail salon and yoga classes (coming soon). For the younger siblings, there is a carousal, mini-jump course and face painting. For the dads, there is the Silo Bar, golfing, gun club and a shaded hammock area. Okay, that hammock area is actually good for everyone. Horse shows can wipe you out! Then, of course, TIEC has Saturday Night Lights. The competitive grand prix event is the focus in the large stadium under the bright lights, but the live music, additional food vendors and kid-friendly entertainment (magicians, acrobats, fire-twirlers, etc.) are a blast for all. I love how well attended Saturday Night Lights is. The local community really turns out to support the event and it is a great reminder of how lucky we are to be a part of this sport.
This facility is so amazing. I could go on and on about it. You can see pictures and videos from my weekend there on my Horse Glam (@horse_glam) Instagram account under the "TIEC" story highlights. Stay tuned for Part 2 of My Weekend at TIEC where I talk about my experience while at the TIEC show with Hamster!!!
**Andrea Wise graduated from Wake Forest University School of Law in 2007, where afterwards she spent 7 years as a commercial real-estate attorney.  In 2012, she launched the equestrian company, Pony Glam, which makes and sells the only colored hoof dressing for horses. She is also the voice behind the new equestrian lifestyle blog, Horse Glam. Andrea lives in Charlotte, North Carolina, with her husband, Zach, two young children, cat and horse, Chloe.