Working with horses in winter time can wreak havoc on our hands!  The temperatures are cold and the air is dry.  If you're like me I wash my hands multiple times a day after cleaning the barn, riding my horses, and after general farm work.  This, along with a winter climate, results in our skin becoming dry and cracked!
Here are my favorite products to keep your hands hydrated and soft.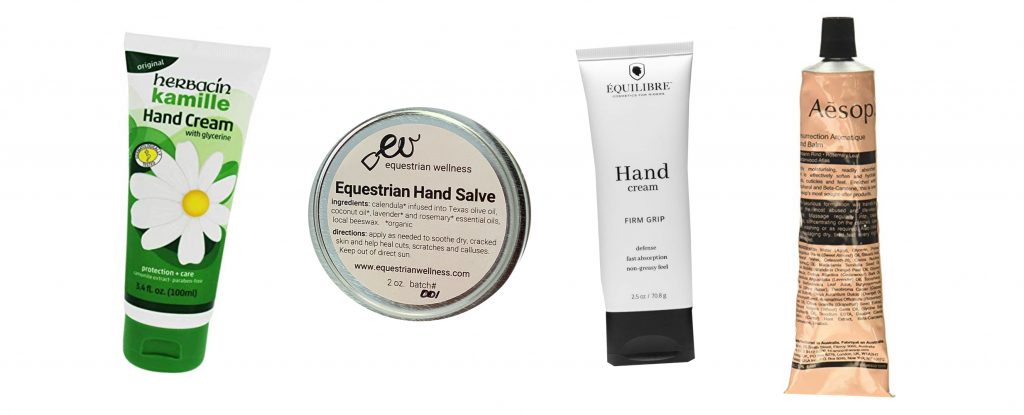 1.  Herbacin Kamille Hand Cream with Glycerin.   I've been using this hand creme for years…maybe 15 or more!  The glycerin is so great for hydrating.  The cream is not greasy and works into skin immediately.  It has a mild fragrance.  It is also very affordable.  This company started in Germany about 120 years ago.  They are very eco-conscious and their products contain plant based ingredients.
2.  Equestrian Wellness Hand Salve.  This beautiful tin of salve is is a combination of bacteria-fighting and skin-soothing organic oils, essential oils, and lavender buds.  As a beekeeper I love that it contains local beeswax.
3.  Equilibre Cosmetics Hand Cream.  This hand cream smells of lavender which is calming and can aid in relaxation of humans and horses.  This sounds like the perfect barn addition so you and your horse can enjoy your time together.  All ingredients are natural and are known for their extra moisturizing abilities.  The hydrating effect is quick and can last up to three days.  A part of the proceeds from each product sold is given back to people and charities in the equestrian community.
4.  Aesop Résurrection Aromatique Hand Balm.  This is the splurge product on the list.  You really can't go wrong with Aesop products.  This balm is a blend of fragrant botanicals and skin-softening emollients.  Your skin will feel supple, soft, and greaseless.  It's scent is citrus and woody.
Here are a few other things to remember when it comes to skin care in wintertime…
Opt for a warm shower instead of hot and limit to 10 minutes or less.
Drink water to keep skin hydrated.
Gently exfoliate skin.
Use a humidifier.
Wear gloves!
Do you have a favorite hand cream?  Tell us in the comments.
**
Erin Gouveia of Silver Oaks Farm is an accomplished equestrian, award winning photographer, and an artist.   She was born and raised in San Diego, California, graduated from Colorado State University, and now resides in Park City, Utah on a small ranch with her husband.  She has had careers in Medical Research, Zookeeping, and most currently Photographer at Erin Kate Photography.
Follow Erin on Instagram at @silveroaksfarm and find her equestrian inspired fine art photographs and handmade goods in her Etsy shop SilverOaksFarm.