This Winter has been rain, rain and more rain! I am so jealous of every equestrian that has access to a covered or indoor riding facility. Our grounds are so saturated here in North Carolina that our fields and arena are barely drained before the next storm rolls in. To me, nothing looks more dreary than a blanketed horse, standing in a mud pit, under a grey sky. Just typing that sentence evokes the image in my mind and I immediately feel cold, wet and kind of sad! I am lucky enough to be at a barn with over 20 acres of beautiful green grass where the horses get to go out, weather permitting, 10 hours a day. However, with this constant rain, even our well-kept facility starts to get ankle deep in mud in high traffic areas, such as near the pasture gates where the horses anxiously await being brought in for their dinners.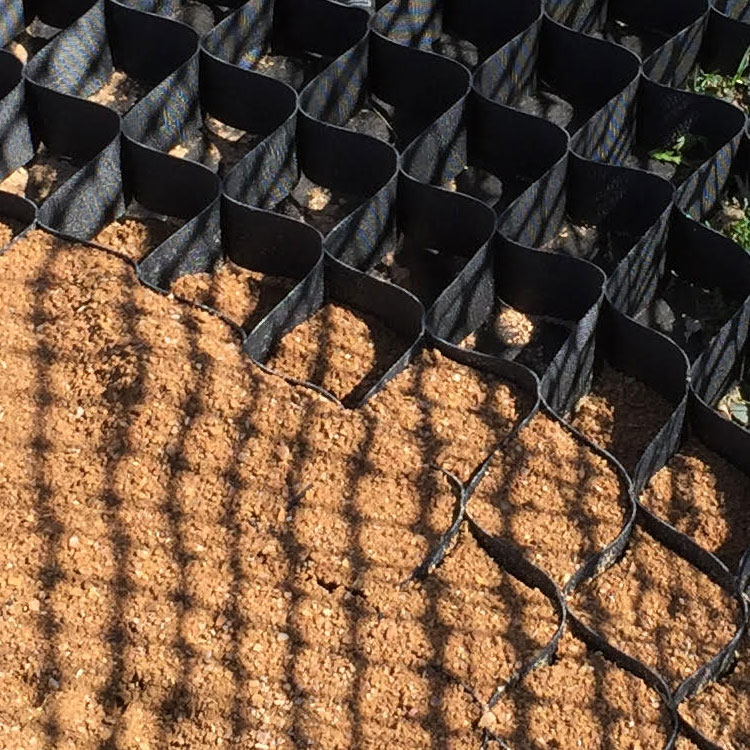 RAMM Fence offers a solution to this issue: mud management panels.  These panels can be placed in paddocks, gateways and pathways…anywhere that you have a mud issue! The flexible high-density polyethylene panels have 3″ deep interconnecting cells that help trap the gravel footing, keeping it in place from erosion caused my rainstorms and the downward action of hoof traffic. The panels can be filled with any type of angular crushed rock and are so easy to install they are do-it-yourself and do not require special tools or equipment. There's also no need to excavate or create a compacted gravel layer underneath prior to laying the panels; you just place them down. Further, RAMM's mud management panels are the only product that you can install over existing muddy ground. I feel like I may need to get some for my own back yard!
Looking at the pictures, it is impossible to deny that areas with RAMM's mud management panels are aesthetically more pleasing than areas without. However, other factors to consider are how much money you will save long term in vet bills (twists/sprains), farrier bills (where's that shoe?) and even lost bell boots (I am on my 3rd pair in 3 months)!
Tell us where your biggest mud traffic areas are!
**
Andrea Wise graduated from Wake Forest University School of Law in 2007, where afterwards she spent 7 years as a commercial real-estate attorney.  In 2012, she launched the equestrian company, Pony Glam, which makes and sells the only colored hoof dressing for horses. She is also the voice behind the new equestrian lifestyle blog, Horse Glam. Andrea lives in Charlotte, North Carolina, with her husband, Zach, two young children, cat and horse, Chloe. 
If you enjoyed this post we think you might like Managing Mud in the Paddock