Feeding senior horses often requires a little more time and money, but as many of us know, they're worth it. Due to declining body condition and dental problems, seniors may have difficulty absorbing nutrients as well as they once did. This can happen at different ages for different horses—maybe at 18, or at 28—but at some point, you probably won't be able to keep feeding the same diet that you feed your younger horses. It's time to move on to a softer, more easily digestible diet: a senior diet.
With any senior diet, the first thing to ensure is that it's based in fiber. Forage should be the foundation, fed at a minimum of 1.5% bodyweight daily. Pasture often works well, but if eating hay is a problem, go to soaked hay cubes or pellets, chopped hay, or soaked beet pulp. Soaking is especially helpful for horses with missing or damaged teeth. Just make sure to soak until it becomes a mash. Most senior feeds on the market have increased fiber levels as well and many can be fed as a complete diet, if needed.
If you're putting together your own senior diet, after fiber needs are met, you'll need to look at protein next. Good quality and varied protein sources are important since older horses may experience muscle wasting. Along with fiber and protein, seniors need high-quality, chelated minerals which are more easily absorbed. Seniors also have an increased need for phosphorous since they don't digest this particular mineral easily. This is where adding rice or wheat bran to the diet can help. Finally, senior horses will also benefit from antioxidants (especially vitamins C and E) and prebiotics such as yeast culture products in their diet.
Complete senior feeds often include all of the above, but if you're going to feed them, it's important to follow feeding directions. With seniors who are eating little to no hay, feed smaller meals more often throughout the day to keep their gut moving. This will also help keep them warmer in cold weather. (Remember the act of digesting fiber keeps horses warm!)
Do you have a senior horse? If so, feel free to share what diet works best for them in the comments.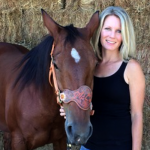 Casie Bazay is a freelance and young adult writer, as well as an owner/barefoot trimmer and certified equine acupressure practitioner. She hosts the blog, The Naturally Healthy Horse, where she regularly shares information on barefoot, equine nutrition, and holistic horse health. Once an avid barrel racer, Casie now enjoys just giving back to the horses who have given her so much. Follow Casie at www.casiebazay.com.