Many of us are eagerly looking forward to the onset of fall. But summer's end brings yet another nuisance for our horses: bot flies.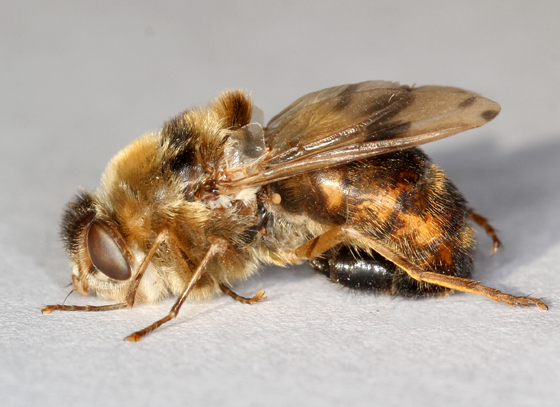 This is the time of year when these bee-like insects tend to appear, buzzing around our horses' legs and faces in search of a place to lay their tiny eggs. And while once laid, the eggs may not look completely menacing, in truth, they're just a part of the continuous cycle that keeps these bothersome parasites coming back for more.
To make matters worse, there's not just one, but three species of bot flies that affect our horses: the common bot (Gastrophilus intestinalis), which lays its eggs on the horse's legs, sides, and flanks; the throat bot (Gastrophilus nasalis) which lays eggs in the throat latch area, along the neck, and in the mane; and then the rarer nose bot (Gastrophilus haemorrhoidalis) which lays eggs around the muzzle.
Female bot flies lay choose these locations for a reason: horses tend to lick at the areas, encouraging the eggs to hatch. Once hatched, the larvae attach themselves to your horse's lips and mouth where they remain for a few weeks before they are swallowed and move further inside the digestive system. They then attach to the lining of the stomach or small intestine with their sharp, hooked mouths and ride out the winter. Approximately seven months later, the larvae detach and are passed in manure. A few weeks later, they become adult bot flies ready to start the cycle again.
So what can you do about bot flies?
First of all, if you spot them around your horse, kill them if you can! A single female bot fly can lay as many as 1,000 eggs between August and the first hard freeze. Our second target should be eliminating their eggs.
Here are several ways to stop the bot fly cycle:
Remove eggs from your horse's hair coat with a bot knife, bot stone, or good, old-fashioned razor;
Pick up manure from your pasture several times a week; and
Deworm with ivermectin after the first hard freeze.
Following these tips can help banish bot flies from your barn!
**Casie Bazay is a freelance and young adult writer, as well as an owner/barefoot trimmer and certified equine acupressure practitioner. She hosts the blog, The Naturally Healthy Horse, where she regularly shares information on barefoot, equine nutrition, and holistic horse health. Once an avid barrel racer, Casie now enjoys just giving back to the horses who have given her so much. Follow Casie at www.casiebazay.com.