A remarkable horse will change your life. A truly extraordinary one will define it.
You are the soul who has always been there for me. As much as I have watched you thrive and change over the years, you have seen the same with me. You have comforted me in my worst of days and celebrated in my triumphs.
You are more than just a horse.
Although most people would say a horse cannot talk, I have heard your words far louder than anyone could imagine.
You, my dear love, are my best friend. You are my shoulder to cry on and the keeper of my secrets.
When you were born I was only six years old. I'll never forget the night you made your entrance into my world. I was up every few hours; wearing my Winnie the Pooh nightgown with the flashlight in hand, to check on your mama, anticipating your arrival. We have literally been together since you took your first breath and it is my promise to you to be here for you when you take you're last.
I remember, on more than one occasion, waking up extra early when the house was still sleeping, scooting a chair over to the kitchen cabinet and filling my same Winnie the Pooh nightgown with Oreo cookies. I would pull the bottom of my shirt up, dump a few generous sized handfuls of Oreos in and, carefully make my way to the corral outback. A lick of Oreo for me and, a lick for you. This continued until all that was left was a crumb covered sleep shirt. Who knows who actually ate more. Oreo sharing in the wee hours of the morning was just the beginning of our lifelong friendship.
We left our small town, Southern Arizona life to hit the big city of Phoenix when I was in the third grade; you and your mother in tow. The land was hard to come by in the city so we kept you ladies at a boarding facility. I was religious about being there for you as much as I could. I was dropped off with you after school so I could not only ride but, sit with you while I did my homework. You listened to my days; the ups, the downs and everything in between.
As the years went by we hauled to our fair share of parades, rodeo pageant clinics, gymkhanas, and saddle club events. When I wanted to practice Western Pleasure with you, you were eager. When I wanted to play in the arena and set up jumps, you were patient (clearly not a jumper but you let me think you were). When I wanted to try my hand at Mounted Shooting, you only bulked a meager amount and I only cracked a few ribs. Let's be real, it could have been worse.
We did not grow up with extra spending money so sending you off to a high-end trainer was not exactly an option for us. If we wanted to learn something new, it was up to you and I both figuring it out together.
Thanks to you, I have started a few great colts. You have taught me more than any human ever could.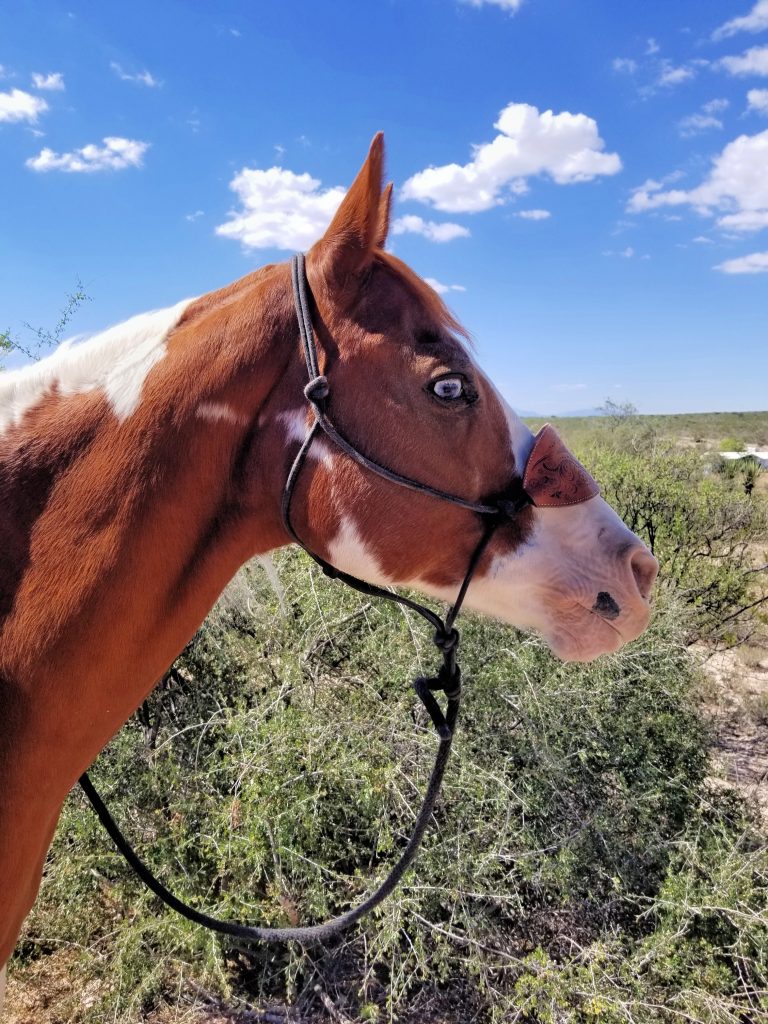 Needless to say, whatever my heart desired to do next, you were there for me.
Telling me it was possible.
After nine years in the city, we moved back to the countryside in Southern Arizona. I was thrilled to have you back at our own property again; no more commuting back and forth to see each other. We were back to riding in the open deserts again. Although I love riding in arenas and competing, the simple desert views will always have my heart.
When my days seem to run amok you are patiently waiting for me. I turn towards to you, throw my arms around your neck and breathe in your smell. You have something no essential oil could ever compare to.
In a wacky and fast-paced world, you are my stability.
I am now twenty-six years old with a nine-year-old daughter and a six-month-old daughter. My oldest has the same love for horses that I still have and, here you are. Twenty-one years young and welcoming her onto your back; teaching her the same values you taught me.
You are more than just a horse.
As we age, I can see more white spreading in your face, especially around your beautiful, one brown and one blue eye; and it just reminds me of how long we have known one another. I believe any horse person would agree with a horse like you, only comes along once in a lifetime, if they're lucky.
You, my dear love, are my best friend.
This is for anyone who is special enough to have a best friend like mine. This is why we do what we do, our lives revolve around our horses. The early morning feedings, to late night, patrolling when there's a possible sign of colic and everything in between; the ridiculously high vet/ feed bills, the scheduling of chiropractors and farrier appointments. This is why we spend top dollars to keep them happy and healthy!
If you have a best friend like mine I would LOVE to hear from you!
**I am a mama to two stunning daughters, a wife to my hunky husband and, an Arizona native. We reside in a very small town in Southeastern, Arizona. My days consists of homeschooling, horses and balancing the fine line between motherhood and insanity. I definitely appreciate the outdoors; the smell of wet dirt and the lovely sunsets the Arizona deserts have to offer. My life is chaotic between the girls, one kitty, two dogs, and four horses but I wouldn't have it any other way!