It's true that the higher protein and caloric content of alfalfa can be beneficial for certain horses, such as those that are growing, pregnant or lactating mares, or horses needing to put on weight, but if your horse doesn't need the extra protein or calories, alfalfa may not be the best option.
Compared with grass hays, alfalfa is also high in calcium, and though horses do need this mineral in their diet, they also need phosphorus and magnesium–and in the correct ratios with calcium. Feeding too much alfalfa can throw off that balance.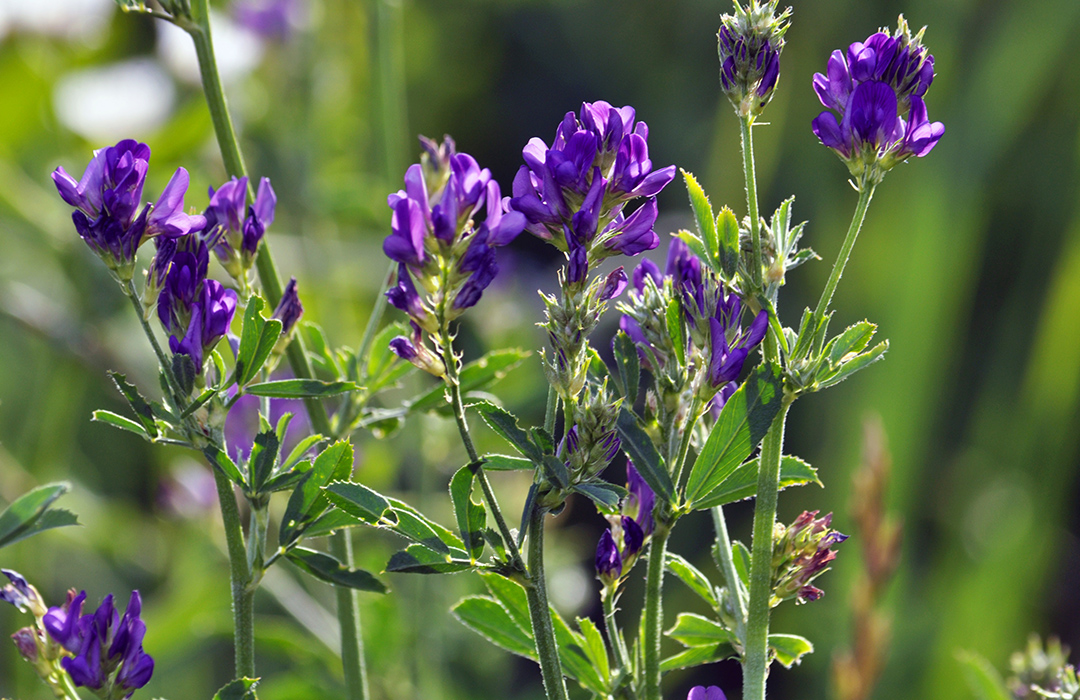 Again, alfalfa can definitely be beneficial in some situations, but there are a few things to watch out for if you do feed it:
Mold

: because alfalfa is more prone to molding than grass hays, bales should be checked carefully before being fed;
Blister Beetles

: these insects like to eat alfalfa, too, and may be harvested with the hay (more common in eastern and central U.S.). Blister beetles contain cantharidin, a toxic chemical that protects them from predators, and consuming even a tiny part of this insect can be deadly for a horse. 
Laminitis Sensitivity

: some insulin resistant horses appear to be sensitive to alfalfa, which may be related to the fact that it has more sugar in the form of glucose, as well as higher starch.
Enteroliths

: diets high in alfalfa have been linked with enteroliths in the digestive system, "stones" which can cause impaction colic and often need surgical resolution. According to the College of Veterinary Medicine at the University of California at Davis, 98% of horses treated by their veterinarians for enteroliths were fed a diet that contained at least 50% alfalfa hay.
Though alfalfa definitely has its place in some equine diets, it's safe to say that it should never make up the majority of the diet; a good rule of thumb is to limit it to no more than 10-20% of the total diet. 
If you have thoughts about feeding alfalfa, feel free to share in the comments!
***
Casie Bazay is a freelance and young adult writer, as well as an owner/barefoot trimmer and certified equine acupressure practitioner. She hosts the blog, The Naturally Healthy Horse, where she regularly shares information on barefoot, equine nutrition, and holistic horse health. Once an avid barrel racer, Casie now enjoys just giving back to the horses who have given her so much. Follow Casie at www.casiebazay.com.