I love my barn. There isn't anything that is better than going there.
I am also a 'want to be gardener.'   I like to take the garden to my barn. The combination of my horses and a garden in the warm spring/summer months brings simple joy into my life. Here are some of my ideas so that you can try them out too!
One way to add some garden to your barn is by planting perennial bulbs in the fall. In our area in Ohio, we plant bulbs between late September and October for the following spring. One of our barns has a daffodil garden about a foot wide along the sunny side of the entranceway.  In April, these brightly colored flowers announce that spring has finally arrived. Daffodils bulbs will multiply over time and can be divided to stop overcrowding and give you even more flowers to put in other places.  There are many varieties offering traditional bright yellow flowers to white petals and peachy inner crowns. 
Tulips can also be planted in the fall. They bud in the spring at the same time as the daffodils.  With a variety of colors and shapes, they are also an easy flower to grow and cut. Spring flower arrangements are wonderful to have in the house. You can also plant other varieties of flowers into your garden so that you have color all season long. Some that I like are cosmos and sunflowers. I even like to mix dill, which is an herb. All are easy to grow and flower through the growing season. 
If anyone gives you bulb flowers such as Easter Lilies or Hyacinths, you can replant them and they will bloom for years.  Let them flower until they dry out. You can remove the bulbs from the dirt in pots after the flowers have bloomed and dried. Put the bulbs into a brown bag and store them in a cool dark place until fall and then replant them.  They will come up and bloom the next spring. If you put them into the ground, you can leave them there and do not have to replant.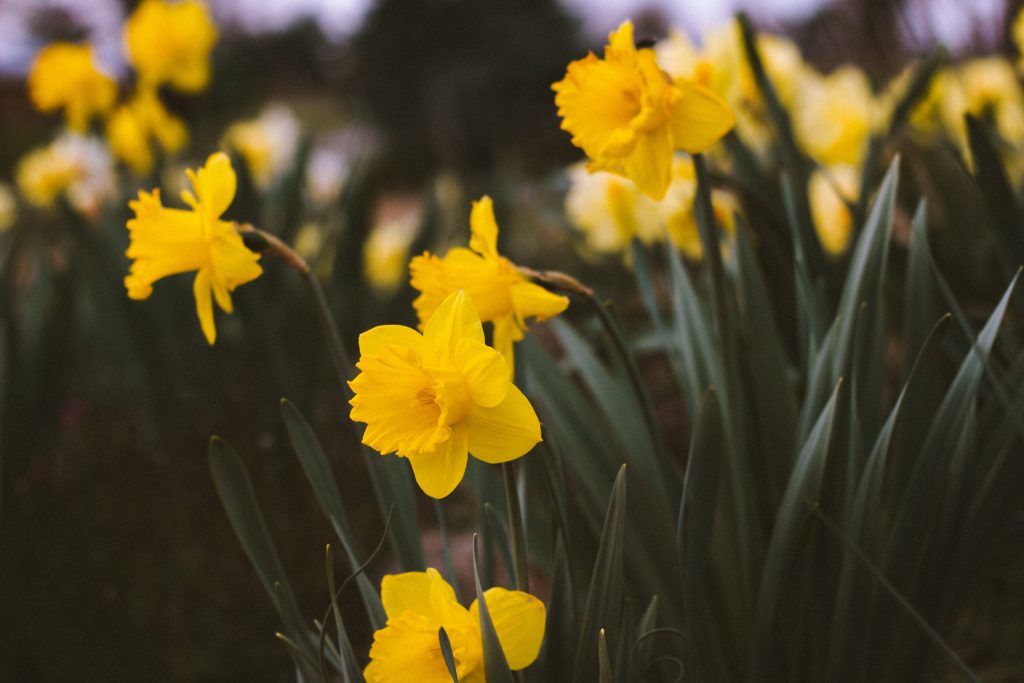 If you would rather not dig in the ground, but want color, hanging planters at your barn entranceway or at your front doors will add a lot of color.  Any outdoor potted plant will need to be watered consistently through the summer. So if you're not able to water often, you may want to think about a large pot for  flowers. They still need to be watered through the week but not as often as a hanging plant.  
You can also take items that you no longer use around your barn and turn it into a planter.  A pair of old boots can be paired together at a door with flowers in them.  Grain feeders or hay feeders can go beside a door and make cute plant hangers.  Just get a little creative and think of how you can make equestrian planters.  I have seen an old french horn with missing parts turned into a planter, what a cute idea for a hunter jumper barn.  Barrels and water troughs make perfect planters for any barn. Just use a bit of imagination and you will have a unique planter at your barn door.  An old saddlebag would work perfectly, just hang it over a hitching post and fill with flowers. Or cut it in half and have 2 hangers for your door. 
Choosing your plants for a barn can be fun and a little different than your 'normal' garden.  My garden club girls always told me to make sure pots have 'thrillers, fillers and spillers', meaning taller plants, fillers for medium plants and spillers or draping plants.  Adding different heights offers variety and a lot of color.  Small popcorn plants grow well in large pots for me and these were my thrillers.  Fillers can be any full foliage plants such as geraniums, impatiens, verbena, or scented flowers like mint rosemary or even sage. For spillers, try ivy or Helichrysum which are small, felt-like leaves that are soft blue-gray. They grow upward then trail down.  Another gardeners tip is to always plant in odd numbers of plants – 3 instead of 2 for example. This gives a natural look. 
If you look up flowers on the net you will find a plethora of varieties for sun or shade.  Planning your garden or flowering pots for your barn can be fun to do anytime of the year. So get a little creative and plan to give your barn a little pop of color or fun plants that are unexpected.  I think you will find that it will add so much to your entrance and walkways.  Happy Gardening and Riding!