I'm a horsewoman, but I'm also a book nerd.
Give me a good book with horses, all the better! When I'm not out at the barn, there's nothing I love more than curling up with a good book and a hot cup of tea. Over the years, I've read a number of amazing books that feature my favorite animals, and I wanted to share a few with you. I guarantee any horse lover will love these!
The Horses of Proud Spirit by Melanie Sue Bowles
There are approximately seven million horses in the U.S., and each year, over 70,000 go to slaughter. Hundreds of thousands more are abused, neglected, or abandoned. With a heart as big as a pasture, author Melanie Bowles takes some of these horses into her sanctuary called Proud Spirit. They arrive listless and broken, but with Melanie, find a forever home and safety. Meet those horses in Melanie's touching and timely memoir. 
Half-Broke Horses by Jeanette Walls
By age six, Lily Casey Smith, Jeannette Walls's no-nonsense, resourceful, and spectacularly compelling grandmother, was helping her father break horses. At fifteen, she left home to teach in a frontier town—riding 500 miles on her pony to get to her job. She learned to drive a car and fly a plane. And, with her husband, Jim, she ran a vast ranch in Arizona.
Lily survived tornadoes, droughts, floods, the Great Depression, and heartbreaking personal tragedy. She bristled at prejudice of all kinds—against women, Native Americans, and anyone else who didn't fit the mold. Rosemary Smith Walls always told Jeannette that she was like her grandmother, and in this true-life novel, Jeannette Walls channels that kindred spirit.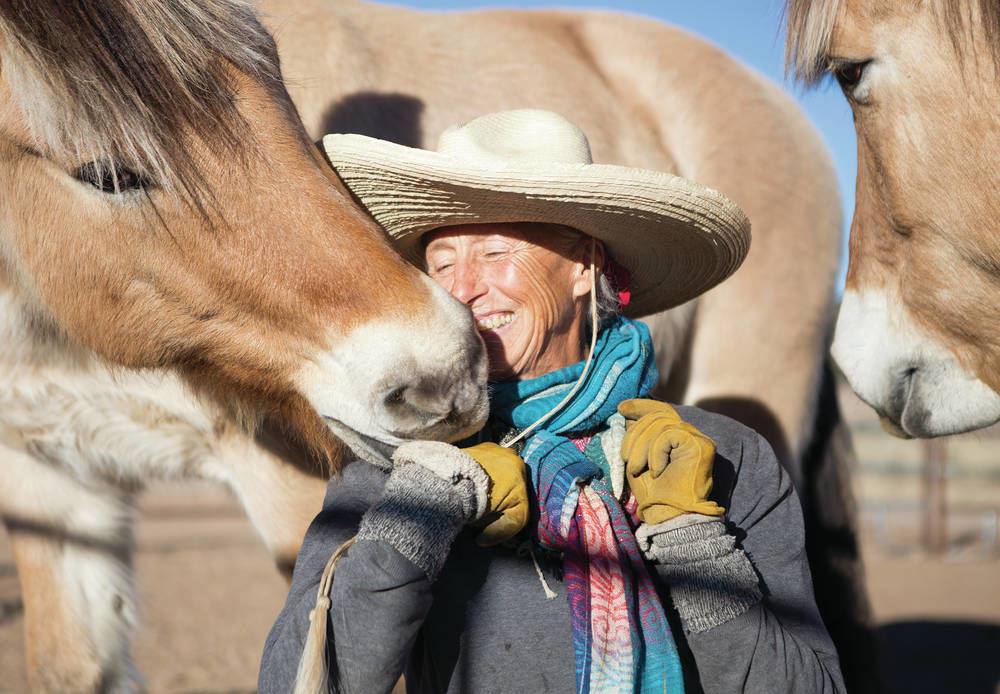 Lady Long Rider by Bernice Ende
At age 50, Bernice Ende ventured into the unknown with the daunting goal of traveling from Trego, Montana to New Mexico in a single ride. Since that fateful decision, she hasn't looked back. Accompanied by her horses and an exceptional dog named Claire, Ende has logged more than 29,000 miles in the saddle, crisscrossing North America and beyond.
Through her rides, Bernice shares the heartfelt and inspiring story of inner struggles and triumphs. She tests the limits of physical and mental stamina, learns to cope with inescapable solitude, and ultimately finds the reward of a life well-lived.
The Soul of a Horse: Life Lessons from the Herd by Joe Camp
A surprise birthday gift plunged Joe and Kathleen Camp into the world of horses as complete neophytes without a clue as to what a horse needed or wanted. They searched for logic and sense in the rule books of traditional horse care. What they found was not what they had expected. 
Written for everyone who has ever loved a horse, this memoir leads us on a voyage of discovery as Joe and Kathleen navigate uncharted territory on their way to achieving a true relationship with their horses. 
The Eighty-Dollar Champion: Snowman, the Horse that Inspired a Nation by Elizabeth Letts
 Harry de Leyer first saw Snowman on a bleak winter afternoon between the slats of a rickety truck bound for the slaughterhouse. He recognized the spark in the eye of the beaten-up horse and bought him for eighty dollars. On Harry's modest farm on Long Island, the horse thrived. But the recent Dutch immigrant and his growing family needed money, and Harry was on the lookout for the perfect thoroughbred to train for the show-jumping circuit—so he reluctantly sold Snowman to a farm a few miles down the road.
 But Snowman had other ideas. When he turned up back at Harry's barn, dragging an old tire and a broken fence board, Harry knew that he had misjudged the horse. And so he set about teaching this shaggy, easygoing horse how to fly. One show at a time, against extraordinary odds and some of the most expensive thoroughbreds alive, the pair climbed to the very top of the sport of show jumping.