If you read my last guest blog (if not, here is a direct link so you can catch up) you may remember that Chloe was recently "jumping" raised cavaletti poles like they were cross country obstacles. After this particular ride, my trainer was talking about how she was going to exercise some of the horses during Thanksgiving since there had been so much rain and all of the horses were understandably fresh. I didn't hesitate when I asked her to "please jump Chloe over everything in the arena until her hooves bled". She laughed. I did not. I was hoping that Chloe would get her bucks (literally) out with my trainer and then be an angel (well an angel for Chloe) the following Monday for my next lesson.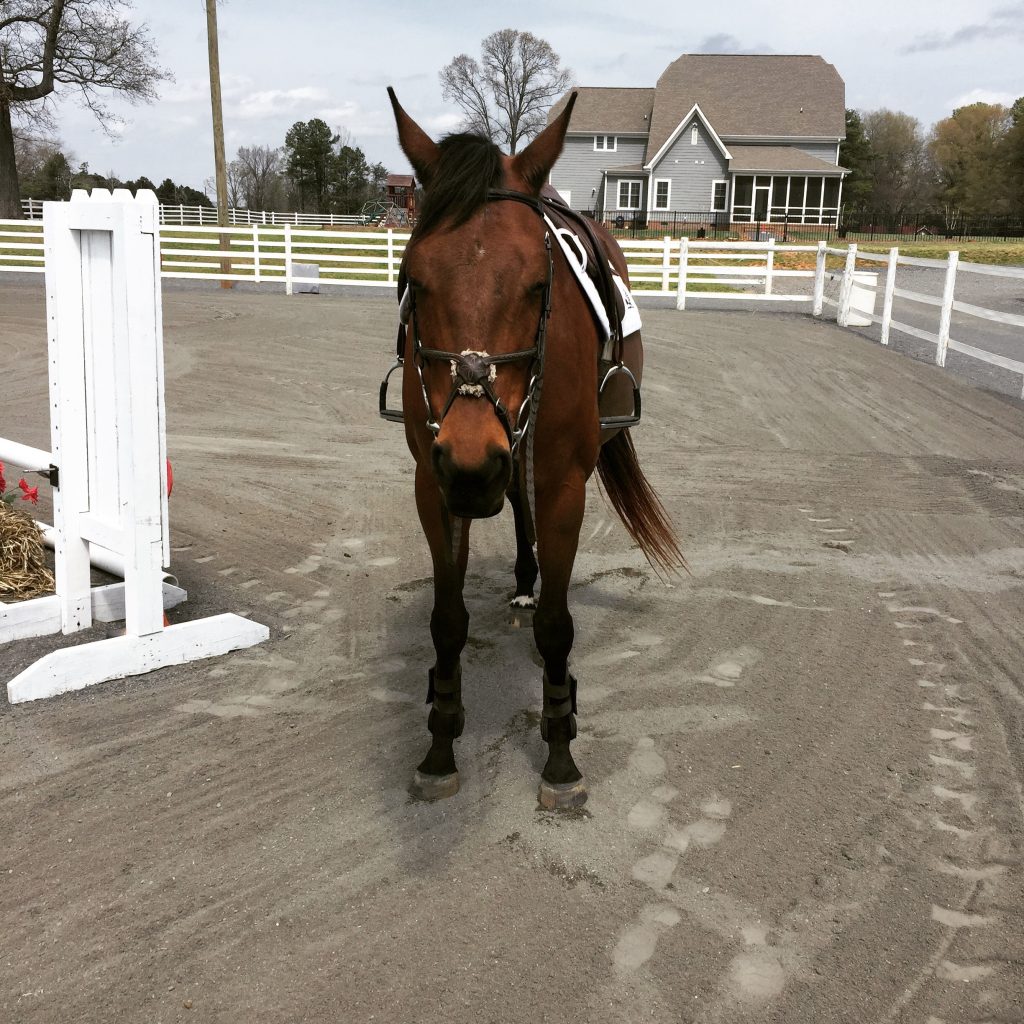 This plan sort of backfired on me (Chloe: 19078; Andrea: 0). My trainer rode Chloe over Thanksgiving like she promised. And then she rode her again the next day because she was so irritated at Chloe…and me. The great thing about having a trainer that also rides, is that they can get on your horse and feel exactly what you are feeling. They can help you fix any issues that may not have been apparent by just watching you go around and around. They can also immediately tell when you have not been doing your part. My trainer felt how Chloe resisted bending, how she wanted to fall in with her inside shoulder in the corners, how she didn't want to use her back end at all, how she didn't want to frame when asked. Basically she could quickly gather that Chloe didn't want to do anything and was being lazy…and that I had been too.
It was exactly the reminder I needed. Sometimes, since I do not compete anymore, it is so easy to just come out and hack around, and just enjoy Chloe being lazy and good. It is very true that as soon as you ask semi-retired Chloe to work, you can get an attitude and all the spooking starts. Too often I just skip all of that by just bebopping around and we both exist in an ignorant state of bliss. And that is fine, sometimes you need a break. However, I am breaking a huge riding rule, and one that I truly believe in, which is to "make every ride count". I actually believe this is true in whatever you are passionate about. So, my personal goal is to make sure that Chloe and I are working (on something, anything) each ride. I am positive Chloe will meet me with some resistance at this, especially at first, and it will probably be in the form of spooking at the mounting block. I am hopeful she will be more receptive to it because my trainer gave her two days of boot camp, but probably not. At least I got myself a new and better fitting helmet for Christmas. I have a feeling that I may need it! Stay tuned…and wish me luck!
**Andrea Wise graduated from Wake Forest University School of Law in 2007, where afterwards she spent 7 years as a commercial real-estate attorney.  In 2012, she launched the equestrian company,
Pony Glam
, which makes and sells the only colored hoof dressing for horses. She is also the voice behind the new equestrian lifestyle blog,
Horse Glam
. Andrea lives in Charlotte, North Carolina, with her husband, Zach, two young children, cat and horse, Chloe.