The snow and cold of February has not been cooperative for riding lately.  But the horses are quite content and even the girls in the Poultry Palace have seemed to be happy, too.  Five eggs today and with a good bit of snow on the ground and daylight trying hard to extend her hours each day.  No sign of a bee today, they are tucked inside of their hives thriving on honey.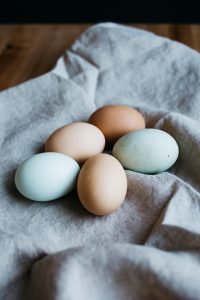 With Valentine's Day approaching, my cards are ready for family and friends.  Two cards are being sent to college addresses where my older granddaughters attend.  Three little Valentine bags are on the counter for my little grands that are 7, 5 and 2.  I can't wait to see their little faces when they open them up! Just like the Blue Jays, Woodpecker and Nuthatches that came to eat some special feed I put out today, those little ones will rush to their 'surprises' and gobble up a few treats.
I welcome the weekend.  Once the animals are fed, there is time for coffee and a morning devotion. Then the usual wash gets started and the house gets, as my mother once said, "tidied up'.  After the office work planner is reviewed for the new week and all other tasks completed, there is time for the things I cannot wait to do! Outside of being with our horses and riding, there is a treasure chest of creative projects waiting.  
When I was eighteen, a friend of the family asked me if I wanted to learn to spin wool.  At the time I did not know of anyone that spun. The beautiful spinning wheels had me smitten and soon the world of fiber and color had me in its clutches.  For years I spun with other fiber specialists and later learned a bit about weaving and took up knitting. I prefer to be one of those crazy knitters with the big needles or unusual yarn that pushes the edges of 'normal' but love to see socks finished all in their glory, too! Knitting needles of every size and color are fun to find.  The best garage sales have lovely aged knitting needles that can be found. You know your knitting with needles that another person admired and used. Knitters like to collect yarn and the shelf in my room looks like a color wheel fiber fest. Additionally, large balls of roving or combed fibers in hanks, are dotted around, ready to spin.  Having sheep in the past, some wool and yarn came from our beloved Shetland sheep. Brown, off white and black are the beautiful natural fiber colors.
Years ago, I decided that it would be a good idea to learn to play the harp.  Yes, for reasons that go into wanting to play for my mother, I researched the best place to purchase a harp.  Interestingly, Chicago has the t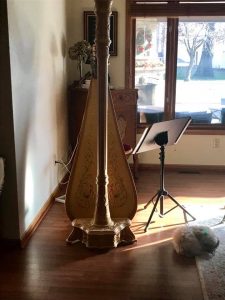 wo of the best harp builders, almost across the street from each other. One of the oldest makers in America are Lyon and Healy.  They have made harps since 1864. Venus harps are another strong harp maker. Comparing the two companies was almost impossible – like trying to decide on two excellent saddles. So if you can imagine, it would have been like choosing a saddle before you started to ride :).  
Fortunately, choosing the Venus was not a mistake. It takes about six to eight months to have one made and like a saddle, you get to pick out all the details. Once the harp arrived, my older granddaughters started to play harp and piano. I was taking lessons with little ones and loved being able to go to lessons and see them.  After time, they excelled and zipped past me – leaving me in the dirt to trot through lessons. But they cantered all the way to being able to play in front of groups and later in college, in front of diplomats and the like. I never could play well enough for my mother to appreciate it. 🙂 I do however, still play the songs I learned and love to hear the harp as I play.
One day when work slows down a little I will take more lessons.  But now our little ones, Charlie -7 is playing the piano and Naomi, 5 is playing harp. How my father would be thrilled as he played clarinet and saxophone in the Big Band era!
Sewing anyone?  Quilts are such an expression of the quilter and material chosen for each piece. As many colors of material that their are, there are as many different quilts that can be sewn.  When I boarded horses a girl came to the barn and her name Pat. She had lived in California and rode a large hunter horse named Bau that was so beautiful. Pat had sunshine in her face.  About 5 foot tall, long blonde hair and a So-Co attitude, she rode and she loved to quilt. She said that there was nothing more luxurious than having coffee in bed on a winter day and hand quilting.  Her quilts were beautiful, she rode like a Grand Prix rider and loved loud Rock. She inspired and was a good teacher. I think about her at times as my daughters, Kristen, Mindy and I have quilted together.  Pat was right, winter is a great time to quilt. The warm layers of the top, batting and backing keeps your lap warm as stitch by stitch the material meshes together into one beautiful and colorful covering. And of course, don't forget the  coffee!
So today, I am spinning and writing.  Looking out the window at the horses knowing it's time to feed for the evening.  I will throw hay and grain to them, come in and put dinner on. All the while I will be working on a hand spun yarn to give to a friend.