Before you hit the trails, make sure to get prepared!
Many agree that fall is one of the best seasons to go trail riding! It offers vibrant colors, cooler weather, and little to no bugs. It does have a few challenges worth noting though. Some include rainy weather, sharing the trails with hunters, and less daylight. You can get the most out of your trail ride by doing some preplanning and having some essentials on hand.
Get Ready with these Necessities
The weather can vary by the day. Rainy skies and cool temperatures require some special attire. It can be handy to have a rain jacket or poncho in your saddle bag for an unexpected shower. Additionally, dress in layers to avoid being cold or too warm. Some may even pack a warm beverage in a thermo.
With the days being shorter, plan your ride in order to get back before it turns dark. A flashlight or headlamp can be helpful, especially if it turns dark sooner than you expected. Some even attach to your helmet!
In your saddle bag, it's helpful to carry a hoof pick and small first-aid kit. Once leaves begin to fall, it can be difficult to navigate the trail. Go slowly and never ride through a questionable path. Pay attention to your horse's movement. If he begins to limp, hop off and check his hooves. He may have gotten a rock lodged in there! Furthermore, if it has rained previously, the ground may be slippery. That's another reason to take things slowly. 
Piper Packable Waterproof Riding Jacket $69.96, SmartPak
Horze LED Helmet Lights $13.99, Horse Loverz
Tough-1 1200 D Embroidered Trail Horn Bags $27.99, Chick's Saddlery
Make sure to research when hunting season begins in your area. You'll want to follow some safety guidelines, especially if you'll be sharing the trails. In order to stand out, ride with bright orange tack and apparel.
A vest, helmet cover, polo wraps, and quarter sheet will warn hunters of your presence. It can also be helpful to ride with friends, as a group is likely to make more of a commotion. Some riders tie bells on their horse or carry a whistle. This also helps you stand out! Lastly, try not to ride during dawn and dusk. Not only will it be harder to see you, but those are prime hunting times.
Horze Reflective Wrap Riding Sheet $139.99, Dover Saddlery
Equisafety Air Waistcoat Reflective Vest $28.88, Riding Warehouse
Polo Wraps– Set of 4 $19.99, Jeffers
Rhythm Beads $69.99, IsabellaHenrybridal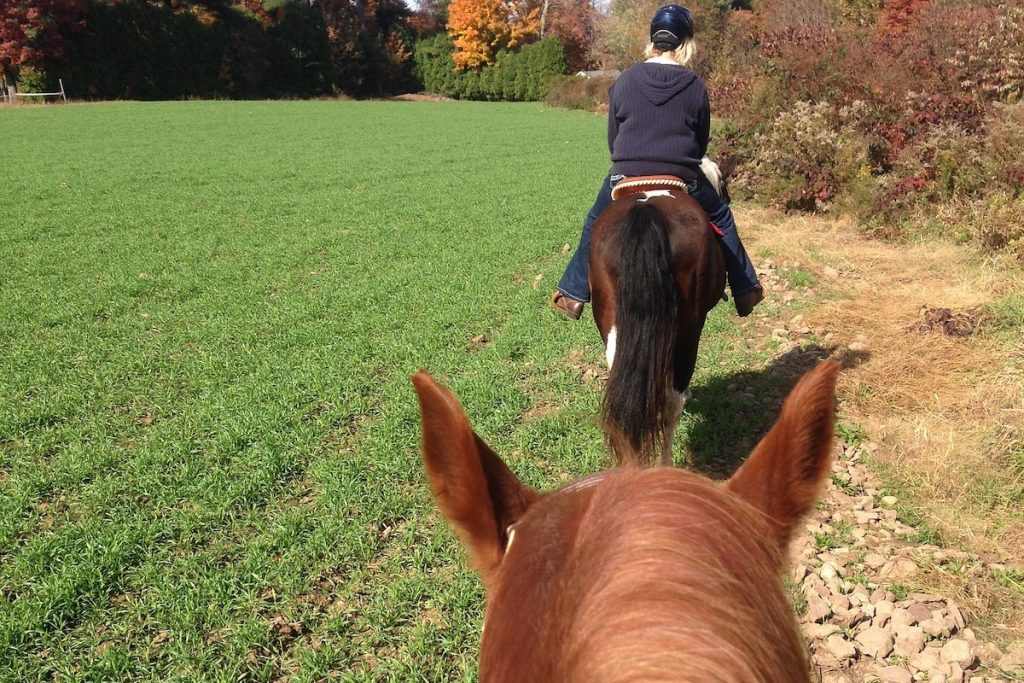 In addition to hunters, you may have to share the trails with other hobbyists. It seems everyone wants to enjoy the fall weather. Some of these may include hikers, bicyclists, dog walkers, and maybe even four-wheelers on private grounds. Your horse should be exposed to these things before you hit the trails. Bombproofing them to bikes, dogs, and joggers can set them up for success! The rhythm beads will also help warn others of your presence. If you're respectful to them, hopefully they'll return the favor.
On top of these special fall necessities, every trail rider should have a helmet, water, navigation tool, first-aid kit, snacks, and a pocket knife. These are especially helpful for longer rides or when traveling. It's better to be well prepared that find yourself in an unfortunate position while out there.
Trail riding in the fall allows you to experience some beautiful scenery. Don't miss this opportunity!
Love this blog? We think you will like Trail Riding Safety Tips