Almost one year ago I went fox hunting in one of the most beautiful places in the country, Middleburg, Virginia.
Fox hunting in this area has been taking place since the mid 1800s.  Today it continues to be an important cultural tradition and social event.
For the past ten years I've been visiting Middleburg, once or twice a year, because my horse trainer lives there.  I had never been fox hunting before but had dreamed of taking part.  It was all made possible through a friend of a friend.
I was lucky enough to have a friend, Michele from California, join me for this adventure.  Fall is cubbing season.  This is the beginning of fox hunting season when hounds, horses, and riders are conditioning to prepare for formal season.  During cubbing season you wear a traditional tweed or muted wool coat, and tan or rust breeches.
We were lucky to go hunting two different days.  On our first hunt we rode second flight and on our second hunt day we rode first flight.  First flight horses and riders travel at the quickest pace following the huntsmen and hounds.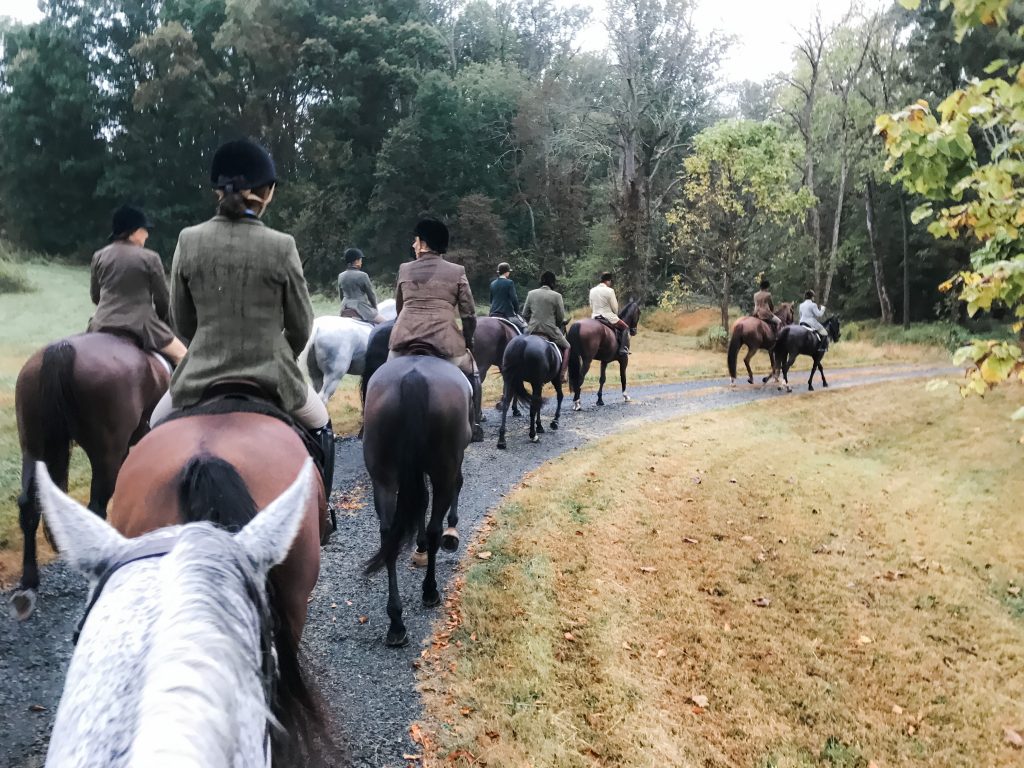 I was riding a borrowed grey horse named Beamer.  He was so much fun and knew his job.  We galloped over terrain that I hadn't even ridden in my eventing days in California.  We jumped coops and rock walls to move into different landowner's properties.  At one point we rode through an old gate, under tall arching trees, into a wide open vista filled with fog.  There was a beautiful lake below.   It was a scene right out of Downton Abbey.  This landscape, filled with a group of beautifully dressed riders on their horses, was simply magical.
I'm completely hooked and hopefully will go fox hunting again one day.  For now I am holding on tight to some of the best memories of my life.  Have any of you ridden in a fox hunt?  Let us know in the comments below.
**
Erin Gouveia of Silver Oaks Farm is an accomplished equestrian, award winning photographer, and an artist.   She was born and raised in San Diego, California, graduated from Colorado State University, and now resides in Park City, Utah on a small ranch with her husband.  She has had careers in Medical Research, Zookeeping, and most currently Photographer at Erin Kate Photography.
Follow Erin on Instagram at @silveroaksfarm and find her equestrian inspired fine art photographs and handmade goods in her Etsy shop SilverOaksFarm.