Stalls; the most exciting, but also most important choice you'll make when it comes to designing or renovating your barn.
A simple google search for stalls yields dozens of choices, from the custom-designed to the portable stall system. With so many options, it's easy to get swept away and make a decision you'll regret. In this article, we offer a few guidelines on how to make the right choice.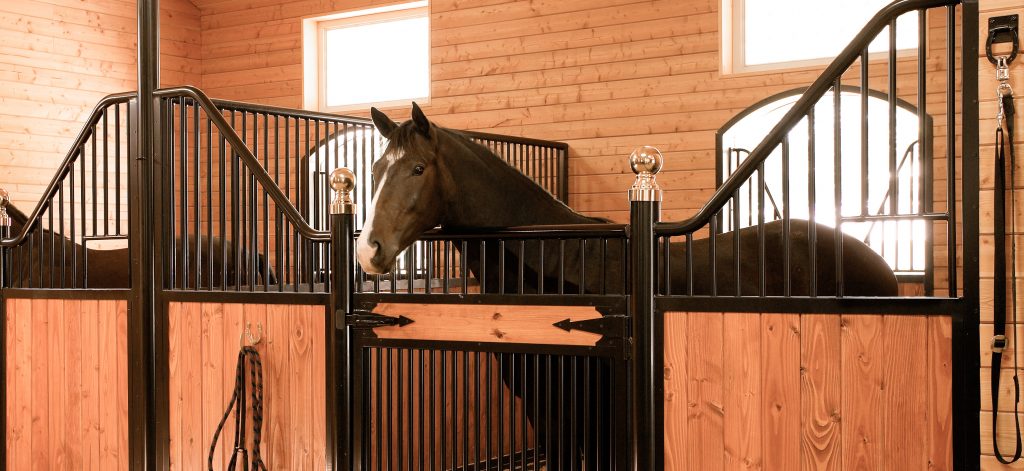 Custom, Standard, Portable; what's the difference?
            Custom-designed stalls are a luxury, but if you have your heart set on a specific architectural look or color, it's definitely the way to go. You'll work with an in-house designer to create your custom look.  Customization might include a sweeping European look, a unique color or finish, or working your barn's unique dimensions. If you have a very specific need in mind and can't find it in a designer stall,  custom-designed is the way to go.
            Standard stalls may not be fully customized, but there are several ways to make them uniquely your own. Swing-out feed doors, feed openings, sliding door options, full grill doors and v-grill doors make for a truly unique look that boasts your own distinctive style.
Portable stalls offer the best of both worlds, flexibility, and durability, but do your research. You never want to sacrifice quality for that flexibility in design. Portable stalls allow you the freedom to place stalls in any configuration, depending on your barn's dimensions. That flexibility in design also allows you to add stalls down the road as needed. Portable stalls work especially well in clear-span or free-standing buildings and offer a safe and economical choice for a fraction of what it would cost to go custom.

How to recognize quality craftsmanship
            Stalls are one of the biggest capital investments you'll make. You only want to purchase and install them once and you want them to look beautiful for years to come. The materials and design should be strong enough to stand up to the rigors of anything your horses dish out. We all have at least one horse in the barn that chews, kicks, or otherwise tests his stall walls, but you also want to think safety. Stall doors that glide, hardware and components that don't rattle or rust, and finishes that won't snag the delicate skin on your horse's nose are all things you should expect. Whether you're buying custom, standard or portable, here are a few features you'll want to look for:
A 14 gauge steel frame
14 gauge steel U-channels for a clean, professional look.
All welds on the inside of the grill channels for safety and durability
Hand-crafted welds (no burrs to snag delicate skin)
Hot-dipped galvanized finish for superior rust protection
Several-step inspection process of construction and finish.
No exposed wood edges for horses to chew on
14 gauge connecting hardware
A company that can offer detailed installation instructions, technical support, and a good warranty.
Choose the right finish
            Powder coating is superior to all other forms of paint application when it comes to stalls. Paint-dipped stalls (literally dipped in a vat of paint) often result in drips. Coverage is imprecise which can lead to rust problems down the road. Spray painted stalls offer a good alternative, but spray paint adheres only to the surface of the metal. In a damp barn environment, the spray painted finish is simply not durable enough.
Instead, choose a quality powder-coated finish that includes expert surface preparation before hot-dipping. In this process, stalls are allowed to fully dry before they're sprayed with a powder coated primer and cured. Expert application usually employs a shop-painting with an electrostatic spray. The result is a lasting paint finish that resists scratching and rust.
Caring for your stalls
            Keep your stalls looking new by avoiding scratches with hooks and hardware. Hang lead ropes and halters on hooks that keep hardware away from paint finishes. Also be sure your barn is well-ventilated. As your horse breathes, he releases water and carbon dioxide into the air. He also produces somewhere between 35-50 lbs. of damp manure per day. That puts a lot of moisture into the air and moisture can lead to rust. Good ventilation prevents rust. Perform touch-ups as soon as you notice a scrape or nick. Most stall manufacturers will supply you with a can of touch-up paint to match your colors.

Stall accessories
            Stall accessories include drop down feeders, swing out feeders, blanket bars, hooks and hand-crafted hardware. Feeders, hay racks, and automatic stall waterers can make caring for your horse convenient. Pay attention to the flooring as well. Interlocking rubber mats and stall mattresses will keep your horse's joints healthy and save you money on bedding in the long run.
Agricultural-grade basket style fans will help to ventilate your barn and keep your horse cool and comfortable in his stall. Be sure to choose fans that are UL507 Certified for indoor/outdoor use with fully enclosed motors for safety. Variable speeds and tilting or swiveling mounting brackets make it easy to direct the air as needed. Look for fans that boast a quiet operation.
If you've priced stall systems, you already know they are a substantial financial investment, but if you choose carefully, you'll enjoy a high return. Whether your personal style leans toward a classy Tuscany look or a more standard look with a fun paint choice, do your homework before you take out your checkbook. Stalls are an improvement you should only have to invest in once.  Purchase from a company that is committed to quality and that boasts a stellar track record when it comes to customer service.