Like everyone else around the world, I can say that this last month has been, for lack of a better word, tough. Being isolated from extended family, having to homeschool two little kids, Zach working from home and not having much "me" time have been a few of the major blows. The cancellation of my long-awaited trip to Italy with my friends also has been a hard pill to swallow. I realize that it obviously could be 100 times worse, of course. I am super lucky, however, that here in North Carolina our barn is not fully closed and we are still able to come and ride in scheduled shifts. I cannot imagine not being able to see Chloe and Hamster, and more importantly, to not have that physical and mental release that being around horses provides. The barn has been my sanctuary for the longest time and I think I would be losing my mind if it were closed off to me. I really emphasize with my fellow equestrians that have not seen their horses and barn buddies for weeks or even months.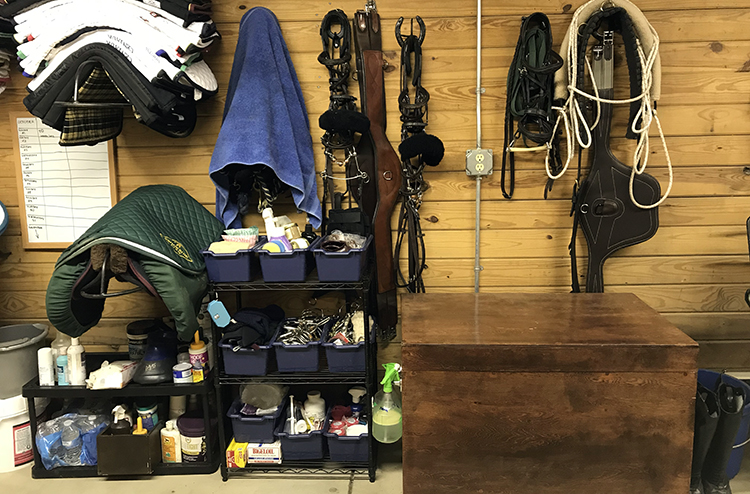 Until our barn is fully open and the rest of our lives go back to the new normal, I need to find ways to make the most of my down time. My next blog post for Your Horse Farm will be out in 2 weeks and in that time, I hope to have accomplished the following things below in the interim. In fact, please hold me to it and maybe play along too!
Do a spring cleaning of my horse tack and apparel. In addition to my home closet and garage, I also plan to clean out my tack trunk and locker since I can visit my barn. If you have anything in good condition I recommend re-selling with the Tried Equestrian or the Tack Hack.
Get Chloe's grooming regime streamlined. Since I still have Chloe access, I am going to start this off with a much needed body clip and brush washing. If you can't visit, take the time to read up on the best grooming techniques so that when you get back to your horse, you will have them looking their best in no time. I learned something new the other day about using Witch Hazel to remove saddle marks instead of rinsing! I highly recommend googling professional grooming tips!
Take time to learn about something new. I admittedly know very little about bits. I basically just do whatever my trainer tells me. I am going to try to educate myself more on this topic.
Since I can still visit the horses, I am going to take the time to work on the basics. We don't have any shows in our near future so it is a great time to practice. I have never done the Pessoa lunging system but I think this would be great for Hamster and something we could incorporate in his weekly training program.
Start a home workout regime that will not only help me gain strength through my riding core but will also combat the snacks that I am eating all day long with my kids!
Wish me luck!! Message me or comment below to add to this list!
**
Andrea Wise graduated from Wake Forest University School of Law in 2007, where afterwards she spent 7 years as a commercial real-estate attorney.  In 2012, she launched the equestrian company, Pony Glam, which makes and sells the only colored hoof dressing for horses. She is also the voice behind the new equestrian lifestyle blog, Horse Glam. Andrea lives in Charlotte, North Carolina, with her husband, Zach, two young children, cat and horse, Chloe.