Most equestrians can agree on the importance of having a proper riding position. It doesn't matter what discipline you ride, ultimately your seat, legs, and hands are used to communicate with your horse. An improper position or poor posture in the saddle can give your horse unclear aids and mixed messages.
It can be helpful to start by having someone watch you ride. This person should be advanced enough to point out some troubled areas. They should be able to tell you if you're leaning to the right or left, slouching, or even tipped forward or backward. After you identify your problem areas, you can work to improve them.
Your body will need plenty of time to develop muscle memory. A good riding posture may feel awkward or be difficult to maintain for a long period of time. Keep with it though! In time, your shoulders and core muscles will develop strength. It'll become like second nature!
There are exercises you can do both in the saddle and at home. Try to mix it up and do both! The more ride time you have the better! Start slow at the walk and trot before stepping it up to the canter. Your horse may offer a reaction you weren't expecting, so be careful and attentive!
Exercise #1 – Half Seat
You can begin this simple exercise at a standstill on your horse. It's a great maneuver for developing balance! Without balance, riders tend to grip with their legs or brace their shoulders.
Tilt your torso slightly toward your horse neck, and lift your seat bones off the saddle. You don't have to go very high out the saddle, just a little bit. At the same time, you'll want to drop your shoulders. It's important to keep your arms loose and not stiff. Don't forget to breathe. Your calves can lightly grip your horse's belly, but don't squeeze or clench.
When you can hold this position at a standstill, move onto the walk and then trot. Be prepared- it's hard! You may find yourself falling backward in the saddle and losing your balance. Keep at it! 
Exercise #2 – Lounge Lesson
Most can agree on the value of a lounge lesson. They allow you to focus on your position without directing the horse. For exercise two, ride with a dressage whip held horizontally behind your back. Feed the whip through your elbows, so it locks it in place. This maneuver helps to improve your shoulders and upper back.  Keep sessions short by riding each direction for 8-10 minutes each. Eventually, you can say goodbye to your slouched shoulders!
Exercise #3 – Yoga Ball
While at home, find yourself a yoga ball that is small enough you can sit comfortably on it. You'll want to place it in front of a mirror. In this exercise, you can work on hip angles. This will affect your shoulders and posture.
The goal is to stay centered on the ball. When you tilt your pelvis too far forward or back, you'll notice how difficult it is to not slip off the yoga ball. Play with your position in the mirror. Arch your back and lean forward, tip your pelvis under you, and round your back. Ask yourself what feels and looks most stable. You'll want to transfer that to the saddle. Because in riding, staying centered on the horse's back is very important.
At some point, you may want to ask a friend to videotape you ride. It can also be really helpful to have arena mirrors. You'll need to remind yourself to constantly go back to that position on the yoga ball. You must really remember how it felt and looked, so you can replicate it.
Some riders find a lot of success with the EquiFit ShouldersBack Lite. This vest-like tool gently pulls your shoulders back, in order to improve your posture. The fabric is breathable and lightweight. It also fits discreetly under a show coat.
Building muscle memory takes time and effort. You may be sore after a few minutes of these exercises. Take it slow and stay motivated. If you put in the work, you'll reap the results!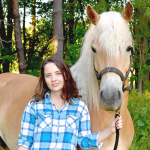 Emily Fought discovered her passion for horses early on in life. When she isn't writing about them, you can find her in the barn riding. Although Emily's background is in dressage, she enjoys cross-training and is an avid trail rider. She resides in Northeastern Ohio with her husband and small dog. Together, they own and operate Humblewood Farm. Emily not only writes for YourHorseFarm.com but CowgirlMagazine.com as well!