I have discovered something truly amazing, something that feeds my obsession for horses and stationary.
Which is probably the oddest combination of things on this planet, but what can I say? I have always had an affinity for pretty paper and journal covers and my affinity for horses is obvious. But I feel bringing these two together should be easier than it is.
There have been a couple companies spring up that combines the idea of precise planning and horses with journals and planners dedicated solely to the equestrian sport. While I drool over these things I can never justify the price tag – one company charging $60 for their equestrian journal. I recently stumbled upon the Bullet Journal method. A whimsical, creative, non-confining method of tracking and organizing anything you can think of including your horse filled life.
A What?
A Bullet Journal is a mindfulness practice disguised as a productivity system. Here you can organize all of your "what" in life while remaining aware of your "why."  All you need to start your Bullet Journal is a notebook. The thing that makes a bullet journal awesome is you are not confined by lines and spaces already determined for you. It is completely customizable. I prefer the notebooks with dots as opposed to lines. This helps me use the space how I want but still have a guideline for creating shapes and straight lines. Below are a couple of common sections you will find in your bullet journal:
Future Logs – A bird's eye view of your riding goals
For my future log, I stayed in a 6 month period. So many things can change over a year, so it seemed a better use of space to look out 6 months. Here you can enter all your important dates to help prevent yourself from entering a horse show on the same day as your cousin's wedding. This log can be designed any way you like. Hop on Pinterest or YouTube and search "bullet journal." Welcome to the rabbit hole!
Weekly logs – Lessons and training plans for right now
In my weekly log, I wanted clean lines and an easy to use space to keep track of all my events, appointments, and tasks. Since I just started my bullet journal this month I opted to start these in March. I can do this because its mine and I do what I want! I left space to keep track of my lessons and riding of each week and space to journal some notes on how each of those rides went. I only plot out weekly pages for a few weeks at a time so I can adjust my layout if I find it isn't working for me.
After your weekly log, you can do a daily log if you would like to get into the nitty-gritty of each day. I chose not to create dailies because I felt viewing tasks week to week was good for me.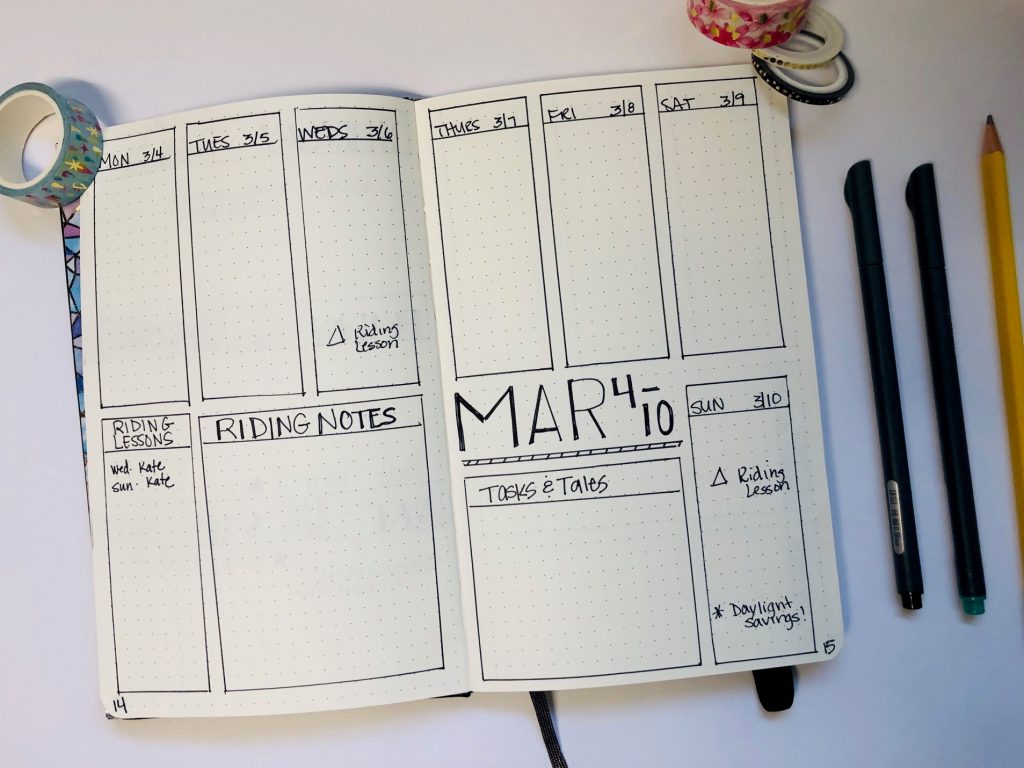 Collections and Spreads – Set your goals and stick to them!
Collections and spreads are where your bullet journal gets fun. I have a few of these collections in my journal. What books I want to read this year or what films I would like to watch. But my most important is my Horse Show Goals spread. I carefully planned what shows I was interested in this summer and listed them out with a few options in case life hands me a curveball. All of this planning is in hope to have the confidence to compete in a rated horse trial this fall. On one side of the page, I have listed my goal shows and left the other side blank. Here I can keep track of my attendance to shows and what the outcome of each was. This is such a fun and creative way to hold you accountable.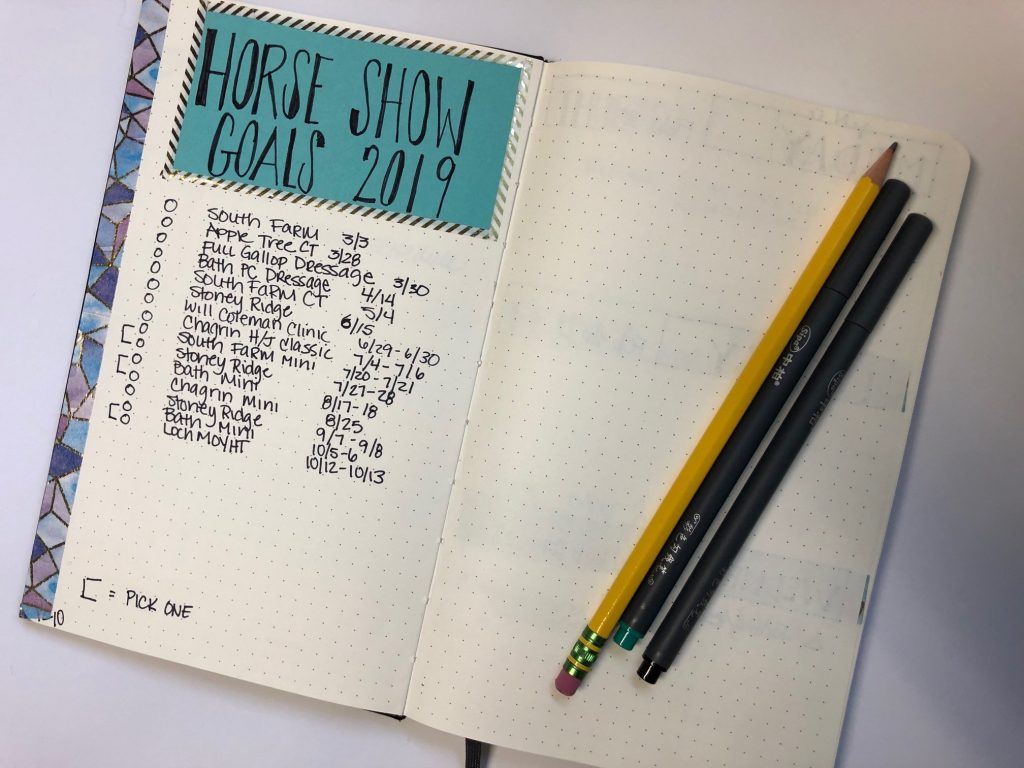 Other collections and spreads include habit trackers. I hope to create a habit tracker for my own personal fitness as well as tack cleaning, tack truck organizing, and keeping up with all my barn chores. You can also use your bullet journal to track vet bills, farrier appointments, and deworming schedules. The world is your oyster!
To learn more about the Bullet Journal method, check out bulletjournal.com where creator Ryder Carroll explains the purpose and basics of starting your own journal. And don't forget Pinterest! But I don't recommend doing that before bed because you will get sucked in!
**Julie Schmitt, owner of the Mod Equestrian Mobile Boutique located in Cleveland, OH. Mod Equestrian specializes in modern, city-to-show ring styles for life in and out of the saddle. The mobile shop opened in 2015 and travels to shows and other equestrian events throughout Ohio. I have been riding since I was 7 years old and grew up showing in the Hunter ring. I did not get my first horse until after college. Grady came from the retired racehorse rescue CANTER. We showed in the hunter ring and did some dressage before Grady retired. I bought my new thoroughbred, Roman last summer and we are training to ride in the Jumper ring. I live in Lakewood with my husband Justin and our two cats.